Two articles of impeachment against the US President have been approved by the House of Representatives Judiciary Committee.
It paves the way for a full vote of the House next week, which is set to make Donald Trump only the third US President to be impeached in the history of the country.
The impeachment articles, or charges against the president, are abuse of power and obstruction of Congress.
Mr Trump has been accused of trying to pressure Ukraine into opening an investigation into his political rival Joe Biden.
The president is expected to be impeached by the Democrat-controlled House of Representatives setting up a trial in the Republican-controlled Senate in the new year.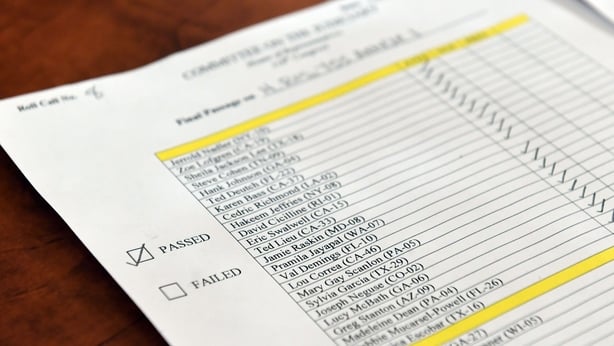 It seems highly unlikely at this stage that the Senate will vote to remove the president from office.
This evening, Mr Trump said he would not mind a long impeachment trial in the Senate.
He also told reporters that he wanted to see the whistleblower whose complaint led Democrats to launch the inquiry.
Speaking at the White House, Mr Trump decried the process as a "sham," saying Democrats were trivialising impeachment.
President Trump has repeatedly denied any wrongdoing.
Ahead of today's vote, he tweeted that his call with the Ukrainian president was "perfect" and asked how a president who has "done nothing wrong" could be impeached.
How do you get Impeached when you have done NOTHING wrong (a perfect call), have created the best economy in the history of our Country, rebuilt our Military, fixed the V.A. (Choice!), cut Taxes & Regs, protected your 2nd A, created Jobs, Jobs, Jobs, and soooo much more? Crazy!

— Donald J. Trump (@realDonaldTrump) December 13, 2019
Senate Majority Leader Mitch McConnell told Fox News last night that he will coordinate with the White House on Mr Trump's defence and said there was "zero chance" the president would be removed from office.
"The case is so darn weak coming over from the House. We all know how it's going to end," Senator McConnell said.
"There is no chance the president is going to be removed from office."