The former US Ambassador to Ukraine, Marie Yovanovitch, is expected to testify before Congress today as part of the impeachment inquiry into US President Donald Trump.
At a rally in Minnesota last night, Mr Trump said the investigation was "insane" and a brazen attempt to overthrow the Government and would result in a political backlash against Democrats at the ballot box.
Ms Yovanovitch was recalled from her role in May.
In his controversial phone call with the President of Ukraine, Volodymyr Zelensky, Mr Trump described her as bad news.
Ms Yovanovitch is due to testify behind closed doors on Capitol Hill as part of the impeachment inquiry into President Trump but she could be blocked from giving evidence at the last minute by the State Department, that is what happened earlier this week with another key witness - the US ambassador to the European Union, Gordon Sondland - the White House then formally announced that it would not be co-operating with the impeachment inquiry.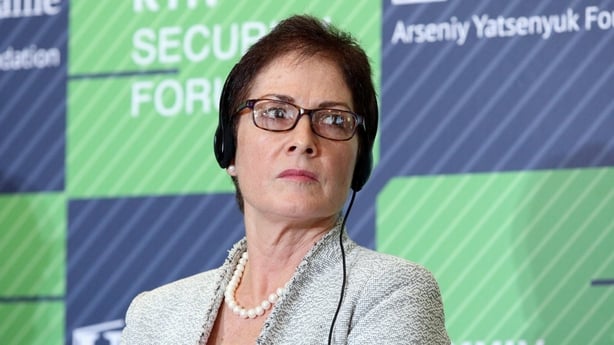 The inquiry was launched after a whistleblower complainta bout a 25 July phone call in which Mr Trump pressed his Ukrainian counterpart Mr Zelenskiy to investigate former US vice president Joe Biden, a leading Democratic contender for the right to face Mr Trump in the November 2020 election.
Democrats have accused Mr Trump of pressuring a vulnerable foreign ally to dig up dirt on a domestic political opponent for his own political benefit.
Mr Trump has denied he did anything wrong on the call.
Yesterday, meanwhile, two foreign-born Florida businessmen who had helped Mr Trump's personal lawyer Rudy Giuliani investigate Mr Biden were arrested in what prosecutors said was a scheme to illegally funnel money to a pro-Trump election committee and other US political candidates.
The pair, Ukraine-born Lev Parnas and Belarus-born Igor Fruman, were arrested at an airport outside Washington carrying one-way tickets to Vienna.
Prosecutors said they conspired to contribute foreign money, including at least $1 million from an unidentified Russian businessman, to candidates for federal and state offices to buy influence.
The two had donated $325,000 to a pro-Trump political action committee called America First Action in May 2018, and the money was falsely reported as coming from a purported natural gas company set up to conceal its true source, according to the indictment.
Additional reporting Reuters