Hurricane Dorian - expected to barrel into Florida early next week - has strengthened into a major category 3 storm today, US meteorologists have announced.
Dorian has become an "extremely dangerous hurricane" packing maximum sustained winds of 185km/h, the Miami-based National Hurricane Center said.
It also warned that hurricane conditions were expected in the northwestern Bahamas by Sunday and the islands should prepare for life-threatening storm surge that could raise water levels by as much as 3 to 4.5 meters above normal tide levels.
The storm is projected to intensify even more before it makes landfall in the southern US state of Florida on Monday or Tuesday.
Weather forecasters predict Dorian could make landfall as a powerful Category 4 hurricane with the potential to cause life-threatening storm surges.
Florida residents have been stocking up on food, water and other supplies and battening down their homes to ride out the storm while others were preparing to evacuate.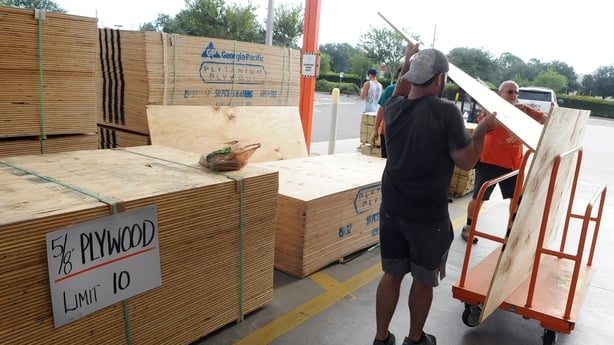 Florida Governor Ron DeSantis issued a declaration of emergency for all of the state's 67 counties and urged its millions of residents to make preparations for what he said could be a "major event."
"We're anticipating a massive amount of flooding," Mr DeSantis said.
"We urge all Floridians to have seven days' worth of food, medicine, and water."
But the governor said local authorities were holding off on ordering evacuations until weather forecasters had a better picture of the eventual path of the hurricane.
"If you're in an evacuation zone and you're ordered to evacuate, please do so," he said.
The Florida National Guard said about 2,000 service members had been mobilised so far and another 2,000 would be tomorrow.
Earlier, US President Donald Trump said it appeared the storm's winds would be "unbelievably high."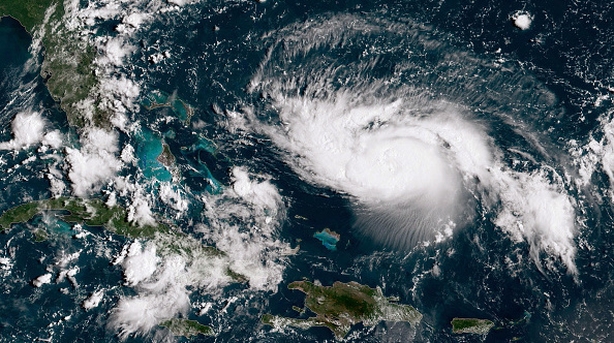 Dorian gained power last night, jumping from 137km/h to 165km/h and with higher wind gusts, making it a Category 2 storm on the 5-step Saffir-Simpson scale for measuring hurricane intensity.
Upon the news of Dorian gaining in strength, Mr Trump had canceled a visit to Poland scheduled for the weekend and Florida's governor expanded a state of emergency to prepare for Hurricane Dorian, which is forecast to make landfall on the Atlantic coast on Monday as a dangerous Category 4 storm.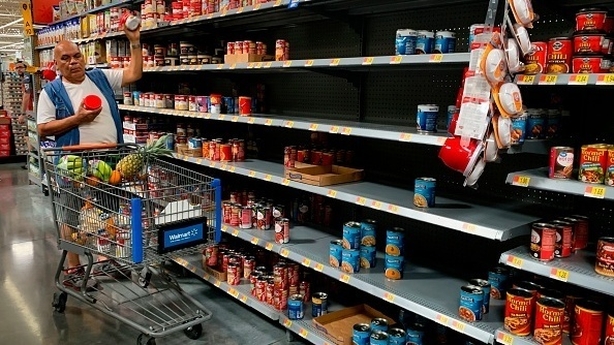 "Now it's looking like it could be an absolute monster," Mr Trump said in a video posted on Twitter, adding that food and water was being shipped to Florida.
"It does seem almost certain that it's hitting dead centre and that's not good. The winds seem to be building at a tremendous rate. It looks like the winds are going to be unbelievably high."
Hurricane Dorian looks like it will be hitting Florida late Sunday night. Be prepared and please follow State and Federal instructions, it will be a very big Hurricane, perhaps one of the biggest!

— Donald J. Trump (@realDonaldTrump) August 29, 2019
Mr Trump said Vice President Mike Pence would make the trip to Poland in his place so that he could remain in the United States to make sure federal resources were properly directed at the arriving storm.
Florida Governor Ron DeSantis, who had already declared a state of emergency for 26 counties on the state's east coast, extended it to the whole of Florida.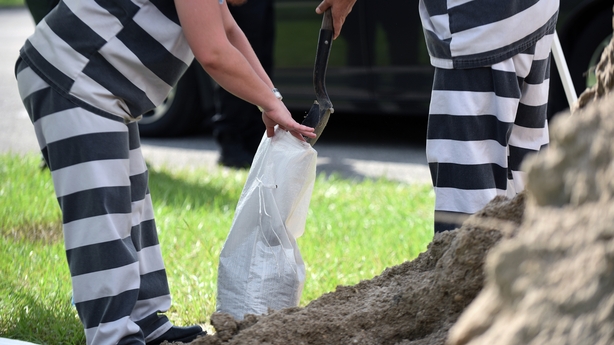 "Floridians need to take this storm seriously. Hurricane#Dorian is moving slowly & gaining strength," Mr DeSantis wrote on Twitter.
"Now is the time to get prepared & have a plan.
As Hurricane #Dorian continues to grow and intensify, we are preparing all available state resources, including activating more than 2,500 @FLGuard troops. I encourage all Floridians to continue to monitor and heed all warnings. https://t.co/a0BiOHLnVX

— Ron DeSantis (@GovRonDeSantis) August 30, 2019
Georgia Governor Brian Kemp declared a state of emergency in 12 counties to assist with storm readiness, response and recovery.
Dorian, expected to strengthen in the Atlantic with violent winds topping 210km/h, is moving toward central Florida, including the famed Space Coast.
It is expected to make landfall on Monday, the Labor Day holiday, and could churn across dozens of launch pads owned by NASA, the US Air Force and companies such as Elon Musk's SpaceX and Jeff Bezos' Blue Origin.
Such winds would make Dorian a Category 4 storm, the second-strongest on the Saffir-Simpson scale for measuring hurricane intensity.
The Miami-based National Hurricane Center said hurricane watches could be issued for portions of the Bahamas today and the risk of "devastating hurricane-force winds along the Florida east coast late this weekend and early next week continues to increase."
11pm EDT Advisory for #Dorian https://t.co/EV2OgekTZS pic.twitter.com/5wWdV5zj4f

— National Weather Service (@NWS) August 30, 2019
After making landfall, Dorian was forecast to linger over central Florida on Tuesday, according to the NHC.
Tropical storm-force winds could be felt in parts of the state as early as Saturday evening.
The US territory of Puerto Rico, still recovering from a powerful storm two years ago, was largely spared, but the NHC said Dorian could dump up to 18cm of rain on some parts of the Bahamas.
Puerto Rico was devastated in 2017 by Hurricane Maria, a Category 4 storm.
A study accepted as valid by the government, which initially put the death toll at 64, estimated that nearly 3,000 people died as a result of the hurricane and the months of disruption that followed.
The biggest hurricane to have come ashore in Florida in recent history was Jeanne in 2004, which made landfall around Port St Lucie as a Category 3 storm.
The Universal Orlando Resort theme park said it was following the approaching storm closely.
The University of Central Florida, one of the largest US universities by student population, said its main campus in Orlando would close this afternoon.
Mr DeSantis said the storm "has the potential to severely damage homes, businesses and buildings, which is why all Floridians should remain vigilant."