Taoiseach Leo Varadkar travels to Chicago today as part of the annual St Patrick's Day programme of events.
Last night, he presented US President Donald Trump with the traditional bowl of shamrock in a ceremony at the White House.
At the event, President Trump described Irish people as inspiring, sharp, and smart, but brutal enemies you have to keep as your friends.
The Taoiseach referred to Mr Trump's 'Make America Great Again' slogan and said that while the US had military might and a booming economy, they should not lose sight of what makes America great already - its people and its values.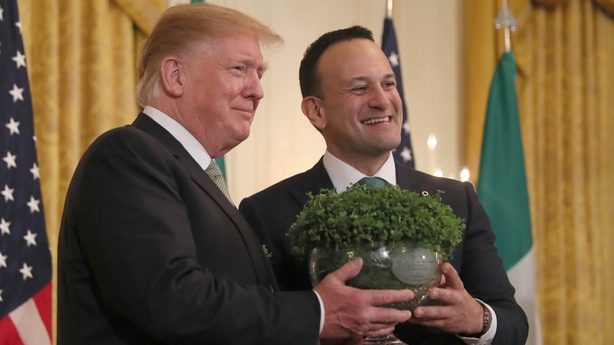 Mr Varadkar also thanked President Trump for his support of a new E3 visa programme which, if passed by Congress, would benefit Irish citizens who wish to work in the US.
Today, the Taoiseach leaves Washington and travels to Chicago to meet emigrant support groups.
Tomorrow, he will attend the St Patrick's Day parade in Chicago.