The Taoiseach has said he believes that the future between the US and Ireland is entwined.
Leo Varadkar was speaking at the White House during an annual ceremony, where he presented US President Donald Trump with a customary bowl of shamrock.
"I believe that future generations of our citizens should have the same opportunity to enrich one another's societies as past generations have," he said.
"No nation with as many ties as Ireland has to the United States has so few pathways to legal immigration. Whenever we've talked about this we've found agreement.
"And, I want to thank you and Congress for your support for a new E3 visa programme, which would allow a limited number of Irish people to come here annually.
Mr Varadkar said that he wants to "further deepen the economic ties" between Ireland and the US.
"And we know that making America great again will not mean forgetting or losing sight of what makes it great already," he said.
The Taoiseach said he can see the results of Mr Trump's ambitions to "make America great again", describing American military power as "unrivalled".
However, Mr Varadkar said that the US should not lose sight of the things that made America great already, such as immigration, freedoms and civil rights.
"I believe the greatness of America is about more than economic prowess and military might," he said.
"It is rooted in the things that make us love America - your people, your values, a new nation conceived in liberty. The land and the home of the brave and the free."
Speaking ahead of the ceremony, Mr Trump said that he knew many Irish people who were "inspiring".
"They're sharp. They're smart. They're great. And they are brutal enemies, right? So you have to keep them as your friend," he said.
Taoiseach @campaignforleo presents @realDonaldTrump with a bowl of shamrock #stpatricksday | https://t.co/XFr6CPr8Fq pic.twitter.com/4OwcS7Gbjd

— RTÉ News (@rtenews) March 14, 2019
Mr Varadkar presented the US President with a bowl of shamrock, in the company of his wife Melania. .
The bowl was made in Kilkenny Crystal in Callan, the home town of Irish-American architect James Hoban.
He designed the US President's official residence, the White House.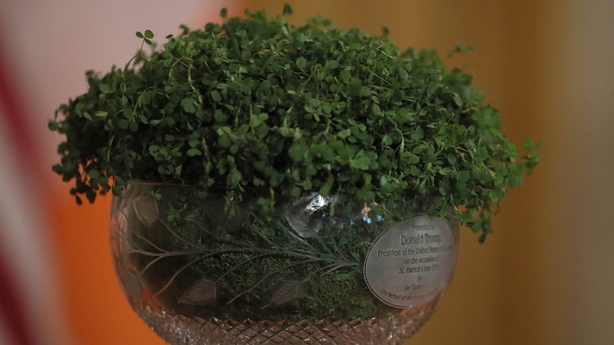 The tradition, in which US presidents have been known to don green neckties, goes back to the 1950s.
Around this time of year in 1952, then Irish ambassador John Hearne showed up at the White House to offer President Harry Truman some shamrock.
It turned out Truman was on holiday, in Florida.
The next year Hearne did get to see President Dwight D. Eisenhower, who met him for 15 minutes - and accepted the bright, green leafy gift - to talk about relations between the two countries.
The tradition has continued pretty much non-stop, helped by the fact that many US presidents have had some degree of Irish blood in them.
Ronald Reagan was particularly fond of the ritual.
"He was really big about St Patrick's Day celebrations at the White House," said Matthew Costello, senior historian at the White House Historical Association.
"Reagan liked to tell Irish jokes about his family, his grandfather. He was really big about St Patrick's Day celebrations at the White House," said Mr Costello.
"There's one year he snuck off and went down to Alexandria on St Patrick's Day to have lunch and a pint with people. And they didn't tell anybody. They told the owners of the bar, like, an hour before that the president would show up," he added.
The town is just across the Potomac River in Virginia.
The visit by the Taoiseach is a chance to celebrate ties between two countries joined by waves of immigration from Irish people fleeing famine in the 19th century.
But it also provides a special diplomatic platform for Ireland, an entree that small nations do not normally enjoy with the world superpower.
In the 1990s Irish leaders took this opportunity to press then president Bill Clinton to help nudge along the peace process in Northern Ireland.
Mr Varadkar has used his time with Mr Trump to address diplomatic issues that include Brexit and its impact on Ireland.
Last year at this time they spoke about the situation of the many Irish living in America. That came during the shamrock delivery session.
The plant is destroyed, for security reasons, said Mr Costello.
But the president can keep the bowl it came in. Reagan used one such glass pot to hold the jelly beans he was so fond of, said Mr Costello.
Additional reporting AFP