Taoiseach Leo Varadkar met US President Donald Trump at the White House today where Mr Trump said he is planning to visit Ireland this year.
He said that he and the Taoiseach have become fast friends adding that Mr Varadkar is going through a complex time because of Brexit.
Mr Trump would not comment on whether or not he supported Ireland's position on Brexit but he did say that he believes the Northern Ireland issue is one of the most complex parts of Brexit.
'The European Union treats us very, very unfairly' @realDonaldTrump says as @campaignforleo visits the White House #Brexit pic.twitter.com/mSFssT6jBG

— RTÉ News (@rtenews) March 14, 2019
The Taoiseach said he had a different view of Brexit to Mr Trump's and he said the US should do a trade deal with the EU.
Mr Trump responded by saying the EU has been very unfair to the US on trade.
Asked if he will be appointing a special envoy to Northern Ireland, Donald Trump said: "I may very well be doing that."
After the talks, the Taoiseach said they had a very good meeting and while he and Mr Trump differ on Brexit, he put across Ireland's position.
After his meeting with the US president, Mr Varadkar said Mr Trump supports the peace process in Ireland and also wants to avoid a hard border.
Speaking to members of the press at the White House, the Taoiseach said: "It's not particularly support that I've asked for from the president on Brexit.
"What I've asked for is an understanding of our situation, particularly when it comes to Northern Ireland and avoiding a hard border and protecting the peace process.
"And he is supportive of that point.
"When it comes to trade what I've been saying to him is that the opportunity exists there for a EU-US trade deal, just like we have a trade deal with Japan, just like we do with the Canada - we would have one with the US as well.
"It will be many years before the United Kingdom is able to make any trade deals, so surely it makes sense to make one with the EU first.
"There's 500 million of us, only 60 million (in the UK)," said Mr Varadkar. 
Earlier today, Mr Varadkar met US Vice President Mike Pence, where he said that he is judged not by his sexual orientation but by his political actions.
We need your consent to load this rte-player contentWe use rte-player to manage extra content that can set cookies on your device and collect data about your activity. Please review their details and accept them to load the content.Manage Preferences
Mr Varadkar and his partner Matt Barrett met Mr Pence and his sister Anne at his residence in Washington.
Mr Pence has been criticised in the past for his conservative views on LGBT rights, and last year there was much focus on his meeting with the Taoiseach.
On that occasion, Mr Pence invited Mr Varadkar and his partner to visit him in the future and today they took him up on his offer.
The meeting took place at the Vice President's residence at the Naval Observatory in Washington and unlike last year, it was open to the media.
Speaking at the breakfast meeting, Mr Varadkar said that while growing up in Ireland he was fascinated by American politics.
"In many ways it helped to inspire me to believe in the power of politics to do good because ultimately that is what politics is all about," he said.
"It helped inspire me to run for office, to become involved in making laws and driving change.
"But I also knew at the time that I lived in a country where, if I tried to be myself at the time, it would have ended up breaking laws, but today that is all changed.
"I stand here, leader of my country, flawed and human, but judged by my political actions and not by my sexual orientation, my skin tone, gender or religious beliefs," said Mr Varadkar.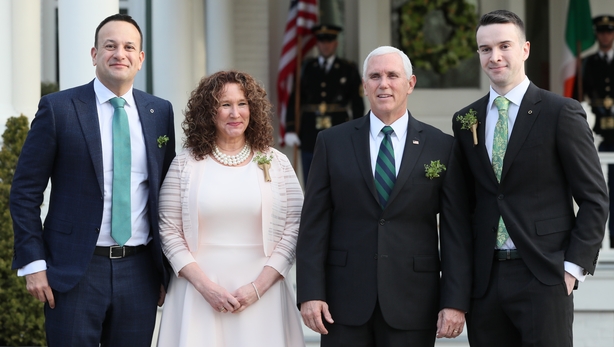 Mr Pence confirmed he is planning a trip to visit Ireland.
He told the breakfast meeting that he is arranging a visit to the country with his mother, Nancy.
He said: "I am happy to report to the Taoiseach that I have spoken to Mom, first generation Irish-American and mother-of-nine, and she has confirmed that she will travel with us to Ireland and we are making plans to return to my grandfather's homestead as we speak."
Mr Varadkar said: "I really hope you will be able to accept my invitation to Ireland very soon and I can guarantee you a very warm welcome is waiting for you, especially in Co Sligo and Co Clare from where your forebears come.
"And you absolutely must bring your mother." 
Additional Reporting PA