US President Donald Trump has travelled to Texas to promote his controversial border wall project, pulling out of a major international forum later this month with no end in sight to a row that has partially shut the US government.
Mr Trump used the backdrop of McAllen, Texas, to pursue his message that more barriers on the frontier with Mexico are needed to protect the United States from what he calls a torrent of violent crime committed by illegal immigrants.
"They just go where there's no security and you don't even know the difference between Mexico and the United States," he told a meeting of border patrol officers.
He said: "They have women tied up, they have tape over their mouths, electrical tape.
"If we had a barrier of any kind, a powerful barrier, whether its steel or concrete... we would stop it cold."
We need your consent to load this rte-player contentWe use rte-player to manage extra content that can set cookies on your device and collect data about your activity. Please review their details and accept them to load the content.Manage Preferences
Opposition Democrats are refusing to approve $5.7bn in wall funding, saying that overwhelming numbers of illegal immigrants do not commit serious crimes - and that Mr Trump is promoting the project to satisfy his right-wing base.
Mr Trump's main way of pressuring Congress has been to refuse to sign off on a host of unrelated, normally uncontroversial, government spending until he gets his wall funded.
That has resulted in a partial government shutdown now in its 20th day, with hundreds of thousands of federal employees - including air traffic controllers, the FBI and Coast Guard - going without pay.
Signalling he is ready to maintain the game of brinksmanship, Mr Trump tweeted on arrival in Texas that he will scrap a visit to the annual World Economic Forum in Davos, Switzerland, which runs from 21-25 January.
Because of the Democrats intransigence on Border Security and the great importance of Safety for our Nation, I am respectfully cancelling my very important trip to Davos, Switzerland for the World Economic Forum. My warmest regards and apologies to the @WEF!

— Donald J. Trump (@realDonaldTrump) January 10, 2019
Mr Trump had been expected to make a brief appearance at the influential get-together, but said that opposition Democratic "intransigence" required him to stay home.
The frustrated president again repeated his threat that if the Democrats do not back down, he will declare a national emergency to give himself authority to go around Congress.
"If we don't make a deal, I think it would be very surprising to me" not to declare a national emergency, he said. "If I have to, I will. I have no doubt about it."
Analysts say the declaration would likely be challenged in court as a case of presidential overreach, in which case the wall still could face being blocked.
However, it would still give Mr Trump political cover with his base by showing he had done what he could.
At that point, Mr Trump could end the partial government shutdown and declare a win.
Meanwhile in Washington, hundreds of furloughed federal employees chanting "we want to work" have gathered for a union-led march to the White House.

As Trump visited Mexico, protesters visited the White House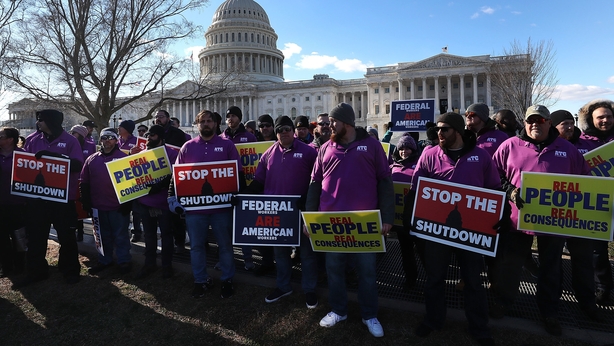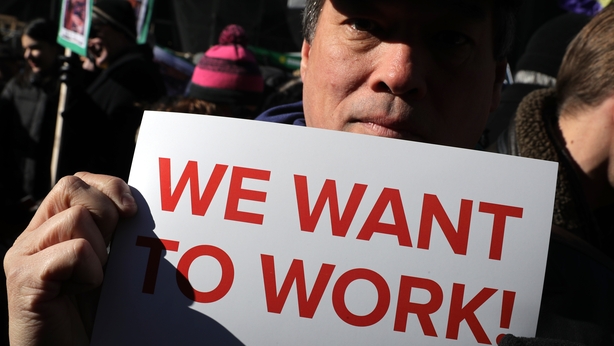 "Hey, hey, ho, ho, shutdown's got to go" protesters shouted as they assembled in the bitter cold outside of the AFL-CIO union headquarters, hoisting signs reading "Trump: End the Shutdown," "Reopen Govt" and "Let Me Do My Job."
Protesters, many wearing neon green vests reading, "I am a worker. I demand a voice," demanded the government be reopened, separate from any debate over wall funding.
"We want our pay! We want our pay! We want our pay!" shouted government employees and contractors.
The US President has not managed to get the Democrats to budge on his demand for the $5.7 billion.
Yesterday, he invited Democratic leaders to the White House and began by asking if they would approve the wall in exchange for him ending the government shutdown. When the Democrats said no, he abruptly walked out.
"A total waste of time," Mr Trump tweeted. "I said bye-bye, nothing else works!"
Chuck Schumer, the top Democrat in the Senate, told journalists Mr Trump "sort of slammed the table," then "got up and walked out".
"Again, we saw a temper tantrum because he couldn't get his way," Mr Schumer said.
Mr Trump disputed that, saying "I didn't pound the table. That is a lie."
"I don't have temper tantrums," he said.