On a visit to the US-Mexico border yesterday, President Trump met law enforcement agents.
They showed him cash, guns and drugs that had been seized at the border.
The President used the opportunity to make the case for his long-promised wall and to highlight what he describes as a "crisis".
Almost 2,000 miles away in Washington DC, US government workers were highlighting a crisis of a different kind.
Over 800,000 federal employees affected by the government shutdown won't be getting paid today.
Some of them gathered in protest outside the White House yesterday evening.
One woman told me she had just applied for a mortgage and now will not get approval because she is not being paid, a thought that is keeping her up at night.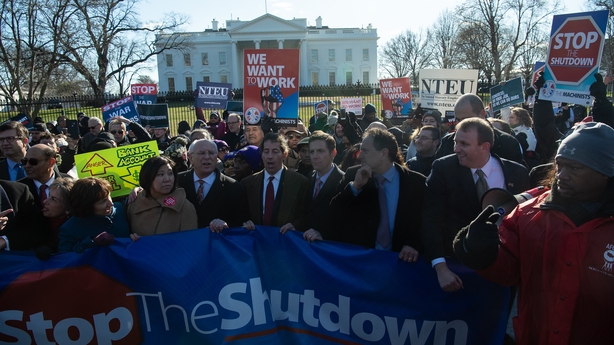 Another woman said she has to care for her elderly mother and will now struggle to do so.
One man said he does not know how he will make his next rent payment.
Someone else described how a pipe had just burst in her house but she did not have the money to pay a plumber.
Several people told me that they feel like they're being held hostage by the politicians who continue to row over funding the border wall.
They will eventually get paid and receive backpay but in the meantime the uncertainty goes on.
Donald Trump went to the Mexico border to find examples of crisis and fear.
He could have stayed at home and spoken to the workers protesting outside his door.