Americans offered their final farewells to George HW Bush as he was laid to rest in Texas, concluding a four-day tribute to the 41st president that saw the nation briefly set aside its political divisions.
After a state funeral in Washington yesterday that was attended by the country's five living presidents and foreign dignitaries, Mr Bush's flag-draped casket was flown to Houston.
Mr Bush, who died last Friday aged 94, lay in repose at St Martin's Episcopal Church where the Bushes have worshipped for decades, and then was honoured at a final memorial service by friends like James Baker, who served as his secretary of state.
"His incredible service to our nation and the world are already etched in the marble of time," Mr Baker said in his eulogy, as he highlighted the sense of duty, service to country, and personal decency that drove Mr Bush.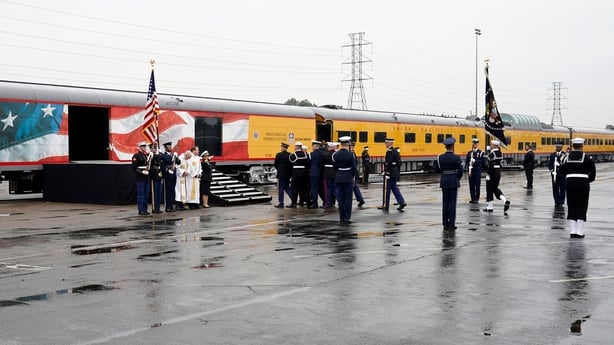 Mr Bush was interred at his presidential library in College Station next to his wife Barbara, who died in April, and their daughter Robin, who died of leukemia at age three.
His son George W Bush, the 43rd US president, appeared somber at his wife Laura's side, outside the church as military pallbearers carried the casket to a waiting black hearse.
It was then placed on a train - with the engine painted in the colours and pattern of Air Force One, the presidential jet - for its final journey.
At yesterday's memorial service in Washington, US President Donald Trump and First Lady Melania shared a front row pew in the National Cathedral with past presidents Barack Obama, Bill Clinton, Jimmy Carter and their wives as an honour guard brought Mr Bush's casket into the prayer hall.
George W Bush delivered an emotional eulogy in tribute to his father. The pair are only the second father-son presidential duo in US history, after John and John Quincy Adams.
"He showed me what it means to be a president who serves with integrity, leads with courage, and acts with love in his heart for the citizens of our country," Mr Bush said.
Yesterday's funeral capped a national homage that saw Mr Bush lie in state in the US Capitol rotunda.
Thousands paid respects to a statesman who steered the US through turbulent times including the end of the Cold War and the marshalling of an international coalition to oust invading Iraqi forces from the tiny Gulf emirate of Kuwait.