The head of the National Rifle Association has lashed out at gun control advocates, saying Democratic elites are politicising the latest mass school shooting in the United States to try to erode constitutionally guaranteed gun rights.
NRA chief executive Wayne LaPierre echoed President Donald Trump's call to arm teachers to prevent school shootings, and weighed into a long-running political and cultural divide over access to weapons.
It comes after 17 people were killed in a mass shooting at a high school in Florida last week.
Investigators said the assault was carried out by 19-year-old Nikolas Cruz, a former student at the school, who purchased an AR-15-style assault weapon nearly a year ago.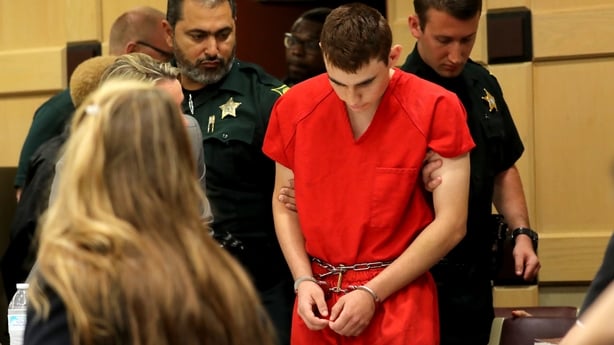 "The elites don't care not one whit about America's school system and school children," Mr LaPierre told an audience of conservatives outside Washington.
"Their goal is to eliminate the Second Amendment and our firearms freedoms so they can eradicate all individual freedoms."
The US Constitution's Second Amendment protects the right to bear arms.
At the White House, Mr Trump told local and state school officials he had been in touch with the NRA, the politically influential gun lobby that backed him in the 2016 election campaign, about his ideas to stem gun violence in schools.
He called the group "Great American Patriots."
"There's a tremendous feeling that we want to get something done," he said.
Senate Democratic leader Chuck Schumer condemned Mr LaPierre's comments and said the NRA was "once again spewing pathetic, out of touch ideas, blaming everything but guns."
The shooting at the Marjory Stoneman Douglas High School in Parkland, Florida was the latest in a series of deadly shootings at US schools and has spurred unprecedented youth-led protests in cities across the country.
Many of the teenagers and their parents taking part have called for more curbs on guns.
---
Read More:
Stores see rise in sale of rifle used in Florida attack
Irish teenager recounts running for her life as Florida attack unfolded
FBI admits it 'mishandled' tip-off about Florida school gunman
17 people killed in Florida high school shooting
---
Mr LaPierre, speaking at the annual gathering of the Conservative Political Action Conference, portrayed the NRA as the true protector of the country's schoolchildren and offered free training to those who want to bear arms to protect schools.
"We must immediately harden our schools," he said.
"Everyday, young children are being dropped off at schools that are virtually wide open, soft targets for anyone bent on mass murder."
"It should not be easier to shoot up a school than a bank or a jewelry store, " he added.
Mr LaPierre attacked Democrats by name including Senators Kamala Harris, Elizabeth Warren and Christopher Murphy and also took a swipe at the FBI for failing to follow up on a tip about the alleged shooter in the Parkland massacre.
The FBI has said it failed to act on the tip.
Meanwhile, Mr Trump reiterated his idea of arming teachers. His suggestion, first raised yesterday, has drawn a mixed reaction in a country fiercely divided over how to curb mass shootings and everyday gun violence.
Opinion polls indicate Democrats generally favour more restrictions on guns while Republicans oppose them.
Mr Trump, who has backed gun rights, suggested arming teachers during an emotional, hour long discussion with people affected by school shootings, including students who survived the Florida attack and a parent whose child did not.
Florida shooting: 'King David Cemetery - that's where I go to see my kid now.' pic.twitter.com/ruuRFIBAPP

— RTÉ News (@rtenews) February 22, 2018
The notion of arming teachers at US public schools, which are largely governed by states, local councils and school boards, has been raised by some politicians in the past but has been dismissed by many critics as fraught with danger.
"Anyone who wants guns in schools has no understanding of what goes on inside them - or worse, doesn't care," said Randi Weingarten, the president of the American Federation of Teachers union.
But at an hour long meeting on school safety with ten state and local officials, Mr Trump said armed teachers with an aptitude for guns would deter would-be shooters.
"A gun-free zone to a killer, or somebody that wants to be a killer, that's like going in for the ice cream," Mr Trump said.
"They're not going to walk into a school if 20% of the teachers have guns."
During the meeting, Mr Trump repeated his support for tightening background checks for gun buyers, with an emphasis on mental health, and lifting the age limit to buy some kinds of guns.
He also said he would push for an end to the sale of "bump stocks", which allow rifles to shoot hundreds of rounds a minute.
The White House said Mr Trump does not want to ban sales of an entire class of firearms despite mounting pressure to put assault weapons such as the one used in the Florida shooting out of civilian reach.
"What we're looking for is solutions that don't ban a class of firearms for all individuals but ban all weapons for certain individuals who are identified as threats to public safety," White House spokesman Raj Shah said.
While gun laws vary widely by state, most federal gun control measures would require the Republican-controlled Congress to act.
Fred Guttenberg, whose daughter was killed at Stoneman Douglas, told Republican Senator Marco Rubio of Florida at a town hall programme televised on CNN last night his comments and those of the president's in the past week had been "pathetically weak".
Mr Rubio, under fire for saying the problems could not be solved by gun laws alone, said he would support a law that would prevent 18-year-olds from buying a rifle, as well as a ban on "bump stocks," an accessory that enables a rifle to shoot hundreds of rounds a minute.
Florida school shooting survivor Cameron Kasky challenges Sen. Marco Rubio: "Can you tell me right now that you will not accept a single donation from the NRA?" https://t.co/NWJT6KBYLh #StudentsStandUp https://t.co/eXVIctIzEZ

— CNN (@CNN) February 22, 2018
Ashley Kurth, a Republican teacher who protected more than 60 people in her classroom, questioned Mr Rubio about Mr Trump's proposal to arm teachers.
"Am I supposed to get extra training now to serve and protect? ... Am I supposed to get a Kevlar vest? Am I supposed to strap it (the gun) to my leg or put it in my desk?"
Mr Rubio responded that the idea of arming teachers was wrong.