US president Donald Trump has confirmed he will not travel to the UK to open the new United States embassy.
Mr Trump said on twitter that he thought the embassy's move from Grosvenor Square to Nine Elms, south London, was a "bad deal".
Reason I canceled my trip to London is that I am not a big fan of the Obama Administration having sold perhaps the best located and finest embassy in London for "peanuts," only to build a new one in an off location for 1.2 billion dollars. Bad deal. Wanted me to cut ribbon-NO!

— Donald J. Trump (@realDonaldTrump) January 12, 2018
The decision to acquire a new London embassy site on the south bank of the Thames was announced in 2008 under Republican president George W Bush along with the plans to put the Grosvenor Square site in Mayfair up for sale.
On the embassy web page about the project, it said: "The project has been funded entirely by the proceeds of the sale of other US government properties in London, not through appropriated funds."
The United States is leaving behind an imposing 1960 stone and concrete embassy in London's upmarket Grosvenor Square – an area known as 'Little America' during World War II, when the square also housed the military headquarters of General Dwight D Eisenhower.
The new embassy on the South Bank is a veritable fortress set back at least 30m from surrounding buildings - mostly newly-erected high-rise residential blocks -and incorporating living quarters for the US Marines permanently stationed inside.
In reply to Mr Trump's tweet, former Labour leader Ed Miliband posted: "Nope it's because nobody wanted you to come. And you got the message."
London Mayor Sadiq Khan, who fell out with Mr Trump after the president attacked his handling of the London Bridge terror attack, said: "It appears that President Trump got the message from the many Londoners who love and admire America and Americans but find his policies and actions the polar opposite of our city's values of inclusion, diversity and tolerance.
"His visit next month would without doubt have been met by mass peaceful protests.
"This just reinforces what a mistake it was for Theresa May to rush and extend an invitation of a state visit in the first place.
"Let's hope that Donald Trump also revisits the pursuit of his divisive agenda."
---
Read more:

Trump criticised over derogatory immigrant remarks
Let's get physical: Trump's first medical examination as president
---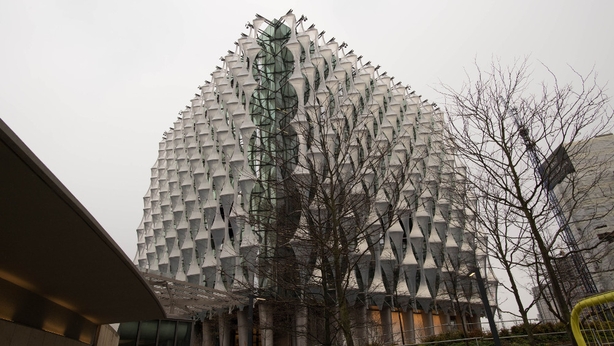 Mr Trump's decision not to come to the country comes despite Prime Minister Theresa May saying that a future visit was still on the cards last week.
Mrs May controversially extended the offer of a state visit when she became the first world leader to meet Mr Trump in the White House following his inauguration last year.
Since then, however, the president has indicated he does not want to take up the invitation if he is going to face mass demonstrations.
Last month, the White House said it would announce details "soon" of Mr Trump's proposed visit to the UK.
In December Ambassador Woody Johnson said he was looking forward to welcoming the president when he visited, adding: "I think he will be very impressed with this building and the people who occupy it."
He said the new embassy was a "signal to the world that this special relationship that we have is stronger and is going to grow and get better".
Liberal Democrat Foreign Affairs spokesperson Jo Swinson said: "News that Trump has thrown his toys out of the pram and cancelled his trip to the UK will be welcomed by all of us who reject his abhorrent views.
"But it's a disappointing sign of how weak May's leadership is that she wasn't brave enough to call the visit off herself.
"The Prime Minister should be ashamed that she was so keen to roll out the red carpet to a man who spreads hate and division at every turn, and goes out of his way to undermine British values."
Labour MP Stephen Doughty said on Twitter: "Reason @realDonaldTrump canceled trip to London is that we are not a big fan of his racist, sexist, unthinking behaviour.
"Big protests if he came to cut ribbon. He wanted the red carpet treatment and cheering crowds - NO!"