The US Senate Intelligence Committee said it asked former FBI director James Comey to appear before the panel in both public and closed sessions, stepping up its investigation of Russia's alleged interference into the 2016 US election.
It also said it had asked Acting FBI Director Andrew McCabe to send any notes or other memos prepared by Mr Comey about communications he may have had with senior White House and Department of Justice officials related to the investigation into Russia and the election.
US media has reported that Mr Trump asked Mr Comey to drop an investigation into former national security advisor Michael Flynn.
The New York Times claims the information is contained in a memo written by Mr Comey shortly after a meeting with the President in February.
The Comey memo has caused alarm on Capitol Hill and raised questions about whether Mr Trump tried to interfere with a federal investigation.
The White House quickly denied the report, saying in a statement it was "not a truthful or accurate portrayal of the conversation between the president and Mr Comey."
Mr Comey was sacked as FBI Director last week.
Mr Trump gave vent to frustrations over his mounting political problems, declaring that no president in US history had been treated "more unfairly."
During a commencement address at the US Coast Guard Academy, Mr Trump urged graduating cadets to follow his example and "fight, fight, fight. Never, ever, give up. Things will work out just fine."
"Look at the way I've been treated lately. Especially by the media. No politician in history, and I say this with great surety, has been treated worse or more unfairly. You can't let them get you down," he said.
White House spokesperson Sean Spicer said that Mr Trump is to interview four candidates to replace Mr Comey.
Speaking aboard Air Force One, Mr Spicer said the president would meet with acting FBI Director Andrew McCabe, former Oklahoma Governor Frank Keating, former Connecticut senator Joe Lieberman and former senior FBI official Richard McFeely.
More Republicans call for independent Trump-Russia inquiry
US House of Representatives Speaker Paul Ryan tried to tamp down the furore over reports that Mr Trump asked Mr Comey to quash part of his Russia investigation.
He said "we need the facts" and added that he has confidence in the president.
"I'm sure we're going to want to hear from Mr. Comey if this happens as he allegedly describes; why didn't he take action at the time? So there are a lot of unanswered questions," Mr Ryan told reporters.
"What I told our members is: now is the time to gather all the pertinent information."
Asked if he had confidence in Mr Trump, Mr Ryan said, "I do."
Mr Comey wrote the memo after he met Mr Trump, the day after the Republican president fired Mr Flynn on 14 February for misleading Vice President Mike Pence about the extent of his conversations last year with Russia's ambassador, Sergei Kislyak.
According to the memo, Mr Trump told the FBI director: "I hope you can see your way clear to letting this go, to letting Flynn go. He is a good guy."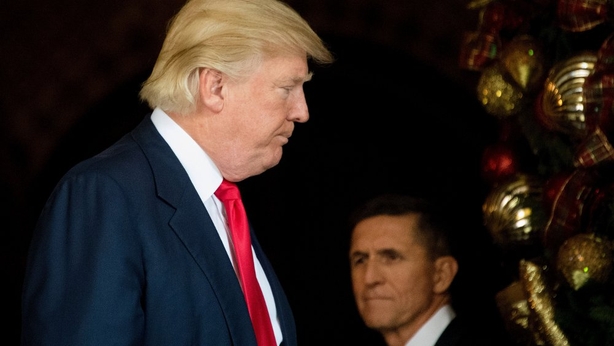 The New York Times said that during the Oval Office meeting, Mr Trump condemned a series of government leaks to the media and said the FBI director should consider prosecuting reporters for publishing classified information.
"The memo is powerful evidence of obstruction of justice and certainly merits immediate and prompt investigation by an independent special prosecutor," said Democratic US Senator Richard Blumenthal.
Republican and Democratic politicians said they wanted to see the memo.
Republican US Representative Jason Chaffetz, chairman of a House of Representatives oversight committee, said his committee "is going to get the Comey memo, if it exists. I need to see it sooner rather than later. I have my subpoena pen ready."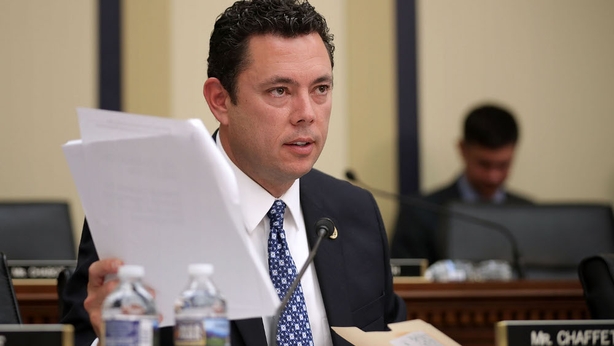 In a letter to acting FBI Director Andrew McCabe, Mr Chaffetz set a deadline of 24 May for the FBI to produce "all memoranda, notes, summaries, and recordings referring or relating to any communications between Comey and the President."
Republican Speaker of the House Paul Ryan backed Mr Chaffetz.
"We need to have all the facts, and it is appropriate for the House Oversight Committee to request this memo," said Mr Ryan's spokeswoman.
Meanwhile, a former senior White House advisor to president George W Bush has said if President Trump asked Mr Comey to stop an investigation into Mr Flynn "that would be an obstruction of justice".
Speaking on RTÉ's Morning Ireland, Richard Painter, chief White House ethics lawyer for Mr Bush, also said that "if the President implied that Director Comey would be fired if he did not discontinue the Flynn investigation, or any other similar threat were made, that would clearly be an obstruction of justice, which would be a violation of our criminal statutes".
We need your consent to load this rte-player contentWe use rte-player to manage extra content that can set cookies on your device and collect data about your activity. Please review their details and accept them to load the content.Manage Preferences
He said that "the memo combined with the other evidence really does not put the President in a very good light and it does imply he may very well have engaged in obstruction of justice.
"Unfortunately it has been a very, very chaotic four months and this past week or two have been particularly chaotic," Mr Painter added.
He said he believes there will be "overwhelmingly support" for an independent special prosecutor in Congress including from some Republicans.
Earlier, Russian President Vladimir Putin said Moscow could provide a record of the exchange between Foreign Minister Sergei Lavrov and US President Donald Trump, who is accused of sharing classified intelligence.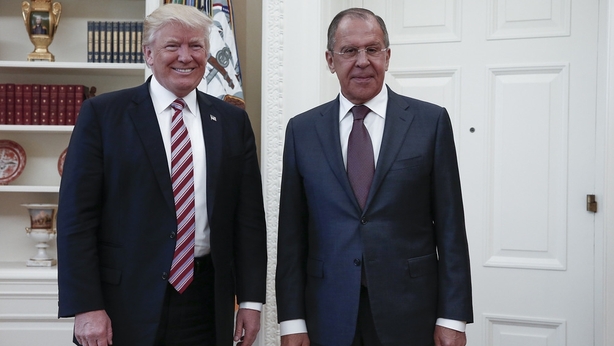 The pair met at the White House on 10 May.
"If the US administration finds it possible, we are ready to provide a recording of the conversation between Lavrov and Trump to the US Congress and Senate," Mr Putin said during a press conference.
A Kremlin aide said Mr Putin is prepared to provide a transcript but not an audio recording of the meeting.
Mr Putin said Mr Trump had not passed any secrets onto Mr Lavrov during their meeting and he could prove it.
Speaking at a news conference alongside Italian Prime Minister Paolo Gentiloni, Mr Putin quipped that Mr Lavrov had not passed what he said were the non-existent secrets onto him either.
Mr Putin said Russia was ready to hand a transcript of Mr Trump's meeting with Mr Lavrov over to US politicians if that would help reassure them.
Two US officials said yesterday that Mr Trump had disclosed highly classified information to Mr Lavrov about a planned operation by the so-called Islamic State group, plunging the White House into another controversy just months into Mr Trump's short tenure in office.