The White House struggled to contain fallout from the resignation of the US national security adviser, as Moscow denied reports of contacts between Donald Trump's presidential campaign and Russian officials.
The New York Times reported that US intelligence agents intercepted calls showing that members of Mr Trump's 2016 campaign had repeated contacts with top Russian intelligence officials in the year preceding the 8 November presidential election.
US intelligence agencies concluded in January that Russia had intervened in the US electoral process at least in part to help Mr Trump.
In a tweet, Mr Trump said the intelligence community is illegally giving information to US media outlets.
Information is being illegally given to the failing @nytimes & @washingtonpost by the intelligence community (NSA and FBI?).Just like Russia

— Donald J. Trump (@realDonaldTrump) February 15, 2017
US agents are now trying to determine whether the Trump campaign cooperated with Moscow to disrupt Democrat Hillary Clinton's campaign, The Times reported.
The newspaper, citing current and former US officials, said that no such evidence has yet emerged.
Former Trump adviser Paul Manafort, who was among those campaign officials heard on the calls, told The Times that the claims were "absurd."
Mr Trump also took fresh aim at the media in a tweets this morning, without mentioning the Times.
The fake news media is going crazy with their conspiracy theories and blind hatred. @MSNBC & @CNN are unwatchable. @foxandfriends is great!

— Donald J. Trump (@realDonaldTrump) February 15, 2017
This Russian connection non-sense is merely an attempt to cover-up the many mistakes made in Hillary Clinton's losing campaign.

— Donald J. Trump (@realDonaldTrump) February 15, 2017
In Moscow, Kremlin spokesman Dmitry Peskov dismissed the latest allegations.
"Don't believe newspaper reports, it's very difficult at the moment to differentiate them from falsehoods and fabrications," Mr Peskov told reporters.
"If you don't mind let's wait and let's not believe anonymous information, which is information based on no fact," he said.
Trump warned about Flynn
The White House admitted yesterday that Mr Trump was told three weeks ago that ousted national security adviser Michael Flynn may have misled colleagues about his Kremlin contacts.
The retired three-star general and former head of US defence intelligence initially denied discussing sanctions strategy with Russia's ambassador Sergey Kislyak before taking office, a move that may have breached US law on negotiating with foreign powers.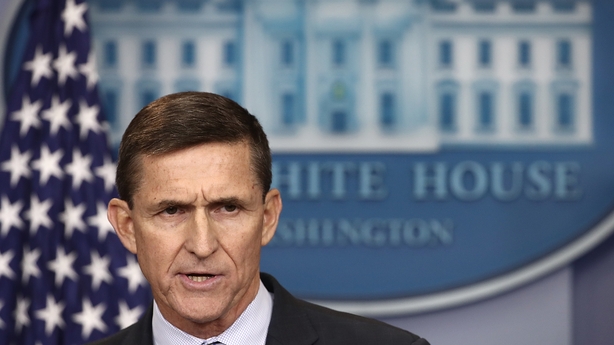 Mr Flynn was asked to resign on Monday, after what the White House said was an internal investigation that showed no wrongdoing but "eroded" trust.
He is the third Trump aide to step back amid questions about his ties to Russia since the billionaire businessman began his improbable White House bid.
His departure follows those of Mr Manafort and Carter Page, an early foreign policy adviser to the candidate.
White House spokesman Sean Spicer strongly denied that Mr Trump had instructed Mr Flynn to discuss possibly rolling back sanctions that Barack Obama imposed on Russia.
The White House had painted Mr Trump's final decision as based on Mr Flynn misleading Vice President Mike Pence.
But it emerged yesterday that Mr Trump kept Mr Pence in the dark for two weeks.
Spokesman Marc Lotter said Mr Pence only learned of the issue in media reports.
The unprecedented early resignation of a key staff member has rocked an administration already buffeted by leaks, infighting and legal defeats.
When first informed, on 26 January, that Mr Flynn may have made misleading statements about his talks with Russia's envoy, Mr Spicer said the president "instinctively thought that General Flynn did not do anything wrong."
The White House legal counsel "determined that there is not an illegal issue, but rather a trust issue," Mr Spicer said.
The evolving and eroding level of trust as a result ... is what led the president to ask for General Flynn's resignation
The White House also insisted that Trump - despite repeatedly professing admiration for Vladimir Putin and suggesting sanctions could be lifted - "has been incredibly tough on Russia."
In a new hardening of the US line on Russia, Mr Spicer added that "President Trump has made it very clear he expects the Russian government to de-escalate violence in the Ukraine and return Crimea."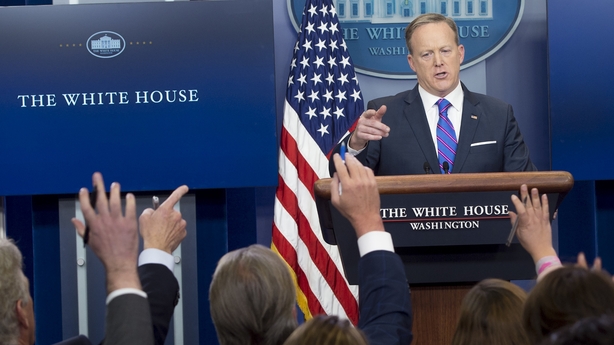 The State Department expressed concern that Russia is in breach of the Intermediate-Range Nuclear Forces Treaty, after reports that Moscow had deployed an operational ground-launched cruise missile unit.
Russian Foreign Minister Sergei Lavrov plans to meet his US counterpart Rex Tillerson tomorrow in Germany, when both diplomats will be in Bonn for the G20 ministerial talks, a foreign ministry spokeswoman said.