Veteran Joe Biden fought this presidential battle over what he called the soul of the American nation, but he has often spoken of his Irish-American roots too.
Born Joseph Robinette Biden Junior on 20 November 1942, he was raised in the Rust Belt town of Scranton, Pennsylvania in an Irish-Catholic family.
His father was a car salesman and when the city went through tough times in the 1950s, he lost his job, and the family moved to neighbouring Delaware when Joe Biden was 10 years old.
"My dad always said: 'Champ, when you get knocked down, you get back up," Biden said of his father and this tenacity has certainly lasted throughout his political career.
He studied at the University of Delaware and the Syracuse University law school, and he has often expressed his pride in his working class roots and the fact that he did not attend an elite Ivy League college.
In the first presidential TV debate, Biden sought to clearly differentiate himself from Donald Trump, who he accused of paying little income tax despite his billionaire businessman status.
The former vice president said: "It's a little bit like how this guy and his friends look down on so many people... They look down their nose on people like Irish Catholics, like me, who grow up in Scranton."
Vowing to work to defeat racism in America as president, Biden said that under the Trump presidency, America in the last four years has become "weaker, sicker, poorer, more divided and more violent".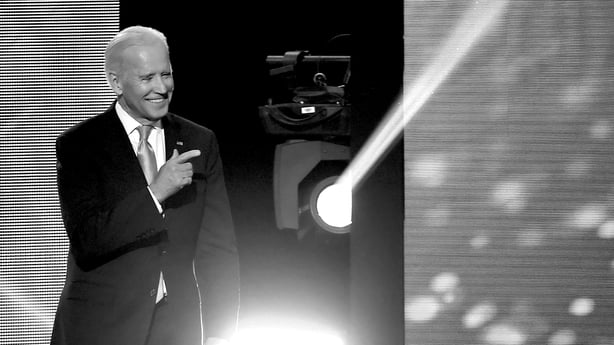 At 77 years old, Joe Biden is set to become America's oldest ever president.
Inheriting a country that is more divided than ever, along with a coronavirus pandemic that shows little sign of abating, these issues will be top of his policy agenda in the White House.
---
Hit by tragedy
Joe Biden was just 29 when he hit the national political stage with a surprise US Senate win in Delaware in 1972.
But just a month later, after his 30th birthday, tragedy struck as his wife Neilia and their one-year-old daughter Naomi were killed in a car crash as they went out Christmas shopping.
Biden's two sons, Beau and Hunter, were severely injured in the same collision. He was sworn into the Senate beside their hospital beds and later, as they recovered, he frequently travelled back from Washington DC on the train so he could spend time with them, following the loss of their mother.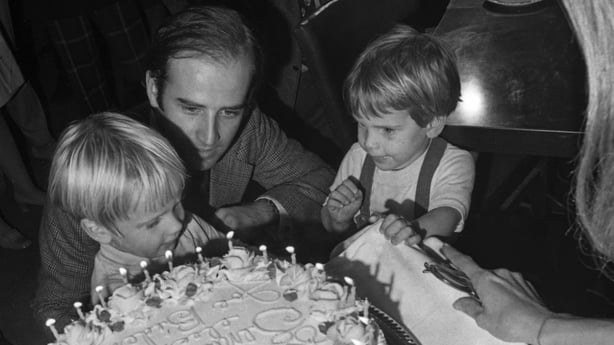 He has credited his second wife Jill, 69, as a powerful support in his personal life, saying she had acted as a mother to the two boys. "She put us back together", he said.
In 2015, Beau Biden died from cancer at the age of 46. This loss prevented Joe Biden from launching a presidential bid in 2016.
Both father and son were very close and in January this year, Joe Biden revealed Beau had an undeniable influence on his campaign this time around. "Every morning I get up... and I think to myself, 'Is he proud of me?'"
Almost every Sunday Biden goes to pray at St Joseph on the Brandywine, a Catholic church in his hometown of Wilmington, Delaware.
He was there with his family on election day before reportedly walking across the street to the cemetery where his son Beau, his first wife, and his daughter are buried.
His children, Hunter and Ashley Biden, have been campaigning for their father during his latest presidential run, and introduced him as the presidential nominee, during the 2020 Democratic National Convention.
---
Third run for presidency
Despite being a favourite of the Democratic establishment, Joe Biden struggled to secure his place as a presidential contender in this election, with many in the party worried he was too old or too centrist.
His campaign had seemed as if it was heading for disaster, following primary losses to the fiery Bernie Sanders earlier this year.
However, the overwhelming support of African-American voters gave him the edge in South Carolina's primary, clinching him the nomination in February.
He then surged to victory in at least eight of the 14 states where Democrats held primaries on 'Super Tuesday' in March, outperforming expectations.
This is Biden's third run for president.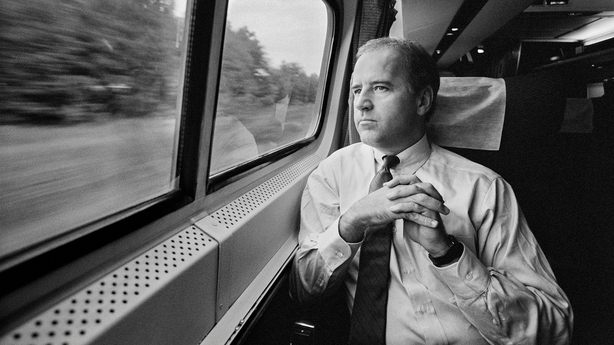 He quit in disgrace in 1988 after part of his speech was found to be plagiarised from British politician Neil Kinnock.
In 2008, he dropped out after getting less than 1% of the vote in Iowa's caucuses before he was ultimately picked to be Barack Obama's vice presidential running mate.
Biden's 36-year-career in the US Senate and his vast foreign policy experience meant he was a valuable support to the younger president Barack Obama, who joked about their close relationship as a "bromance".
In January 2017, President Obama bestowed the US nation's highest civilian honour on a clearly emotional Biden.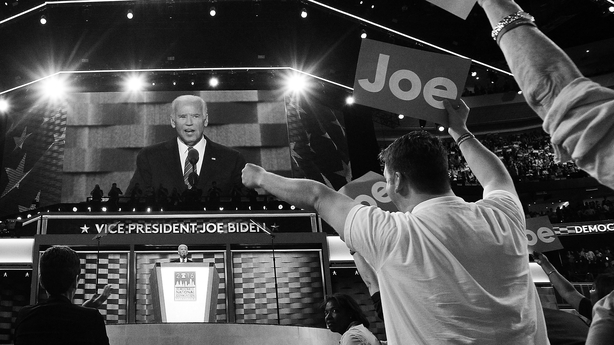 In August, Joe Biden picked his former rival for the Democratic nomination, 55-year-old California Senator Kamala Harris as his choice for vice president.
She is the first black woman on a major-party US presidential ticket.
With record-breaking early voting and turnout, Biden said earlier this month he would accept the verdict of the American people, whatever they decide.
"I am going to accept the outcome of this election - period. And all the American people have to do is show up and vote, just show up and vote. They're going to determine this."
At his final drive-in rally in the key state of Pennsylvania he predicted: "When America is heard, the message is going to be loud and clear. It's time for Donald Trump to pack his bags and go home."
---
Courting controversy 
During both recent presidential debates, Biden has been forced to defend his son Hunter, a lawyer and lobbyist who received a lucrative salary on the board of a Ukrainian gas company, whilst his father was vice president.
Donald Trump has accused Hunter Biden of being involved in corrupt business deals with China, Ukraine and Russia.
No evidence has been verified to support these allegations, which Joe Biden has called false and discredited. 
During the final TV debate, he said of Donald Trump: "There's a reason why he's bringing up all this malarkey. There's a reason for it. He didn't want to talk about the substantive issues. It's not about his family and my family. It's about your family and your family's hurting badly. If you're making less than if you're a middle-class family, you're getting hurt badly right now."
While Donald Trump has been quick to criticise his democratic opponent's visibility in this campaign, labelling him as "Basement Biden," he has perhaps understandably steered clear of cornering him about an allegation of sexual assault from a former Senate staffer.
Instead, Donald Trump said: "You know it could be false accusations. I've been falsely charged numerous times."
Joe Biden has denied the allegation but has been accused by multiple women in the past of having a "touchy feely" hands-on style.
This led him to release a video on his Twitter account last year, in which he promised to be more respectful of people's personal space: "I'll always believe, governing quite frankly, life for that matter, is about connecting, about connecting with people, that won't change. But I will be more mindful about respecting personal space," he said. 
---
The pandemic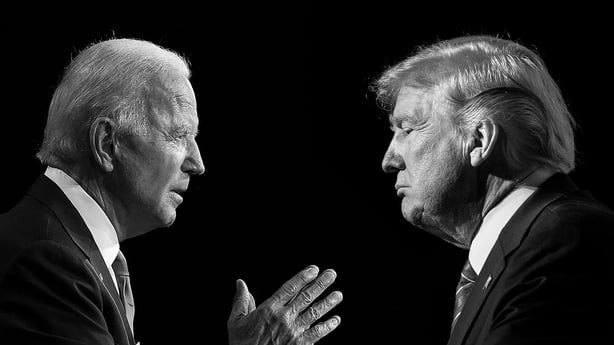 Throughout this campaign, Donald Trump has tried to denigrate his opponent as 'Sleepy Joe', frequently accusing his opponent of hiding behind a mask and hitting out at the numbers attending his rallies.
Biden, on the other hand, has said it is "patriotic" to wear a mask. He has tried to keep his campaign Covid-safe, through a series of drive through and online events.
Trump said: "I don't think it's necessary for Sleepy Joe to constantly, you know, he walks onto a stage that people are - number one, there's no people there".
Biden, in turn, has frequently attacked Trump for his record on the coronavirus, blaming him for failing to protect American lives.
"Due to Donald Trump's lies and incompetence, the past six months have seen one of the gravest losses of American life in history," he has said.
Biden briefly withdrew his attack advertisements when President Trump himself tested positive, but as he recovered the focus shifted again to the toll Covid-19 has taken on the American people.
---
Irish roots
Diplomats here believe a Biden presidency would herald a change in US policy towards Ireland, in the form of a move away from President Trump's mantra to always put 'America First'.
Anne Anderson, the first female Irish Ambassador to the United States, recently told RTÉ's Morning Ireland: "Joe Biden is a proud Irish American. His identity as an Irish American is at the core of who the man is. He knows Ireland, he loves Ireland."
While she says the instinctive sympathies of the Trump administration lie with Britain, when it comes to Brexit,  Anderson says Biden's sympathies will instinctively lie with the European Union.
This was borne out by a tweet Joe Biden posted in mid-September when he warned the UK: "We can't allow the Good Friday Agreement that brought peace to Northern Ireland to become a casualty of Brexit."
Casting doubt on any post-Brexit trade deal that the UK might hope to cement with the US after this election, Biden added: "Any trade deal between the US and UK must be contingent upon respect for the agreement and preventing the return of a hard border. Period."
We can't allow the Good Friday Agreement that brought peace to Northern Ireland to become a casualty of Brexit.

Any trade deal between the U.S. and U.K. must be contingent upon respect for the Agreement and preventing the return of a hard border. Period. https://t.co/Ecu9jPrcHL

— Joe Biden (@JoeBiden) September 16, 2020
Anderson says any change would not mean that Joe Biden's relationship with Ireland would be characterised "by a kind of dewy-eyed sentimentality".
She said: "There will inevitably be issues where we differ on the economy, taxation issues, attitudes towards the Middle East, but they will be dealt with in an atmosphere that involves mutual respect and friendship."
She said that while President Trump has often spoken of his affection for this country, what Ireland could expect from a Biden presidency would be more of a shared world view.
Joe Biden has made much of his Irish roots. He frequently visited Ireland as a Senator and made a six-day visit here as vice president under Barack Obama in 2016.
He came at the invitation of then taoiseach Enda Kenny and travelled with his brother and sister, his daughter Ashley and five grandchildren.
He said he had promised his late son Beau a family trip to Ireland, but said: "Unfortunately Beau didn't make it, but we decided that we would bring the whole family."
Biden said his great-grandfather Patrick had emigrated from Ireland and Biden has links to both the Blewitts of Ballina in Co Mayo and the Finnegans of Co Louth on the Cooley Peninsula.
Biden has often quoted the poet Seamus Heaney is his campaign speeches and did so again alongside a black-and-white campaign video with powerful images of Black Lives Matter protests, wildfires and the coronavirus crisis.
"But then, once in a lifetime 
The longed-for tidal wave 
Of justice can rise up, 
And hope and history rhyme." 
"History says, don't hope
On this side of the grave.
But then, once in a lifetime
The longed-for tidal wave
Of justice can rise up,
And hope and history rhyme."
- Seamus Heaney pic.twitter.com/7nB1ytYlvm

— Joe Biden (@JoeBiden) October 29, 2020
---