For those who spent all night watching developments overnight, here is a round-up of all the latest news since lunchtime, as the Republican Party continues to dispute the validity of mail-in ballots and the Biden campaign predicts a "clear path" to a win.
---
'Pathway to victory'
At this point, both President Donald Trump and Joe Biden still have possible paths to reach the needed 270 Electoral College votes to win the White House. Much still depends on the outcome in the three key Rust Belt states of Pennsylvania, Michigan and Wisconsin.
---
'On track to win this election'
Joe Biden's campaign chief Jen O'Malley Dillon said the Democratic candidate was "on track to win this election", predicting he will be the next president of the United States. 
She added: "We believe we are on a clear path to victory. By this afternoon we expect that the vice president will have leads in states that put him over 270 electoral votes. 
"Today the vice president will garner more votes than any presidential candidate in history and we are still counting." 
We won't rest until everyone's vote is counted. Tune in as my campaign manager @jomalleydillon and campaign adviser Bob Bauer give an update on where the race stands. https://t.co/Rwz4iR25B3

— Joe Biden (@JoeBiden) November 4, 2020
---
'Then, one by one, they started to magically disappear'
But at the same time on Twitter, Donald Trump again questioned the validity of mail-in votes, which were counted last in many states. 
Last night I was leading, often solidly, in many key States, in almost all instances Democrat run & controlled. Then, one by one, they started to magically disappear as surprise ballot dumps were counted. VERY STRANGE, and the "pollsters" got it completely & historically wrong!

— Donald J. Trump (@realDonaldTrump) November 4, 2020
He said: "Last night I was leading, often solidly, in many key States, in almost all instances Democrat run & controlled. Then, one by one, they started to magically disappear as surprise ballot dumps were counted. VERY STRANGE, and the "pollsters" got it completely & historically wrong!" 
Twitter labelled the Tweet as possibly disputed and misleading. A similar action was taken against an earlier tweet by the president suggesting the Democratic nominee was seeking to "steal" the election. Twitter's action makes the Tweets less visible. 
---
In every US presidential election, officials normally take several days to process provisional and mail-in ballots. There were more postal ballots this year due to the Covid-19 pandemic. The counting of additional ballots is no surprise, nor that such votes favoured Biden, which was widely predicted in the run-up to the vote.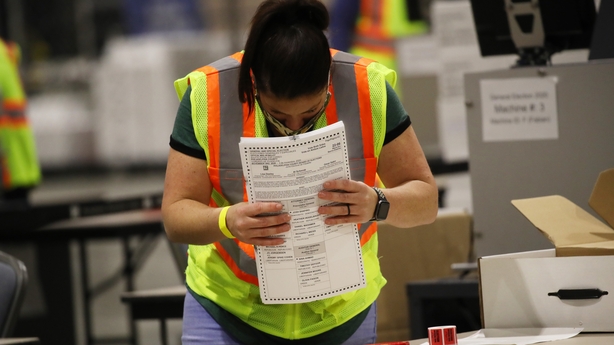 ---
US President Donald Trump's campaign said it would forge ahead with legal efforts to ensure legally cast, and not illegally cast, votes were counted. It said it expected to win even as ballots in key states continued to be tallied. "If we count all legal ballots, we win, the president wins," Bill Stepien told reporters on a conference call.
The Biden campaign said President Trump would face an "embarrassing defeat" if he fought the vote in the Supreme Court.
---
The US Postal Service completed required sweeps of mail processing facilities late on Tuesday in about a dozen states after it had earlier said it could not meet an afternoon deadline to complete the checks, a spokesman for the agency said today. The sweep was ordered in response to lawsuits by groups including VoteForward, the NAACP (National Association for the Advancement of Colored People), and Latino community advocates.
---
In the key state of Pennsylvania, close to 50% of mail-in ballots had been counted by this afternoon. Secretary of State Kathy Boockvar vowed every vote would be tallied before the results are announced.
"There are still millions of ballots left to be counted," she told reporters.
There are 10 times the number of mail ballots this year as in 2016, she said. 
---
Meanwhile, a federal judge in Pennsylvania was weighing arguments by Republicans seeking to stop a suburban Philadelphia county from counting mail-in and absentee ballots that voters had been permitted to correct. 
US District Judge Timothy Savage in Philadelphia appeared skeptical about arguments by the plaintiffs' lawyer, which lawyers for Montgomery County election officials and the Democratic National Committee said could disenfranchise voters. The decision could have implications for the national presidential race between Republican incumbent Donald Trump and Democratic rival Joe Biden in this battleground state. 
---
Joe Biden is continuing to hold on to narrow leads in Wisconsin and Michigan, according to Edison Research, as the two Midwestern battleground states that the Republican president won in 2016 continued to count the mail-in ballots.
If he also takes Nevada tomorrow, another state where he was holding on to a small advantage, those states could deliver the 270 votes needed in the state-by-state Electoral College to win the White House.
---
Khloe Kardashian urged people to take care of themselves if they are "riddled with nerves" as they await the outcome of the US election. Commenting on the nail-biting results, he 36-year-old said she is "seeing that so many people were unable to sleep because of the elections". 
"Even people not from this country," she added. "Many are riddled with nerves." 
---
Brazilian President Jair Bolsonaro said today he hoped Donald Trump would come out ahead in the down-to-the-wire election and he lashed out at Democratic contender Joe Biden's comments on protecting the Amazon rainforest. 
The far-right leader, who has been dubbed a "Tropical Trump," has cultivated a close relationship with the Republican president, and has not been shy about endorsing his bid for re-election. 
"You know where I stand, I've been clear. I have a good relationship with Trump," he told supporters outside the presidential palace in Brasilia. 
---
In more news from one of those battleground states, Michigan, Joe Biden had 49.5% of the vote and Donald Trump 48.0% according to Edison Research, with 92% of the expected vote tallied.
However, in Wayne County, home to the Democratic leaning city if Detroit, Biden's lead rose to 66.9% with about three quarters of the expected vote tallied there. An unofficial vote count is expected for Michigan by the end of today.
---
The too tight to call election has also been a closely watched one with an estimated 22.8 million TV viewers across six US networks, according to early data cited by Hollywood outlet, the Wrap.