Counting in the US election has yet to be completed in at least five major 'battleground' states: Pennsylvania, Michigan, Wisconsin, North Carolina and Georgia.
US media is projecting that Democrat Joe Biden has won the vital battleground of Wisconsin, flipping a state won by Donald Trump in 2016 and boosting his own chances of winning the White House.
The other states remain too close to call.
Michigan, Pennsylvania and Wisconsin are part of a trio of "blue wall" states that unexpectedly sent Mr Trump to the White House in 2016 .
In the state of Nevada where Joe Biden appears to be holding on to a slight lead, officials said they would not resume counting until Thursday.
Across all these states the outcome could come down to millions of absentee ballots that are the first to be cast and are often the last to be counted.
---
Pennsylvania – 20 votes
In Pennsylvania, there are still more than a million mail-in ballots to be counted, which political analysts believe are likely to skew Democrat.
No news organisation has called the presidential contest here, but the Trump campaign said it is suing to halt the counting of votes in the crucial swing state. Absentee ballot counting began at 7am on Tuesday.
Last week, the US Supreme Court let stand a ruling by Pennsylvania's top court that officials in the state could accept mail-in ballots three days after Tuesday's election, so long as they were postmarked by election day.
With 79% of the vote counted in the industrial Rust Belt state, Trump was ahead with 53.9% compared to Biden's 44.8%.
Remaining ballots are however expected to favour Biden, who was born in the state.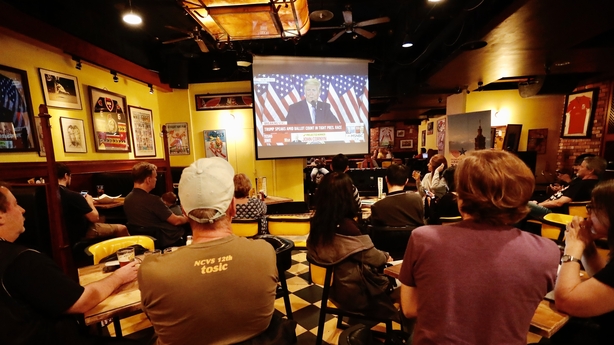 Philadelphia is the state's largest county and a Democratic stronghold, but the result in Pennsylvania could come down to how people vote in the suburbs.
The state's Democratic Governor Tom Wolf said one million mailed-in ballots remained to be counted and promised all counties would work "tirelessly" to complete them.
Donald Trump is currently leading voting in Pennsylvania by 53.4% to Biden's 45.3%, according to Edison Research with 80% of the estimated vote tallied. 
We will know more by the end of the day but ultimately, counting here could take days.
---
Wisconsin – 10 votes 
This state would be a key one to win if Joe Biden is going to make it to the White House. Donald Trump caused a major upset in 2016 by beating Hillary Clinton here by less than 30,000 votes. 
CNN projected a win here for Biden, giving him 10 electoral votes and a total so far of 253.
According to Edison Research, the margin between the contenders was just over 20,000 votes, or 0.6% of the poll, based on tallies.
The Trump campaign immediately said it would seek a recount, which is permitted under state law when the margin is below 1%.
---
Michigan – 16 votes
The campaign of President Donald Trump has filed a lawsuit in Michigan to stop the counting of ballots in the presidential election.
"We have filed suit today in the Michigan Court of Claims to halt counting until meaningful access has been granted. We also demand to review those ballots which were opened and counted while we did not have meaningful access," the campaign said in a statement.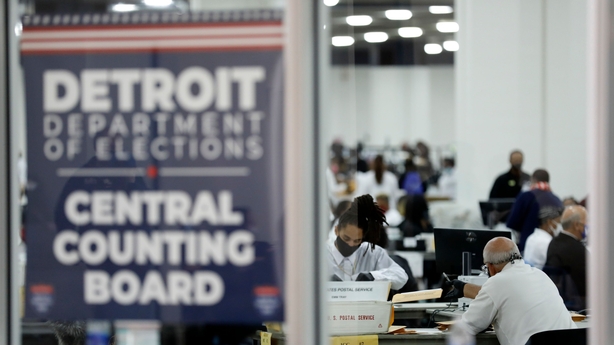 The lawsuit came shortly before US media declared Biden as the winner in the swing state, which has 16 electoral votes.
---
Nevada – 6 votes 
Long seen as a solid Biden-leaning state, Nevada now appears in play. Edison Research data shows 86% of the expected vote is in and Biden's lead is just 49.3% to 48.7% for Trump.
State officials expect the remaining votes - largely mail-in ballots - to be counted this morning.
Clark County, the state's largest region and home to Las Vegas, has tallied 84% of expected votes so far and Biden is ahead there 52.9% versus 45.4% for Trump.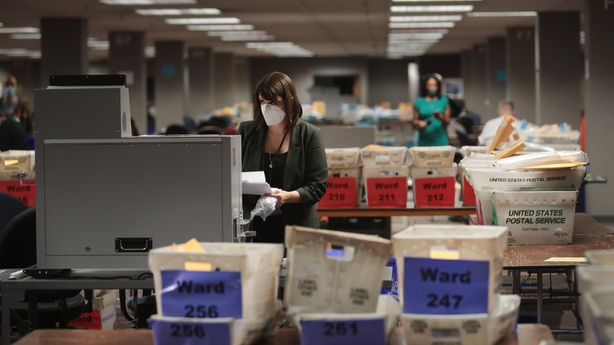 ---
Georgia – 16 votes 
Georgia has no-excuse absentee voting and ballots must be received by clerks by the close of polls on Election Day. Ballots can be opened and scanned on receipt, but they were only being tallied after polls closed. 
Trump is holding onto a narrow lead here, but several of the large counties around Atlanta that lean Democratic have substantial numbers of ballots still to count.
With 93% of the expected vote counted, Trump is ahead with 50.3% versus 48.5%for Biden.
Georgia Secretary of State Brad Raffensperger said he hoped to have a result on Thursday.
Under Georgia law, if the margin between the candidates is less than or equal to 0.5 percentage points, a candidate may request a recount within two business days following the certification of results.
---
North Carolina – 15 votes
The margin between Trump and Biden is less than 2 percentage points as the US president clings to a lead of 50.1% to 48.7% for the Democrat, with 95% of the expected vote counted.
The state allows mail-in ballots postmarked by Tuesday to be counted if they are received by 12 November.
This morning, the Biden campaign said they expect a final result to take several days.
---
Arizona - 11 votes
Joe Biden has a significant lead here, and the Associated Press and Fox News have already called the state for the Democrat.
With 86% of the expected vote counted, Biden leads with 51% against 47.6% for Trump, according to Edison Research.
"Flipping" Arizona from red to blue would be a historic victory for the Democrats. Excluding Bill Clinton in 1996, the state has voted Republican since 1952.
A local news outlet in Phoenix is reporting the next count update is not expected until this morning.