President Donald Trump and Democratic challenger Joe Biden are squaring off for what could be a legal battle for the White House, running neck-and-neck in the electoral vote count, and several battleground states still in play.
Tension spiralled in the still undecided US election after Trump made unprecedented claims of fraud and demanded a recount in Wisconsin, where Biden notched up another win to inch closer to overall victory.
US media also projected that Biden had won Michigan and its 16 electoral votes, flipping a state won by Trump in 2016.
This would give the Democratic candidate 264 electoral votes with 214 for Trump. One more state could see Biden pass the 270 votes necessary to become president and secure the White House.
Earlier, Trump's campaign announced a lawsuit to try and suspend the vote count in Michigan, where it said - without evidence - that its team was denied proper access to observe vote counting.
"We have filed suit today in the Michigan Court of Claims to halt counting until meaningful access has been granted. We also demand to review those ballots which were opened and counted while we did not have meaningful access," the campaign said in a statement.
Trump's team said it was also suing to halt the counting of votes in Pennsylvania - after the US president called overnight for Supreme Court intervention to exclude the processing of mail-in ballots after the close of polls.
While there was no official winner more than 12 hours after the last polls closed yesterday, the fate of the most divisive contest in decades was coming down to just a handful of states where the Republican incumbent and his challenger fought over razor-thin margins.
In the latest blow to Trump, Biden was declared the winner of Wisconsin by media outlet AP, with an insurmountable lead of 20,000 after 98% of ballots had been counted.
This mirrored Biden's slow but steady march across the remaining toss-up states in the vast country, where counting was complicated by the Covid-19 pandemic and record numbers of early and mailed-in votes.
Addressing Americans tonight in a short speech from Delaware, Joe Biden said that democracy was the "heartbeat" of America - adding that power cannot be "taken or asserted".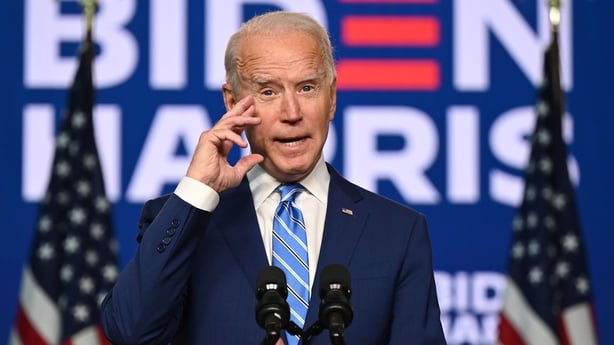 "My fellow Americans, yesterday once again proved that democracy is the heartbeat of this nation, just as it has been the heartbeat of this nation for two centuries," he told a crowd.
"And even in the face of the pandemic, more Americans voted in this election than ever before in American history.
"Over 150 million people cast their votes, I think that's just extraordinary.
"And if we had any doubts, we shouldn't have any longer, about a government of, by and for the people is very much alive, very much alive in America.
"Here, the people rule. Power can't be taken or asserted. It flows from the people and it's their will that determines who will be the president of the United States, and their will alone." 
"It is clear that we're winning enough states to reach 270 electoral votes"@JoeBiden says when the count is done, his campaign believe they will have won, and that with all votes counted, he will have won battleground states Wisconsin and Michigan | https://t.co/gYGTI83tBI pic.twitter.com/iiL4tSJ8Pv

— RTÉ News (@rtenews) November 4, 2020
Biden told voters: "I'm not here to declare that we've won, but I am here to report, when the count is finished, we believe we will be the winners."
Once the US election is finalised, "it will be time to put harsh campaign rhetoric behind us". While he campaigned as a Democrat, Biden would "govern as an American" in the White House.
"There will be no blue states and red states when we win, just the United States of America" @JoeBiden says "every vote must be counted" and that he is confident he will emerge victorious, adding his win will be a victory for democracy | Live Updates: https://t.co/gYGTI83tBI pic.twitter.com/5lmYBa7w4n

— RTÉ News (@rtenews) November 4, 2020
He said there would be "no blue states and red states when we win, just the United States of America".
"We the people will not be silenced," Biden said, as his running mate Kamala Harris stood by his side. 
"Now, after a long night of counting, it's clear that we're winning enough states to reach 270 electoral votes needed to win the presidency," he said.
"Over 70 million votes, I'm very proud of our campaign. Only three presidential campaigns in the past have defeated an incumbent president.
"When it's finished, God willing, we'll be the fourth. This is a major achievement." 
"To make progress we have to stop treating opponents as enemies, we are not enemies"@JoeBiden says once the election is done, the harsh rhetoric must be left behind, and while he is campaigning as a Democrat, he will govern as "an American president" | https://t.co/gYGTI83tBI pic.twitter.com/iGCd8sgh00

— RTÉ News (@rtenews) November 4, 2020
Results were still being tabulated in Georgia, Nevada, North Carolina and Pennsylvania  - all of them close contests.
However, the Trump campaign tonight declared "victory" in Pennsylvania - despite incomplete results and no official projections of a win here for the US president.
The apparent shift in fortunes toward his Democrat rival Biden prompted Trump to launch a tirade alleging mass fraud that he claimed on Twitter had made his victories "magically disappear."
The Biden camp expressed confidence, with campaign manager Jen O'Malley Dillon calling victory by the former vice president a "foregone conclusion."
But Trump has made clear he will not accept defeat before he has exhausted every possible challenge.
---
Follow live Election 2020 updates
A stunning address, even for Donald Trump
What might happen if US election result is disputed?
---
During the night after polls closed, he went on live television from the White House to claim "we did win this election" and to allege there had been "fraud on the American public."
"We were getting ready to win this election. Frankly, we did win this election," Mr Trump said.
"This is a major fraud on our nation. We want the law to be used in a proper manner. So we'll be going to the US Supreme Court. We want all voting to stop."
He provided no evidence to back up his claim of fraud.
'This is a major fraud on our nation': Donald Trump announces he will go to the Supreme Court, claiming that there has been fraud involved in the ballot. 'Frankly, we did win this election,' he said. | Follow live updates: https://t.co/GyIfFyiqLD pic.twitter.com/ap9oKAshAl

— RTÉ News (@rtenews) November 4, 2020
As it stands, there are six states still left uncalled - meaning both Trump and Biden still have a path to victory.
US media outlets have projected wins for the Republican incumbent in 23 states including big prizes Florida and Texas, as well as Indiana, Kentucky, Missouri and Ohio - all states he won in 2016.
Biden has captured 21 states, including his home state Delaware and big prizes California and New York, as well as the US capital. The former vice president has flipped two states won by Trump in 2016 - Arizona and Wisconsin.
Nebraska split its electoral votes between the two - four for Trump and one for Biden. Maine was won by Biden, but he seized only three of the four electoral votes on offer, with the last allocated to Trump.
So far, that gives Biden 248 electoral votes and Trump 214 - but these remain projected wins.
The magic number of electoral votes is 270.
The following is a list of the states won by each candidate and the corresponding number of electoral votes, based on the projections of US media including CNN, Fox News, MSNBC/NBC News, ABC, CBS and The New York Times.
In the case of Arizona, AFP used the projection made by the Associated Press.
TRUMP (214)
Alabama (9)
Arkansas (6)
Florida (29)
Idaho (4)
Indiana (11)
Iowa (6)
Kansas (6)
Kentucky (8)
Louisiana (8)
Maine (1)
Mississippi (6)
Missouri (10)
Montana (3)
Nebraska (4)
North Dakota (3)
Ohio (18)
Oklahoma (7)
South Carolina (9)
South Dakota (3)
Tennessee (11)
Texas (38)
Utah (6)
West Virginia (5)
Wyoming (3)
BIDEN (264)
Arizona (11)
California (55)
Colorado (9)
Connecticut (7)
Delaware (3)
District of Columbia (3)
Hawaii (4)
Illinois (20)
Maine (3)
Maryland (10)
Massachusetts (11)
Minnesota (10)
Michigan (16)
Nebraska (1)
New Hampshire (4)
New Jersey (14)
New Mexico (5)
New York (29)
Oregon (7)
Rhode Island (4)
Vermont (3)
Virginia (13)
Washington (12)
Wisconsin (10)
STATES NOT YET CALLED
Alaska
Georgia
Nevada
North Carolina
Pennsylvania