Republican Donald Trump put aside the celebrations and focused on his 73-day transition to the White House as rival Hillary Clinton promised to bury the bitterness of their long presidential race and work to unify a divided country.
After Mr Trump's stunning upset of the heavily favoured Clinton, Democratic President Barack Obama and leading figures in the Republican Party who had struggled to make peace with Mr Trump all vowed to move past the ugliness of an angry campaign to seek common ground.
Mr Obama is to host the President-elect in the Oval Office tomorrow for talks aimed at ensuring a smooth transition of power, the White House announced.
"Donald Trump is going to be our president. We owe him an open mind and the chance to lead," Mrs Clinton, the Democratic nominee, said in a concession speech in New York.
Mrs Clinton told supporters her loss was painful "and it will be for a long time," and that she had offered to work with Mr Trump as he prepares to begin his four-year term on 20 January.
We need your consent to load this rte-player contentWe use rte-player to manage extra content that can set cookies on your device and collect data about your activity. Please review their details and accept them to load the content.Manage Preferences
A wealthy real estate developer and former reality TV host, Mr Trump rode a wave of anger toward Washington insiders to win Tuesday's election.
His victory marked a crushing end to Mrs Clinton's second attempt to be the first woman elected president. She also failed in a White House bid in 2008.
Mr Obama, who campaigned hard against Mr Trump, invited him to the White House for a meeting on Thursday after a brutal night for the Democratic Party, which also fell short of recapturing majorities in both chambers of Congress.
"We are now all rooting for his success in uniting and leading the country," Mr Obama said at the White House, adding that he and his staff would work with Mr Trump to ensure a successful transition.
"We are not Democrats first, we are not Republicans first, we are Americans first."
Mr Trump and his senior aides were meeting at Trump Tower in New York to begin the transition.
"They are hunkered down in meetings, plotting the next steps, the transition, the first 100 days, key staff positions," said a source close to Mr Trump's campaign.
We need your consent to load this rte-player contentWe use rte-player to manage extra content that can set cookies on your device and collect data about your activity. Please review their details and accept them to load the content.Manage Preferences
Mr Trump will enjoy Republican majorities in both chambers of the US Congress that could help him implement his legislative agenda and appoint a Supreme Court justice to fill the vacancy created by the death of Justice Antonin Scalia.
"Now, Donald Trump will lead a unified Republican government and we will work hand-in-hand on a positive agenda to tackle this country's big challenges," House of Representatives Speaker Paul Ryan, who had a strained relationship with Mr Trump, told reporters.
In an interview on 25 October, Mr Trump said his top priorities when he took office would be building stronger borders, repealing Mr Obama's national healthcare plan, aiding military veterans and working to create more jobs.
In his victory speech early today, he also promised to embark on a project to rebuild American infrastructure and to double US economic growth.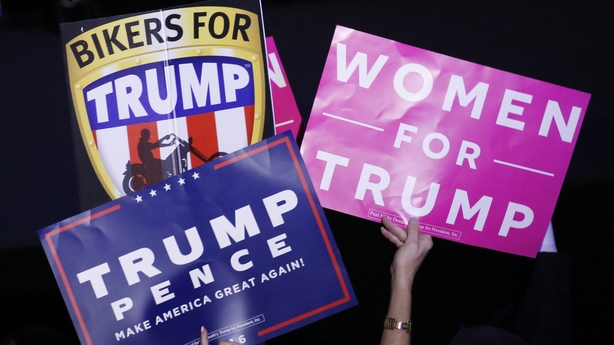 Full RTÉ coverage of US Election results
Republican Senate leader Mitch McConnell said that repealing the healthcare plan known as Obamacare would be a "pretty high item" on the agenda.
House Democratic leader Nancy Pelosi said in a statement that she spoke to Mr Trump about passing a "robust" jobs bill.
Worried that a Trump victory could cause economic and global uncertainty, investors initially fled stocks worldwide but Wall Street made a dramatic turnaround and the US dollar hit its highest level against the Japanese yen in nearly four months.
The Mexican peso recouped some losses after falling to a record low. The currency has been vulnerable to Mr Trump's threats to rip up a free trade agreement with Mexico and to tax money sent home by migrants to pay to build a border wall.
US Election results service – Follow the states as they turn red or blue https://t.co/2blmExUQHP pic.twitter.com/98DsaYEwBh

— RTÉ News (@rtenews) November 9, 2016
Scattered protests broke out around the country over Trump's triumph. In Berkeley, California, outside San Francisco, some 1,500 high school students and teachers walked out of classes chanting, "not our president."
Smaller groups of students walked out of classes in nearby Oakland and in Seattle, Washington, while several hundred students protested at the University of Texas, according to local reports.
Speaking to cheering supporters in a New York hotel ballroom after his victory, Mr Trump said it was time to heal divisions after a campaign that exposed deep differences among Americans.
"It is time for us to come together as one united people," Mr Trump said. "I will be president for all Americans."
His comments were an abrupt departure from his campaign trail rhetoric in which he repeatedly branded Mrs Clinton as "Crooked Hillary" amid supporters' chants of "lock her up."
Mr Trump's campaign manager, Kellyanne Conway, did not rule out the appointment of a special prosecutor to investigate Mrs Clinton's past conduct, a threat Mr Trump made in an election debate last month.
White House spokesman Josh Earnest said it hoped the tradition of not using the criminal justice system to extract revenge on political opponents would continue under Mr Trump.
This team has so much to be proud of. Whatever happens tonight, thank you for everything. pic.twitter.com/x13iWOzILL

— Hillary Clinton (@HillaryClinton) November 9, 2016
Despite losing the state-by-state electoral battle that determines the US presidency, Mrs Clinton narrowly led Mr Trump in the nationwide popular vote, according to US media tallies.
Fueling his upset was Mr Trump's avid support among white non-college educated workers.
He ran up big leads in rural areas, beating Mrs Clinton by 27 percentage points among voters outside of urban areas, a Reuters/Ipsos Election Day poll found.
While Mrs Clinton, 69, won Hispanics and black and young voters, she did not win those groups by greater margins than Mr Obama didin 2012.
Younger blacks did not support Mrs Clinton like they did Mr Obama. She won eight of ten black voters between the ages of 35and 54. Mr Obama won almost 100% of those voters in 2012.
At 70, Mr Trump will be the oldest first-term US president.
The presidency will be Mr Trump's first elected office, and it remains to be seen how he will work with Congress.
During the campaign Mr Trump was the target of sharp disapproval, not just from Democrats but also from many in his own party.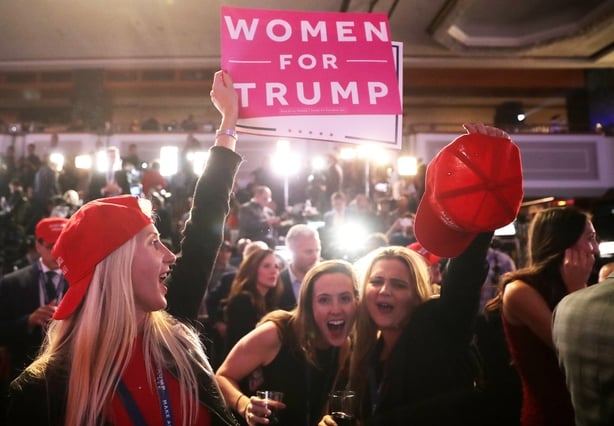 Foreign leaders pledged to work with Mr Trump but some officials expressed alarm that the vote could mark the end of an era in which Washington promoted democratic values and was seen by its allies as a guarantor of peace.
During the campaign, Mr Trump expressed admiration for Russian President Vladimir Putin, questioned central tenets of the NATO military alliance and suggested that Japan and South Korea should develop nuclear weapons to shoulder their own defense burden.
Russia and Mr Putin appeared to be winners from Mr Trump's victory.
Defying years of US foreign policy orthodoxy, the Republican had promised much warmer relations with Moscow, despite Russia's intervention in the Syrian civil war and its seizure of Ukraine's Crimea region.
Russia's parliament erupted in applause after a lawmaker announced that Mr Trump had been elected, and Mr Putin told foreign ambassadors he was ready to fully restore ties with Washington.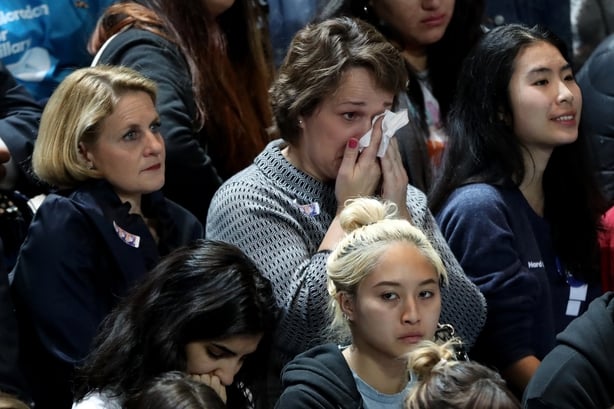 "It is not an easy path but we are ready to do our part and do everything to return Russian and American relations to a stable path of development," Mr Putin said.
Israeli Prime Minister Benjamin Netanyahu, who sparred with Mr Obama, spoke by phone to Mr Trump, who proposed they meet "at the first opportunity," Mr Netanyahu's office said. Chinese President Xi Jinping said Beijing and Washington shared responsibility for promoting global development and prosperity.
Taoiseach Enda Kenny also congratulated Mr Trump on behalf of the Irish people.
'The people of America have made a very clear choice'. Taoiseach reacts to Trump's election win pic.twitter.com/NrxGMBZN6C

— RTÉ News (@rtenews) November 9, 2016
US neighbor Mexico was pitched into deep uncertainty by the victory by Mr Trump, who has often accused it of stealing US jobs and sending criminals across the US border.
Mr Trump campaigned on a pledge to take the country on a more isolationist, protectionist "America First" path.
He wants to rewrite international trade deals to reduce trade deficits and has taken positions that raise the possibility of damaging relations with America's most trusted allies in Europe, Asia and the Middle East.