Wall Street stocks have surged following Donald Trump's shock win of the US presidency, with pharmaceutical and banking shares especially strong in anticipation of favorable policies.
US stocks began tentatively, but gradually pushed higher, with gains accelerating after Democrat Hillary Clinton emphasised the need for an orderly transfer of power during a concession speech.
At the closing bell, the Dow Jones Industrial Average was up 1.4% at 18,589.04.
And there it goes - Nasdaq is open. pic.twitter.com/fgZCQGBOtw

— Will Goodbody (@willgoodbody) November 9, 2016
It was a stark picture from the panic that struck futures trading just after the election results were known overnight and before the US markets opened, when Dow futures fell more than 700 points.
Fears of a Brexit-style shock that wiped trillions off global markets failed to materialise on European markets today and European shares managed to shake off their earlier losses to close higher this evening.
London's FTSE had gained 1% to close at a week high, while markets in Paris and Frankfurt both gained 1.5%.
Dublin's ISEQ index soared 2.4%, on the back of big gains in CRH shares after Trump said he will put millions of people to work rebuilding the US infrastructure - where the company has a strong presence.
However, Mexican stocks plunged 3.2% as they opened today after the Trump victory.
Earlier in Asian trade, Japan's Nikkei index plummeted 5.4%, or 920 points, to close at 16,252 after a wild day of trading. Markets in Hong Kong closed over 2% lower.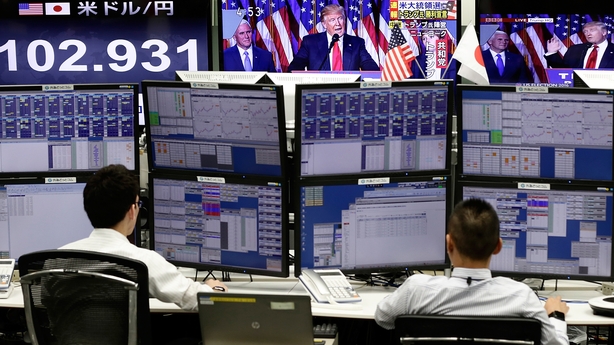 Meanwhile, the US dollar sank and Asian stock markets had plummeted in earlier market mayhem as investors faced the shock win by Trump that could upend the global political order.
Sovereign bonds, the Japanese yen and gold surged while the Mexican peso went into near free-fall in chaotic trading.
US stock futures dived 5% at one point, worse than the carnage caused by the British vote to leave the European Union in June that wiped trillions of dollars off world markets.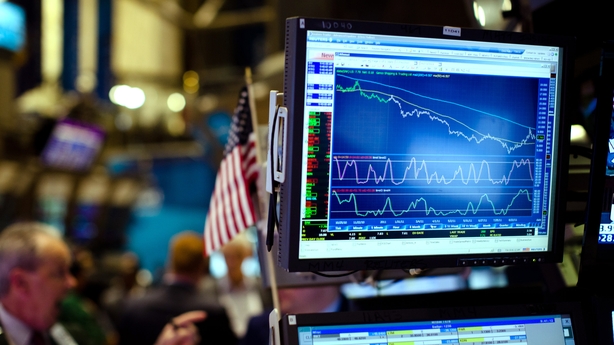 Investors fear a Trump victory could cause global economic and trade turmoil and years of policy unpredictability, discouraging the Federal Reserve from raising interest rates in December as long expected.
Fed fund futures were even starting to toy with the idea of a cut in rates next year and it was possible the Bank of Japan, the European Central Bank and others might be forced to ease policy yet further.
"This is another black swan for European stocks - despite Brexit, markets were still not prepared for a Trump win and stocks will bear the biggest brunt for it," City Index analyst Ken Odeluga said.
"It is a long-term negative for global growth because of the protectionist instincts of President Donald Trump. Global trade will be curbed and the biggest multinationals face challenges to revenue growth as the expansion of globalisation itself comes into question," the analyst added.
Fed fund futures were even starting to toy with the idea of a cut in rates next year and it was possible the Bank of Japan, the European Central Bank and others might be forced to ease policy yet further.
Japan's top currency diplomat signalled Tokyo's readiness to intervene if necessary as the surging yen threatened to snuff out its fragile economic recovery.
"Lightning appears to have struck twice as Trump is set for an unexpected victory, following the shock Brexit vote earlier in the year," said Geoffrey Yu, head of the UK Investment Office at UBS Wealth Management.

The scale of the scare was clear in the Mexican peso, which plunged more than 13% against the dollar in the biggest daily move in two decades.
Markets had favoured Clinton as a status quo candidate who would be considered a safe pair of hands at home on the world stage. Analysts had no such certainty about Trump.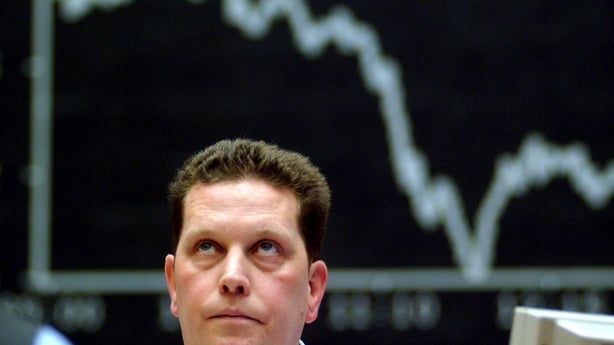 "With Brexit we had one bad day but this is different. This is what's scary about putting the most powerful position in the world in the hands of a man who many believe is temperamentally unstable," said Donald Selkin, chief market strategist at National Securities in New York.
"His tax cuts could open up a huge increase in the budget deficit and his trade sanctions could interrupt world trade. This could put us in a recession," the analyst said.