The family of a woman murdered in Co Tyrone 50 years ago say they believe her killer is still alive and may yet be brought to justice.
18-year-old Marian Beattie was found dead in a quarry close to a dance she had been attending on 31 March 1973.
She was seen leaving the nearby dance hall in the company of a man.
Her body was discovered when she failed to meet her brother for a lift home to Portadown.
Only around 200 people were at the dance, and the Beattie family believe some of them hold the key to the case.
They are urging anyone who has information to come forward.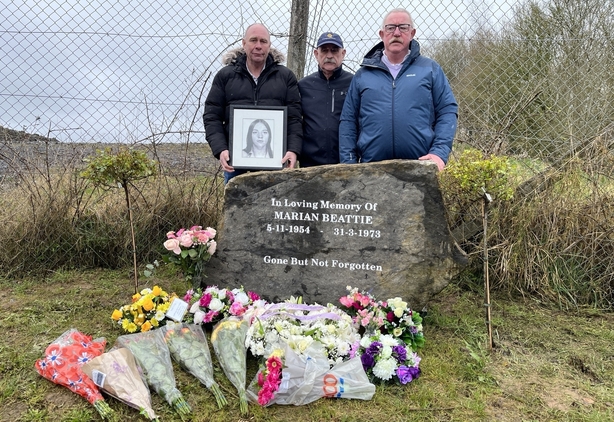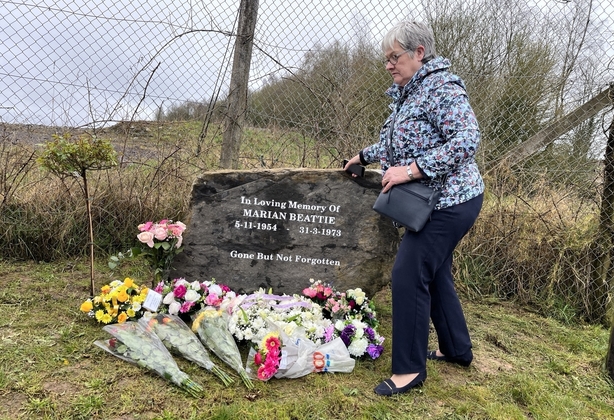 The police ombudsman's office is investigating the case after the family raised concerns about the standard of the original RUC investigation.
They complained that it was not treated with the urgency it deserved at the time and that exhibits and elements of the case file had subsequently been lost.
The Ombudsman's office is expected to issue its report soon.
Ms Beattie's cousin Colette Toman said the family wanted the investigation taken out of the PSNI's Legacy division which investigates historic killings.
They want it reopened as an active case and are calling on PSNI Chief Constable Simon Byrne to act.
"After 50 years we deserve answers as to why Marian's investigation was flawed from the very beginning and what steps will now be taken to rectify this."
Several hundred people turned up for the unveiling of a memorial close to the former quarry where her body was found.
It was fashioned from a stone, taken from the quarry where she was found.
The quarry was later used as a landfill and has recently been planted out as a native woodland.
The case recently featured in a cold case documentary and a podcast which reignited interest in it.
Several years ago, a man was questioned by police about the case after presenting himself for interview at a PSNI station.