Taoiseach Leo Varadkar has declined to answer whether or not he thought there would be a united Ireland in his lifetime in case it was deemed provocative during the sensitive EU-UK negotiations on the Northern Ireland Protocol.
The question was asked by a moderator during a panel debate at the World Economic Forum in Davos.
Mr Varadkar said talks between the EU and UK on the protocol were at a sensitive point.
He said he was optimistic that there would be an agreement on the protocol in the coming months.
NI Secretary confirms no immediate election planned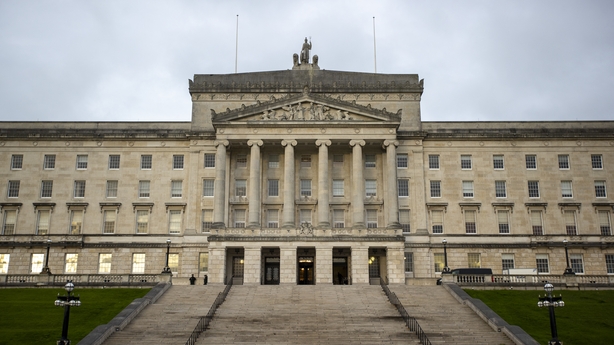 Northern Ireland Secretary Chris Heaton-Harris has confirmed he will not be immediately calling a Stormont election when the latest power-sharing deadline passes at midnight.
In a post on Twitter, he wrote: "If no Executive is formed today, I'll be under a legal duty to hold elections to the Assembly in the next 12 weeks.
"I'll use the next few weeks to carefully assess all options about what happens next and continue to talk to all interested parties before I make any decisions."
Under current British government legislation an election has to be called if a power-sharing executive is not formed by midnight.
Mr Heaton-Harris said: "This is not a situation any of us want to be in. The people of Northern Ireland deserve to have the votes that they cast in May honoured, they deserve locally elected decision-makers getting back to work, delivering on the issues that matter most to them."
Speaking following a British and Irish Intergovernmental Conference meeting in Dublin this evening, Mr Heaton Harris defended his decision not to call an election, pointing to "important talks going on in Brussels".
He said it was worth him taking time to consider his options.
"If we can solve one problem, then we can solve another." He said he would talk to all parties.
Tánaiste Micheál Martin said the NI Secretary had made the right decision today and he said in relation to the DUP, that "we need to be patient".
He added that he did not underestimate the mountain that had to be climbed.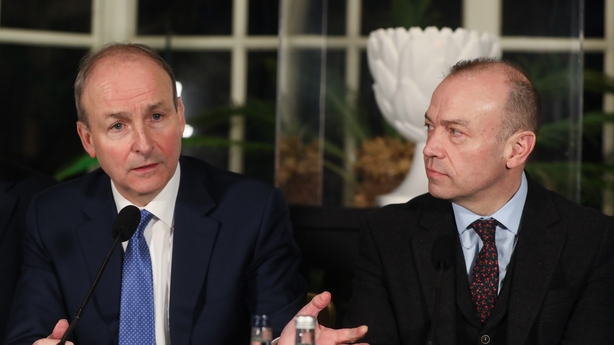 'No talk of ultimatums'
There has been no functioning devolved government at Stormont since February last year after the DUP withdrew in protest against the Northern Ireland Protocol.
With the DUP still refusing to end its Stormont boycott and from tomorrow, Mr Heaton-Harris has a six-week window during which he must specify a date or, as is widely expected, go to the House of Commons to change the law to allow a further extension of the deadline.
In October, the Northern Secretary played a game of political chicken with the DUP, repeatedly insisting that he would call an election before Christmas if power-sharing was not restored.
The DUP effectively called his bluff and he blinked. It is understood he did so under direction from the then newly appointed British Prime Minister Rishi Sunak.
This time there has been no such drama and no talk of ultimatums. Mr Heaton-Harris, has indicated that he will take his time.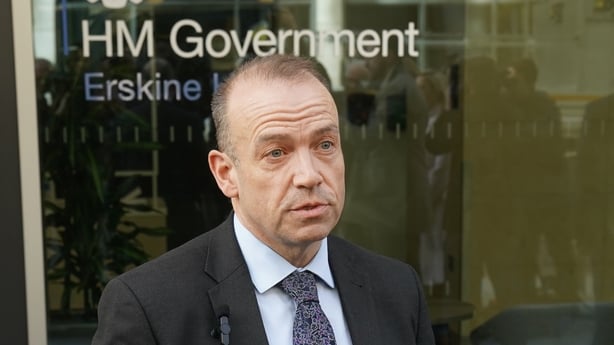 The further delay is aimed at giving negotiating teams from the British government and EU more time to try to resolve the long running and often bitter dispute over the Northern Ireland Protocol.
The DUP has made it clear that it will only agree to go back into the devolved administration if the dispute is resolved to its satisfaction.
Writing on The Irish Times website today, Mr Heaton-Harris said he would "use the next few weeks" to "assess carefully all options" and will continue to talk to the Stormont parties before making any decisions.
---
What is the NI Protocol?
The protocol is part of the Withdrawal Agreement - the international treaty under which the UK left the EU.
It was a compromise to prevent a hard border with checks on goods crossing from Northern Ireland into the Republic of Ireland and the EU's Single Market.
Under the deal, Northern Ireland left the EU along with the rest of the UK.
But the British government accepted that it would stay aligned with the EU's Single Market rules for goods.
That allowed the checks to be done at Northern Ireland's ports instead of along the 300-mile land border. It has been dubbed 'The Border in the Irish Sea'.
The EU's rules on customs and regulation of agri-food products also continue to apply to goods arriving in NI.
---
There is a growing expectation that any new Stormont election could be delayed until at least June and possibly the autumn.
The current legal deadline of 13 April falls just three days after the 25th anniversary of the Good Friday Agreement.
If the UK and EU reach an agreement on the protocol, that was then rejected by the DUP, the party would turn an election poll into a de facto referendum on that deal and the future of the Good Friday Agreement itself.
A rejection by the DUP would also create a major headache for Mr Sunak as the pro-Brexit European Research Group of Conservative MPs has said it will back DUP leader Jeffrey Donaldson.
If there is a breakthrough that the DUP leader accepts, there would be no need for a new election as power sharing would be restored, but that is viewed as highly unlikely within this 12-week window.
The indications are that the can will be kicked well down the road.
Mr Heaton-Harris last week said there was "still a way to go" to reach agreement.
Speaking in Washington yesterday, UK Foreign Secretary James Cleverly said the protocol negotiations are not aimed at meeting any particular deadline such as the anniversary of the Good Friday Agreement.
Mr Donaldson made similar comments in Belfast on Tuesday, saying it be a mistake to rush and get "the wrong deal".
If there is no protocol deal during the next 12 weeks, and the DUP maintains its boycott, Mr Heaton-Harris is expected to introduce fresh legislation to once again change the rules.
Taoiseach says Good Friday Agreement anniversary not a deadline
Taoiseach Leo Varaadkar has suggested it was important that the UK abided by any agreement on the protocol that was struck by London and Brussels.
"What we want to know from Prime Minister Sunak, and I believe this will be the case, is can we get an agreement that will stick? A landing zone isn't good enough. It needs to be a stable landing zone.
"We need to be confident that it will get through the Commons, which I'm sure it will, because he has a clear majority there, but also that that agreement will last.
"Trust has built up between the EU and UK government in a way that wasn't there perhaps in the past and that makes me somewhat optimistic that we can come to agreement on the protocol in the coming months, which crucially will unlock the situation in Northern Ireland and will allow the assembly there to meet, the executive to be formed, the Good Friday Agreement to work the way it was intended."
The Taoiseach said the 25th Anniversary of the Good Friday Agreement was not an absolute deadline in law for the EU and UK to secure agreement on the Northern Ireland Protocol.
Speaking earlier to reporters in Davos, he said: "It would be a really good thing if we could have an agreement before the 25th anniversary in April of the Good Friday Agreement [which] brought peace to Northern Ireland and has helped the entire island to move on since then.
"But if that's not possible that's not going to cause us to stop. It isn't an absolute deadline in law or anything like that."
He said the Government was playing its part, as part of the European Union, to be "as flexible and as reasonable as we can, as long as there's no alteration to those basic principles that there can't be a hard border between North and South, and that the integrity of the single market must be upheld".
Also speaking in Davos, Ireland's EU Commissioner Mairead McGuinness said the Good Friday deadline may put pressure on negotiators seeking to reach agreement on the protocol.
"Sorting out the issues of the protocol is unfinished business. What we need to do is decouple that work from deadlines and dates because it has not worked in the past," she said.
"Clearly in Northern Ireland, what's not happening in the assembly is a big issue. It will have to be resolved, but we should not put pressure on the good detailed technical work that's ongoing to resolve implementation of the protocol."
Ms McGuinness said there was good will on both sides to resolve the difficulties around the protocol.
"That in itself makes it possible for us to move forward," she said.
"When I'm here [in Davos], and you listen to all of the global issues that we face, we should be able to deal with what is a very important issue for Northern Ireland, for the relationship between the United Kingdom and the European Union. We should do that as soon as we can, but not put pressure on that system.
"We can find solutions to these difficult problems and we've been working at this for a long time. What's different today is that there is a pragmatism on both sides.
"Again, we shouldn't put timelines on it. But of course, we would rather that this doesn't go on for another year, for example, because the global situation is so uncertain."
Funding boost for ten NI projects
Meanwhile, the British government has announced £71m of funding for ten projects across Northern Ireland from the UK's Department for Levelling Up.
The grants include a £20m leisure and well-being centre in Enniskillen in Co Fermanagh, £9.8m to create waterfront gardens in the seaside city of Bangor in Co Down, and £5.1m to modernise 20 rugby clubs.
In a statement, Mr Sunak said: "Through greater investment in local areas, we can grow the economy, create good jobs and spread opportunity everywhere.
"That's why we are backing a number of projects with new transformational funding to level up local communities in Northern Ireland."
Additional reporting Tony Connelly, PA, Sandra Hurley