A ceremony has taken place to mark the 50th anniversary of a deadly bombing in Belturbet, Co Cavan.
Two teenagers, 16-year-old Patrick Stanley and 15-year-old Geraldine O'Reilly, were killed when a bomb exploded at 10.28pm on 28 December 1972.
The bomb had been placed in a red Ford Escort car outside Farrelly's Bar and McGowan's Drapery on Main Street.
Eight other people were injured in the explosion.
That day, three no-warning bombs exploded in Belturbet in Co Cavan, Clones in Co Monaghan, and Mullnagoad, Pettigo in Co Donegal.
Today, wreaths were laid at the site of the 1972 tragedy by representatives of Cavan County Council and Justice for the Forgotten, who jointly organised the commemoration.
The families of the two victims of the bombing also laid wreaths during the ceremony.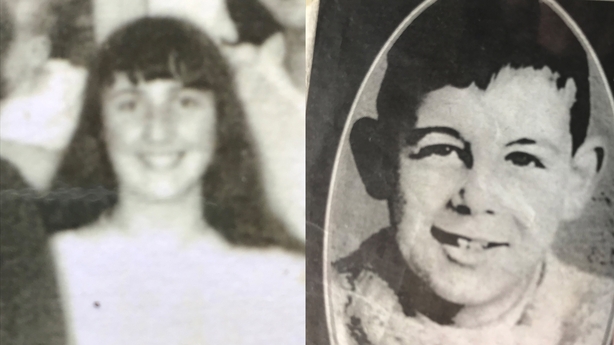 Following the ceremony, Susan Stanley, Patrick's youngest sister, recounted the devastation that her family felt.
"Our fathers last words were 'don't forget Paddy', and we certainly won't," she said.
"My brothers and sisters grew up under an awful shadow, I wasn't even born when he was killed. It was a devastating time.
"They've never forgotten about him, that hurt has never gone away, the hurt of not knowing."
She said that while time does not heal, it has only made it easier to cope, but that their family is "united in trying to find out who killed our brother".
She said it would mean a great deal to her family if the perpetrators of this tragedy were brought to justice.
"I think if we got that little bit of justice, our daddy would sleep better," she said.
Geraldine's brother Anthony O'Reilly said the loss of his sister was "still a burden" on his family and will continue to be until justice is done.
Mr O'Reilly said Geraldine was his "baby sister", who "went everywhere" with him and that his father and mother "never got over" the tragedy.
The anniversary mass heard that Geraldine and Paddy were killed in a "most cowardly act of violence, to slaughter the innocent" and that their deaths were "completely unjustified and inexcusable".
Fr Jason Murphy told the congregation in his homily that the two young people "had their whole lives in front of them".
"In killing them they quenched all the possibilities that lay in wait around the corner for these two young people, the hopes, the dreams, marriage, children, grandchildren too - all vanquished in the blink of an eye," he said.
"And in quenching their light, a light went out in the hearts of two sets of parents who awaited the return that night of their children, parents who lived lives in the midst of the ordinary on the outskirts of Belturbet and in the town of Clara, all the misery and pain that had to be borne day after day and year after year as each December 28th came and went and the memories came flooding back of two children who never came home."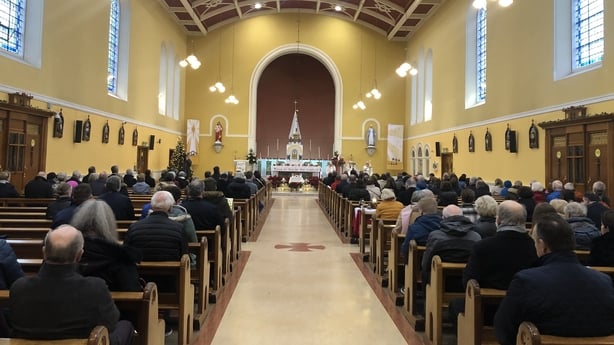 Fr Murphy said that those responsible for their deaths came into Belturbet that night "laying a bomb that they knew would indiscriminately kill innocent people" and that "whoever the intended victims were to be they were going to be unsuspecting innocent people who just happened to be in the wrong place at the wrong time".
At the commemoration ceremony, Susan Stanley, the youngest sister of Paddy, and Anthony O'Reilly, brother of Geraldine, both laid wreaths in memory of their loved ones.
Alan McGovern, Chief Superintendent for the Louth Cavan Monaghan division, today appealed to the public for any information they may have, "no matter how significant or insignificant they think it is" to come forward and contact Gardaí.
Cathaoirleach Councillor John Paul Feely said the commemoration was an "opportunity to pause, to remember Geraldine and Patrick who tragically died, as well as those injured on that day".
Mr Feely said that the "recent reopening of the criminal investigation by An Garda Síochána gives us hope that justice will be done, even at this remove".
Also speaking ahead of the ceremony, Margaret Urwin of Justice for the Forgotten said that "commemorative events are a source of great comfort and consolation to bereaved families and it is particularly important to mark significant anniversaries, such as this one".
Gardaí investigating the bombings made a recent appeal for information about the incident.
They are seeking any information that would help identify the driver of the stolen Ford Escort and to identify the driver and occupants of a Blue Ford Cortina with a registration number BIA 477, which had been stolen from Main Street in Belturbet.
A dedicated investigation team under a Senior Investigating Officer has been established at an incident room at Ballyconnell Garda Station.
Anyone with information can contact the incident room on 049 9525580, the Garda confidential line on Freephone 1800 666 111 or Crimestoppers on 1800 250 025.