Restriction zones are being put in place around a Co Monaghan turkey farm after test results showed evidence of H5N1 avian influenza in some of the birds.
It is understood tests on the 3,000 strong flock were carried out this weekend and results show evidence of H5N1 avian flu infection in a number of turkeys.
As the premises is very close to the border - both the three kilometre protection zone and the 10km surveillance zone that have now been introduced - will be enforced by Department of Agriculture officials here, along with their counterparts in Northern Ireland.
The infected flock is a commercial flock of turkeys all of which must now be destroyed.
The news comes after a housing order for all poultry, issued by the Minister for Agriculture, came into affect last Monday and in the wake of a range of other precautions being observed by poultry producers in recent months as cases of bird flu in wild birds, mainly seabirds, were confimred in coastal areas around the country.
Poultry keepers with flocks located within the restriction zones are reminded that they are legally obliged to comply with zone requirements.
The Health Protection Surveillance Centre has said that although the H5N1 subtype can cause serious disease in poultry and other birds, the risk to humans is considered to be very low.
However, members of the public are advised not to handle sick or dead wild birds and to keep their dog on a leash in areas with sick or dead wild birds.
There is no evidence of a human health risk associated with consumption of poultry meat, poultry meat products or eggs.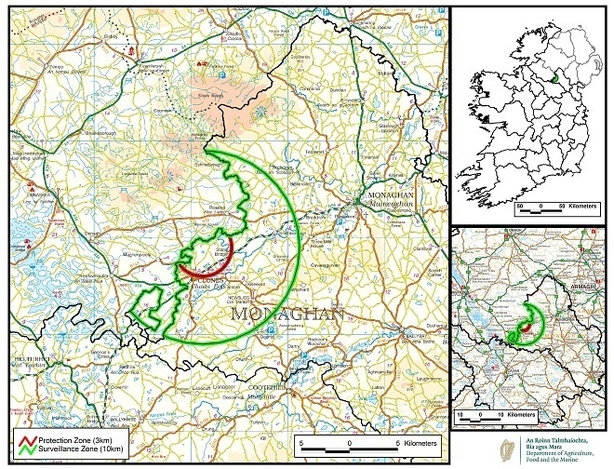 Tonight, Minister for Agriculture Charlie McConalogue said he is focused on protecting the poultry sector in the light of the ongoing risk from avian flu.
"We are taking every possible proactive step and measure in attempt to protect the sector at what is a concerning time for everyone," he said.
"We are working closely with our counterparts in Northern Ireland and both I, and my veterinary team in the Department, continue to engage with the industry here."