Minister for Agriculture Charlie McConalogue has said an order issued today compelling poultry flock owners to house their birds from next Monday onwards due to rising bird flu cases is a "precautionary measure".
The order was issued by the minister this morning, under Animal Health and Welfare regulations.
It comes after the latest case of bird flu was confirmed yesterday in a dead swan in Co Cavan. Poultry keepers are being urged to maintain vigilance and strict biosecurity measures around their flocks.
An outbreak of HPAI H5NI was confirmed in a captive flock in Co Wicklow late last month, the second confirmed outbreak in the region in a matter of days. An outbreak was also recorded in Sutton in Co Dublin last month.
Avian flu caused by the H5N1 strain has been circulating among wild seabirds in recent weeks.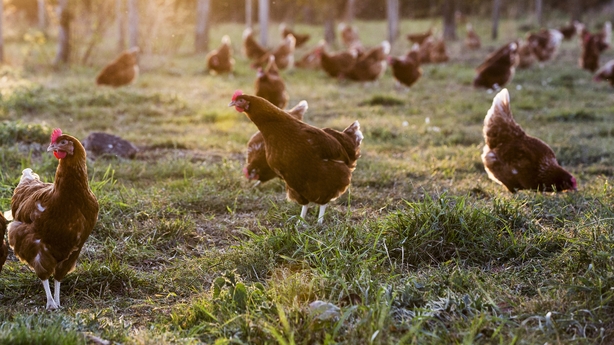 Speaking on RTÉ's Drivetime programme, Mr McConalogue said the order was being issued earlier than on previous occasions in order to protect the poultry flock.
He added that outbreaks could lead to a destocking and cull of affected birds, as well protection zones, and would pose a real risk to commercial poultry.
Mr McConalogue said farmers were very alert to the situation, and while they will have strong biodiversity measures in place on the ground, he still expected them to respond strongly to the order.
Ahead of Christmas, he said that given turkey flock owners were aware of the risk an outbreak would pose to their animals and income, adding that it was in everyone's interest to protect their flock.
Christmas is the peak of the year for turkey production, he said, adding that turkey farmers above all will be taking this very seriously.
In this morning's statement, the Department of Agriculture said that there is no evidence of a risk to people associated with the consumption of poultry or poultry products and properly cooked poultry products, including meat and eggs.
The Health Protection Surveillance Centre has also said that although the H5N1 subtype can cause serious disease in poultry and other birds, the risk of infection to humans is considered to be very low.
It urged members of the public not to handle sick or dead wild birds and to report sick of dead wild birds to the Regional Veterinary Office or notify the Department of Agriculture, Food and the Marine through its Avian Influenza Wild Bird App.
We need your consent to load this rte-player contentWe use rte-player to manage extra content that can set cookies on your device and collect data about your activity. Please review their details and accept them to load the content.Manage Preferences
An early warning system watching for signs of disease in wild birds is in place with Birdwatch Ireland, the National Parks and Wildlife Service and the National Association of Regional Game Councils.
IFA National Poultry chairman Nigel Sweetman appealed to all poultry families to exercise "high vigilance".
He said that poultry farmers are "on high alert" over bird flu, adding that "it's highly contagious. If it gets into a (bird) house, it's lights out".
Speaking on RTÉ's Morning Ireland, Mr Sweetman said the disease has "taken out 47 million birds in Europe and 48 million birds in the US. They've either died or been slaughtered because of avian influenza".
Head of Communications and Development Birdwatch Ireland Niall Hatch said that the disease originally came from domestic birds, and that the response so far from the Department of Agriculture has not been sufficient.
Speaking on RTÉ's Today with Philip Boucher Hayes programme, Mr Hatch said that over the summer, people were asked to report dead seabirds on beaches and he suggested there could have been more than 1,000 reported, particularly gannets.
"People were expecting something to happen from that information but a limited amount of testing happened and all that was done was confirm that the disease was present in Ireland, but very little information on what should happen with those (bird) carcasses." he said.
He added that if infected carcasses were left on beaches, other animals and scavengers would feed on them and it would be more likely that the disease would spread. He said being proactive earlier on may have limited the spread into wild birds and the impact potentially on poultry.
He said that strains of bird flu can spread to mammals such as dogs, foxes, otters and even a tortoise had been infected and, in other countries with previous strains, humans have contracted the disease as well.
Dr June Fanning, Deputy Chief Veterinary Officer at the Department of Agriculture, Food, and the Marine, said avian flu is very contagious and can be "100% fatal" for a number of different bird species.
Speaking on RTÉ's Six One News, Dr Fanning said the high-risk period is usually October to April when international birds migrate and mingle with the resident bird population, but birds have been impacted since July this year.
She said avian flu was a low-risk to people and there was no evidence of food safety concern once properly cooked.
She urged dog owners to keep their pets on a lead and advised anyone who comes across a sick or deceased bird not to touch it.
Dr Fanning said those who interact with birds should wear dedicated footwear and clothing as it is easy to "walk in the virus".
A similar confinement order was issued in England on Monday, where the mandatory housing measures for all poultry and captive birds is to be introduced from midnight on 7 November.
There have been more than 200 cases of avian influenza, also known as bird flu, confirmed in the UK since late October 2021.
Additional reporting: Joe Mag Raollaigh PA