Garda Commissioner Drew Harris attended a church service in Belfast this afternoon to mark the 100th anniversary of the formation of the Royal Ulster Constabulary.
Around 500 people took part in the commemoration service at St Anne's Cathedral.
Commissioner Harris was a former senior RUC officer before joining An Garda Síochána.
The RUC was founded on 1 June 1922 following the disbandment of the Royal Irish Constabulary.
Since its creation, 462 members of the RUC have lost their lives in the line of duty, including 302 officers and 21 former officers killed during the Troubles from 1969 until 1998.
The police force was awarded the George Cross by Queen Elizabeth for "collective gallantry" in 1999, shortly before it was incorporated into the newly created Police Service of Northern Ireland in 2001 as part of the peace process.
Prince Charles, Patron of the RUC George Cross Foundation, sent a message paying tribute to those who served in its ranks.
"In this Centenary year, it is deeply appropriate that we mark together the sacrifices, honour the acts of courage and heroism and pay tribute to the achievements of all those who served in the RUC," he said.
"We remember particularly the widows and families and those who supported the serving personnel with such fortitude and devotion."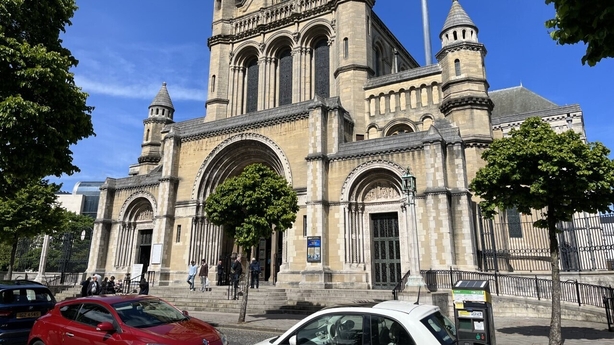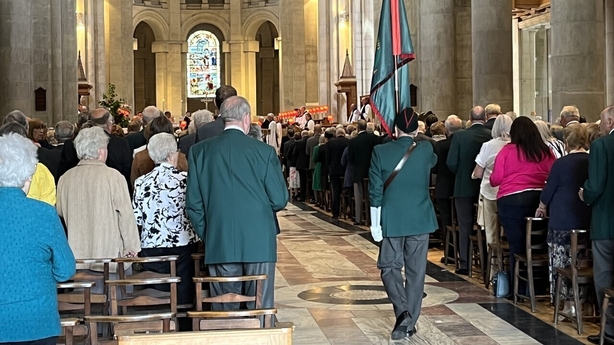 In his sermon, Church of Ireland Archbishop of Armagh John McDowell also paid tribute to those who served.
"They did it to keep their families safe, and because it was their conviction that if they didn't serve, then the future was either going to be in the hands of a revolutionary junta or a rabble of gangsters and drug dealers," he said.
"Both groups would have swept away much of what officers of the RUC George Cross have held dear.
"There is hardly a parish in the diocese where I served that does not have a grave in the churchyard or a memorial in the church building to a member of the RUC who was murdered, some in the most horrific of circumstances. Deaths which achieved nothing except to break hearts."
Garda Commissioner Drew Harris attends church service in Belfast to mark 100th anniversary of foundation of the Royal Ulster Constabulary (RUC) on June 1st 1922. Replaced by @PoliceServiceNI in 2001 as part of N Ireland peace process. 302 officers killed during Troubles @rtenews pic.twitter.com/zsBXQmwkQO

— Vincent Kearney (@vincekearney) May 29, 2022
PSNI Chief Constable Simon Byrne and former RUC and PSNI Chief Constable Ronnie Flanagan also attended.
Politicians included DUP leader Jeffrey Donaldson, Ulster Unionist leader Doug Beattie and Alliance Party leader Naomi Long, who is also the Justice Minister at Stormont.
There was no representation from Sinn Féin or the SDLP.
Republicans and many nationalists in Northern Ireland have a very different perception of the RUC.
There have been widespread allegations that some officers were involved in acts of collusion with loyalist paramilitaries that resulted in a large number of murders where the killers were not caught.
It is also claimed that some police units engaged in a British government sanctioned shoot to kill policy that targeted republicans.