The first step to introduce legislation to give the Irish language official status and protection in Northern Ireland for the first time has been taken by the British government.
The cultural package will also officially recognise Ulster Scots.
The Identity and Language Northern Ireland Bill was introduced in the House of Lords this afternoon with a short statement by Earl Howe.
"My Lords, I beg to introduce a bill to make provision about the national cultural identity and language in Northern Ireland. I beg to move this bill be now read first time."
When put to members, a majority said they were "content" for the bill to proceed.
It is understood it will take six months before it becomes law.
Campaigners were celebrating the plans by the British government to introduce the legislation.
A giant campaign flag was unfurled at the front of Parliament Building at Stormont this morning.
Northern Ireland Secretary Brandon Lewis earlier confirmed the move in a statement.
"The introduction of this bill represents a significant milestone, it just in the continued delivery of New Decade, New Approach, but in laying down a new cultural framework for the people of Northern Ireland," he said.
"The legislation is carefully balanced, as negotiated by all parties, to ensure everyone in Northern Ireland benefits."
An Dream Dearg campaign spokesperson Pádraig Ó Tiarnaigh described it as a step forward.
"We would consider this an historic advancement for our community, it is a staging post on our long, long road towards language rights and equality, and we recognise it as such," he said.
"It doesn't bring us to where we ultimately want to be, stacked up against the Welsh model for language rights for example, it does fall well short and does fall short of what we were promised at St Andrew's, but for the 20,000 people that came out on the streets of Belfast on Saturday, for the generations of people who have walked this road with us for decades, today belongs to them.
"This is a day to celebrate and recognise all of that work and those pioneers who challenged the state when it wasn't cool and when people said, no, no, no."
The British government has now acted after years of pressure from campaigners and because the Stormont Executive failed to reach agreement to honour promises to do so.
But there could be another motivation.
It is unlikely the DUP would ever have agreed to officially recognise the Irish language, so this removes a possible stumbling block in any future negotiations to get the power-sharing administration back up and running.
---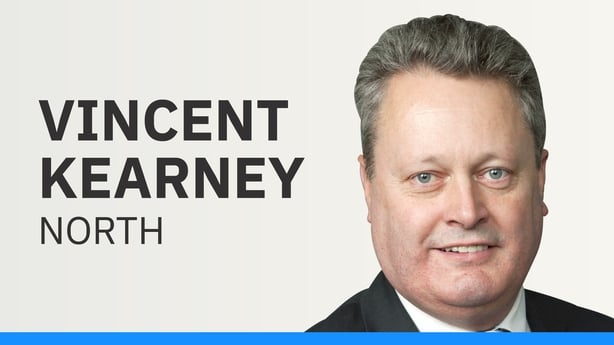 ---
We need your consent to load this rte-player contentWe use rte-player to manage extra content that can set cookies on your device and collect data about your activity. Please review their details and accept them to load the content.Manage Preferences
Irish language recognition was a commitment in the New Decade, New Approach agreement which led to the restoration of the Stormont Assembly in January 2020 after three years in suspension.
Irish will be granted official status and will be protected by a new commissioner.
The British government will also provide £4m to An Ciste Infheistíochta Gaeilge, the Irish Language Investment Fund.
Another commissioner will work to enhance and develop the language, arts and culture associated with the Ulster Scots and Ulster British tradition.
Ulster Scots will be officially recognised as a National Minority.
Mr Lewis had promised last June that he would introduce Irish language legislation if the Stormont Assembly failed to do so by October, but that deadline was missed.
Irish language rights group Conradh na Gaeilge has welcomed the announcement, but urged caution.
"The Irish language community has been fighting for these rights for decades and in that regard to see the Irish language be afforded official status here for the first time is indeed historic," said its President Paula Melvin.
But she added: "Painful experience with the British government has taught us to take nothing for granted. Until we see this Bill enacted and indeed implemented in practice, we will continue to push ahead with the campaign."
The groups Advocacy Manager, Conchúr Ó Muadaigh, warned that without immediate action "this legislation won't be worth the paper it's written on".