A garda is being treated in hospital after a serious assault in Co Cavan, during which a gun was pointed at him.
The incident happened early this morning close to the village of Blacklion and not far from Lough House open prison.
The garda managed to raise the alarm and alert colleagues at around 2am but he was in a disorientated state when they found him and unable to explain what had happened.
Gardaí are trying to establish if the garda may have stopped a suspicious car in the area before the incident.
At least two men were involved in the attack.
During the course of the incident the garda was beaten, doused in an accelerant and had a gun pointed at him.
He was taken to Sligo University Hospital, where he is being treated today. It is understood he remains concussed.
The officer, who is from Co Roscommon, has six years of service in An Garda Síochána.
A garda technical team arrived at the scene this afternoon.
The patrol car the garda was driving is also at the scene.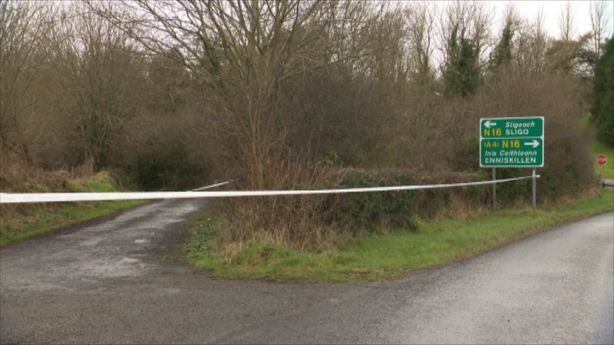 Speaking this morning, Chief Superintendent Alan McGovern from Cavan Monaghan Garda Division described it as a "very serious and concerning attack" on an unarmed member of An Garda Síochána, who had been "going about their normal duties keeping people safe".
"Thankfully the incident has not resulted in a fatality or other serious injury.
"The exact motive for this attack is yet to be determined but it is extremely concerning that a member of An Garda Síochána appears to have been targeted and doused in some form of accelerant, the exact intent of this attack is unknown at this time.
"I am appealing for any person with any information on this attack to contact investigating gardaí."
The Garda Representative Association has condemned the incident and said their thoughts are with the garda and his family today.
Local Representative James Morrisroe said "the horrific and vicious" incident reminds people of the dangers gardaí face every day.
"We need legislation that acts both as a deterrent and adequate punishment for such attacks and the GRA believe mandatory custodial sentences are required," he said.
"Gardaí working alone, particularly in isolated locations need to see that their safety is a priority for our employer and this has to be demonstrated by having adequate numbers of members on duty who have adequate transport, driver training and technology such as body cams," he added.
Local Fianna Fail Councillor John Paul Feely said the community is shocked by what has happened.
"We are horrified that something like this could happen to a garda in our community" he said.
We need your consent to load this rte-player contentWe use rte-player to manage extra content that can set cookies on your device and collect data about your activity. Please review their details and accept them to load the content.Manage Preferences