Ukrainians in Ireland are watching on as Russian forces cross the border and invade Ukraine by land, air and sea.
In Cavan, there's a strong community of Ukrainians and today they gathered to comfort one another.
Many of them have been up since early this morning, after news reached them of the invasion.
Sergiy Balan, a mushroom farm manager in Cavan, has lived in Ireland for nearly 21 years after he moved from Vinnytsia, a city in west-central Ukraine.
His parents and his brother remain in Ukraine. This morning he explains, they woke up to the noise of airplanes flying over their village.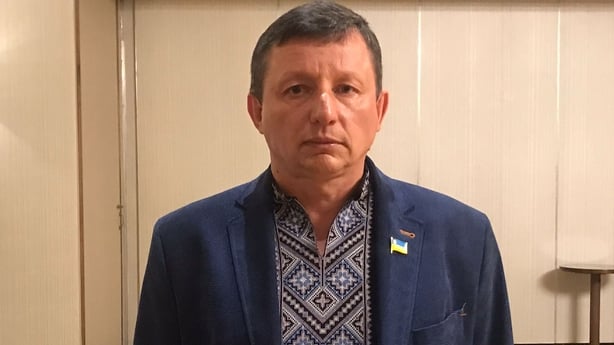 "The phone calls started early, that the war had started. It's hard to describe but there's war in my country, can you imagine that?" he explains.
"It's a very worrying time. My parents are old, they are in their 80s. They are worried. They've been praying for peace but that's not going to happen," he said.
Sergiy Balan has appealed to the government in Ireland and to those in power across Europe to stand with his country and help.
"Russia just wants to sweep Ukraine but they don't realise we're a strong nation. Nobody knows what will happen next," he said.
"If nobody stops Putin, who knows what will happen next next. Europe has to be united," he added.
Viktor Boyko is another Ukrainian living in Cavan.
"I'm so shocked. I turned on the TV this morning and I still can't believe it. I called my Dad and I spoke to him. He's ok but beside where they live there was a military station and it was bombed."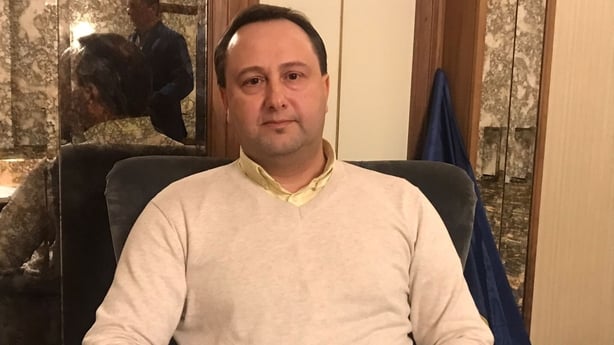 He explains how his father is running out of tablets for his blood pressure and now he's unable to get to a pharmacy to get more.
"They have to stop Putin. I don't know what they do but the sanctions are not enough. Something more has to be done," he said.
"My parents are old. I would like to get them to come here but they're old and now I don't know if they can even travel here," he added
Nadiya Molenda is the mother of three young children. She also lives in Cavan. Her family, including her sister and brother, along with her grandmother are in Ukraine.
"I love them. My heart is breaking. I'm afraid for them. I don't want them to die for nothing," she said.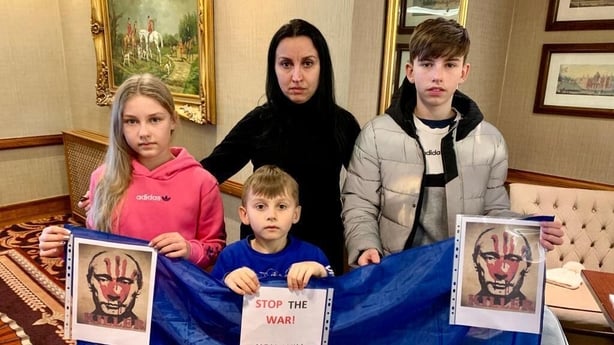 Nadiya Posstemska is a former teacher from Ukraine. She lives in Mullingar. Her sister is living near the border with Russia.
"Sympathy is not enough. Everybody needs to help Ukraine," she said.
"Today is Ukraine. Tomorrow, I don't know. I'm afraid about Ukraine but I'm afraid for the world," she added.
Oleni Cupina from Ukraine also lives in Cavan. She moved to Ireland five years ago. Her son remains in her home country, along with her mother.
"Sometimes I cannot sleep, I cry so much. I can't stop thinking about them," she said.
They want to come to Ireland but they can't get a visa.
"They have been refused a visa. I can't understand it. I want them to come here. Half of me is here in Ireland, the other half is in Ukraine," she added.
---
Read more:
Live updates: Developments as they happen
Ukrainian cities hit with explosions and missiles
'This is a tragedy' - Ukrainians protest outside Dáil, embassy
---