British Prime Minister Boris Johnson has apologised "unreservedly on behalf of the UK government" over the "events that took place in Ballymurphy" in 1971, and for the "huge anguish" caused to the families of those who were killed, Downing Street has said.
However, some victims' families said they were "angered" by the manner in which the apology was delivered.
A Downing Street spokesman said that in a conversation with Northern Ireland First Minister Arlene Foster and Deputy First Minister Michelle O'Neill, Mr Johnson "apologised unreservedly on behalf of the UK government".
However the apology was not referenced in either DUP or Sinn Féin statements following the virtual meeting which focused on coronavirus.
On Tuesday, an inquest found that all 10 victims shot and killed in the Ballymurphy area of West Belfast in August 1971 were "entirely innocent" and their killings had been unjustified.
A coroner found that 9 of the 10 victims had been shot by British Army soldiers.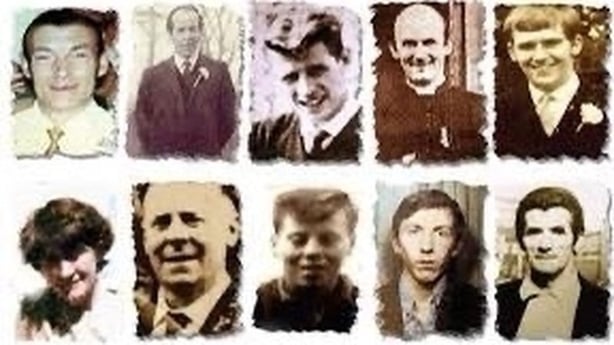 According to a spokesperson, Mr Johnson said the conclusions of the Ballymurphy inquest were "deeply sad" and what happened in August 1971 was "tragic".
"The Prime Minister apologised unreservedly on behalf of the UK government for the events that took place in Ballymurphy and the huge anguish that the lengthy pursuit of truth has caused the families of those killed", the spokesperson said.
"The Prime Minister restated the government's intention to deliver a way forward in Northern Ireland that focuses on reconciliation, delivers for victims of the Troubles and ends the cycle of reinvestigations."
We need your consent to load this rte-player contentWe use rte-player to manage extra content that can set cookies on your device and collect data about your activity. Please review their details and accept them to load the content.Manage Preferences
---
Read more:
Who were the victims of the Ballymurphy shootings?
Cavalcade remembers Ballymurphy victims 50 years on
---
Solicitor Pádraig Ó'Muirigh said the families are "very angry" at the way in which this has been communicated to them.
"It seems to have happened at a private meeting out of public view, and not directly to the families", Mr Ó'Muirigh told RTÉ News.
"And in those circumstances, they wouldn't accept that apology."
'To me, he hasn't apologised'
Eileen McKeown, whose father Joseph Corr was killed in Ballymurphy, said she is "really angry" about the manner of the apology from Mr Johnson.
She said he has "taken away the joy and relief" that she felt after her father's name was cleared yesterday.
Speaking on RTÉ's Drivetime yesterday, Ms McKeown said she heard about the apology in a text from her daughter.
"That was no apology to give to anybody," she said, adding that "he's dampened the whole high that we were on".
The families should have received a phone call in advance to let them know it was going to happen, she said.
She added: "I can't accept that. I mean, to me, he hasn't apologised.
"He knows nothing about me. He knows nothing about my Daddy.
"He knows nothing about the circumstances surrounding their deaths, because that was given out by the coroner yesterday. So he hasn't even, like ourselves, digested the horrific things that our loved ones were put through".
Ms McKeown said: "At least David Cameron had the decency to stand up and say that they were all innocent. He didn't even mention a name. He just said through the First Minister and the Deputy Minister that he apologised. He should be apologising to us."
"We should have been the first ones to hear that off him before anybody else," she said, adding "he should be personally apologising to us in Stormont".
She said "we didn't even want him to apologise because first off he really does need to know what he's apologising for, you can't say sorry for something you don't know nothing about".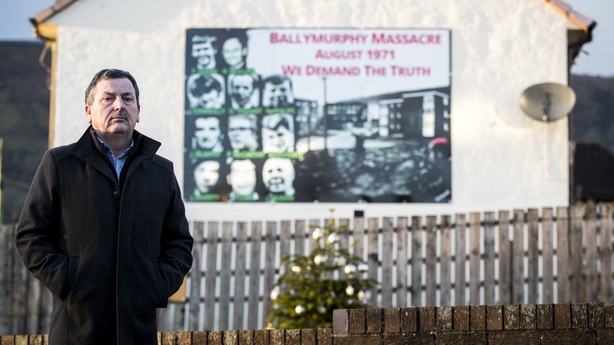 A Belfast man whose father was shot and killed in Ballymurphy also said he was "angered" following the news that the British Prime Minister had apologised.
John Teggart said he found out about the apology on "live radio" and that he has heard it "second or third hand".
Mr Teggart said something like this is "not supposed to anger you".
"I haven't heard an apology, I've heard a statement," he said.
A Sinn Féin spokesperson said the findings of the Ballymurphy inquest were discussed at the meeting this afternoon between Ms O'Neill, First Minister Arlene Foster, British Prime Minister Boris Johnson and Northern Ireland Secretary of State.
He said during that meeting, they were informed that Northern Ireland Secretary Brandon Lewis intends to make a statement on the issue at Westminster tomorrow.
The spokesman said that Ms O'Neill put it to the Prime Minister that he should apologise to the families of those killed in Ballymurphy.
"She challenged attempts by his government to deny the Ballymurphy families or any other, access to justice now or in the future", he said.
Taoiseach urges British government to respond in comprehensive way
Last night, the Taoiseach said the Irish Government continues to stand in solidarity with the Ballymurphy families as the 50th anniversary of the killings approaches.
He said the inquest findings are clear - that these victims were entirely innocent.
The persistence of their families has been remarkable, he said, and is a tribute to their absolute determination to establish the truth.
Micheál Martin said he would encourage the British government to respond in a comprehensive and fulsome way to the finding that ten completely innocent people were shot and killed.
"I would encourage them to acknowledge and affirm the innocence of the Ballymurphy victims," he said.
"I would encourage them to understand the depth of the pain and grief felt by the families, and how that pain and grief was compounded by the untruths that were told about their loved ones.
"This should be done in a manner that respects the wishes of these families," he added.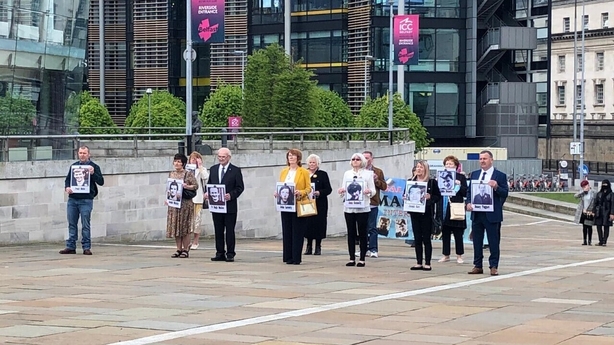 Minister for Foreign Affairs Simon Coveney said the apology is "welcome", but he hopes Mr Johnson will "find an opportunity" to make the apology public, either in the British parliament, or directly to the families concerned.
"I think that is the least the families deserve", Mr Coveney told RTÉ News. "They've waited 50 years to clear the names of their loved ones.
"Ten innocent, unarmed people were shot dead... and I think that an apology is appropriate and necessary, and I hope it can be done in a more public way than has been the case to date."
Minister Simon Coveney says it is welcome that the British Prime Minister has apologised to the Ballymurphy families, but says he hopes Boris Johnson will find an opportunity to make that apology publicly. | Read more: https://t.co/JA1TRzDrlm pic.twitter.com/UrXDPcoz9l

— RTÉ News (@rtenews) May 12, 2021
Mr Coveney said he hopes the families of Ballymurphy "get some comfort from that recognition from the very top of British government, from the prime minister".
He said he understands "how powerful" David Cameron's apology was in the context of Bloody Sunday for the families involved.
"I also think that a prime minister apologising directly and unreservedly for what happened 50 years ago when people were killed – completely innocent people were killed and shouldn't have been – I hope that the families will get some comfort from that recognition."