Arlene Foster has confirmed that she will be stepping down as a Stormont Assembly member for Fermanagh and South Tyrone.
It comes after she announced earlier on Wednesday that she would resign as leader of the Democratic Unionist Party and First Minister of Northern Ireland in the coming months.
On 28 May, Mrs Foster will leave the role of DUP leader. She will step down as First Minister at the end of June.
That announcement came after a significant number of the DUP's elected members signed a letter of no confidence in her.
Speaking during a visit to Kirkistown Primary School in Co Down today, Mrs Foster confirmed that she would be quitting her assembly seat, adding that she was "at peace with her decision" to quit local politics.
"It's been a turbulent week, it's been a week where I've had to make pretty big decisions.
"But I think the time is right to move on and to do something different, and that's what I'll do."
Asked whether she would like to join the House of Lords, Mrs Foster said those decisions were not made by her.
She said none of the party colleagues who moved to oust her from leadership have spoken to her since.
"Politics is a very brutal game, I think everybody knows that to be the case. I haven't actually spoken to any of the colleagues who are purported to have signed the letters, they haven't been in touch.
"So, you know, that's a matter for them. I'll move on and look forward and I'm looking forward to the next chapter as to what I'm going to do with my life."
Mrs Foster also said she had not seen the letter of no confidence yet, adding that "I presume I will see that at some stage".
She made clear that some of her "very good friends" did not sign the letter.
"I think you should also recognise that not everybody signed the letter, some very good friends did not. And I think you should note that as well."
---
Read more:
Arlene Foster to step down as DUP leader and First Minister
Foster served at time of challenge in NI - Taoiseach
Arlene Foster's term punctuated by pandemic and Brexit
Edwin Poots announces candidacy for DUP leadership
---
Mrs Foster added that she would wait until she steps down as First Minister at the end of June before outlining her intention on whether she will leave the DUP altogether.
She said she wished whoever leads the party well, but she would not be drawn on who she would be supporting in any leadership contest.
"I don't know who the next leader of the party is going to be, I don't know what their policies are going to be, undoubtedly we'll hear more of that in the coming weeks, but I am simply saying to you that I hope that, as the largest party and as the largest unionist party, that is a positive message that we're bringing forward to the future, because I think there's a very positive story to tell," she said.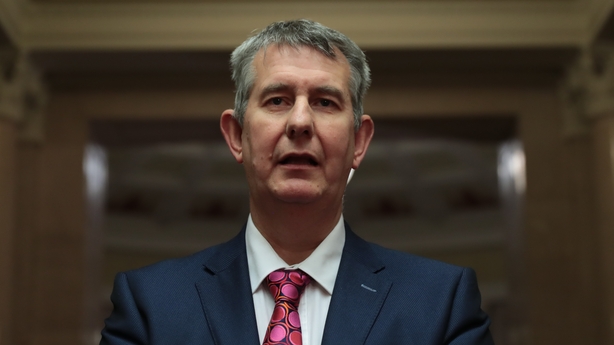 Edwin Poots, Northern Ireland's Agriculture Minister, yesterday became the first person to announce their intention to stand for the position.
He said today that he has been "greatly encouraged" by the number of people who have come forward in support of his leadership bid.
Mr Poots made the comment in a video on Twitter after a number of DUP politicians backed him in a series of videos posted on his account.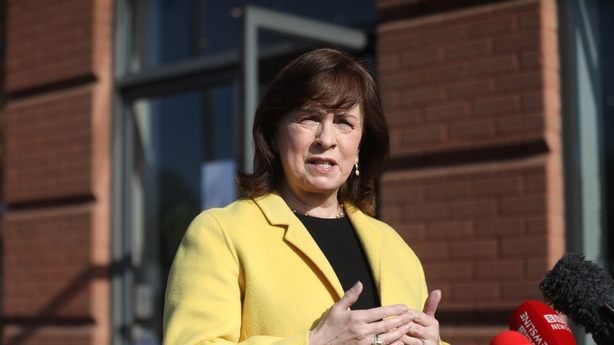 Meanwhile, Economy Minister Diane Dodds would not be drawn on whether she would support Mr Poots in his leadership bid.
She said that as vice chair of the DUP, she will meet with the chairman and party officers at the beginning of next week.
"We will set a process in train to elect a new leader and after that it will be an internal matter for the DUP," Ms Dodds said.
She paid tribute to Arlene Foster, saying: "She has been a great leader of the party and of unionism."
Ms Dodds added that any new leader would need to appeal to a "broad" range of unionists.
"That new leader will have to have a broad coalition of support for the union, and will have to build that broad coalition of support for the union within Northern Ireland. And of course we know that they will be able to do that," she said.
Additional reporting Laura Hogan