Arlene Foster has announced she will step down as leader of the Democratic Unionist Party and First Minister of Northern Ireland.
On 28 May, Ms Foster will leave the role of DUP leader. She will leave the post of First Minister at the end of June.
She said it is important to "give space" over the next few weeks for arrangements to be made for the election of a new leader.
In a statement, Ms Foster said: "It has been the privilege of my life to serve the people of Northern Ireland as their First Minister and to represent my home constituency of Fermanagh/South Tyrone.
"I first entered the Assembly in 2003 and undoubtedly the journey of the last eighteen years has been memorable.
"There are many people who have helped and supported me throughout that period and I will always be grateful for the kindness and support shown to me by them."
Ms Foster said it is important that she completes work on a number of important issues for Northern Ireland, and that its people have been "heavily impacted" by the Covid-19 pandemic.
"There remains more work to be done to steer us through the pandemic and to lessen its impact on the lives of everyone", she said.
Ms Foster thanked the "hundreds of party supporters who have been in touch over the last few days".
It is understood a significant number of the DUP's elected members had signed a letter of no confidence in Ms Foster.
Up to 22 of the party's 28 Stormont Assembly members and four of its eight Westminster MPs are understood to have signed the letter.
It arose from widespread discontent within the party of post-Brexit trading arrangements between Northern Ireland and Britain along with other issues.
We need your consent to load this rte-player contentWe use rte-player to manage extra content that can set cookies on your device and collect data about your activity. Please review their details and accept them to load the content.Manage Preferences
A number of DUP colleagues have paid tribute to Ms Foster.
Minister Edwin Poots thanked her for her "service, sacrifice and commitment" to the party.
Deputy leader Nigel Dodds said it was a "privilege" to work with Ms Foster and said she "has dedicated her life to defending the Union and moving Northern Ireland forward".
East Belfast MP Gavin Robinson also paid tribute saying: "She has been a constant source of encouragement to me and my colleagues".
Another DUP minister, Peter Weir, said he was sorry to see "a friend and colleague" step down, adding that "she has devoted her adult life to Northern Ireland and to Unionism".
Yesterday afternoon, Ms Foster had attempted to downplay the scale of the internal revolt, which came amid mounting discontent among party faithful over her leadership.
"Stories on leadership come up from time to time, and it's one of those times," she said.
We need your consent to load this rte-player contentWe use rte-player to manage extra content that can set cookies on your device and collect data about your activity. Please review their details and accept them to load the content.Manage Preferences
A planned North South Ministerial Council meeting, planned for today, was cancelled after the DUP's agriculture minister at Stormont failed to show.
Edwin Poots, an outspoken critic of the Northern Ireland Protocol, had been due to have talks with his counterpart Charlie McConalogue this morning.
This evening, Northern Ireland's Deputy First Minister and Sinn Féin Deputy Leader Michelle O'Neill said that any new DUP leader will have to work with all the other political parties if politics is to work.
Speaking on RTÉ's Six One, she said in order for power-sharing to work, politicians need to work together and deliver for all people.
She said the public is anxious for progressive politics and good politics and she is committed to working with whoever replaces Arlene Foster.
---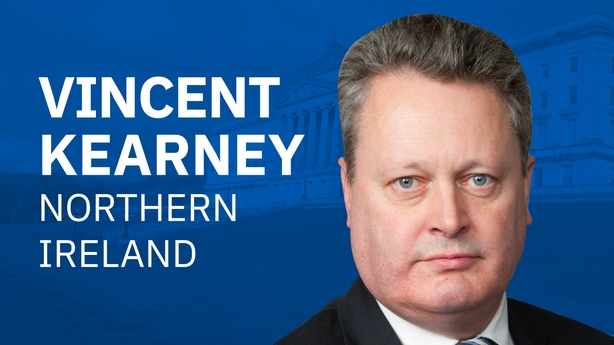 The leadership of the DUP is determined by its parliamentary party, the 28 party members of the Stormont Assembly and its eight MPs at Westminster.
Last week, Ms Foster visited a football team in Co Tyrone alongside her partner in government, Michelle O'Neill.
They laughed, kicked a few balls and spoke about looking forward to a haircut and brighter times ahead, as Covid-19 restrictions were being eased north of the border.
This week, Ms Foster clearly lost her dressing room. Four of the eight MPs are believed to have signed a letter expressing no confidence in her or deputy leader Nigel Dodds.
The big problem is the Assembly group, which is her power base. Jim Wells was elected as a DUP member of the Assembly, but lost the party whip so is not a member of its parliamentary party and has no say.
Of the 27 who do have a vote, up to 22 are believed to have signed the letter of no confidence.
Take Arlene Foster out of the equation and that means she only had the support of four others.
That would have caused deep personal hurt, as she would have regarded many of those now opposing her as friends and loyal supporters.
While the timing of this move has come as a surprise, there had been rumblings of discontent about Ms Foster's leadership for many months.
On at least two previous occasions there were well-sourced claims that her opponents were trying to gather enough signatures to force a leadership challenge. But they failed to get the numbers needed and the critics remained in the shadows, unwilling to mount a revolt.
A number of factors appear to have galvanised the opposition and swung the pendulum in their favour.
The Northern Ireland Protocol is top of the list.
Arlene Foster initially suggested the arrangement could result in Northern Ireland having the best of both worlds - one foot in Britain's internal market, and the other in the EU Single Market.
Internal critics forced her to abandon that stance and demand that the Protocol must go.
In recent weeks, violence in a number of loyalist areas was described as a manifestation of growing unionist unease.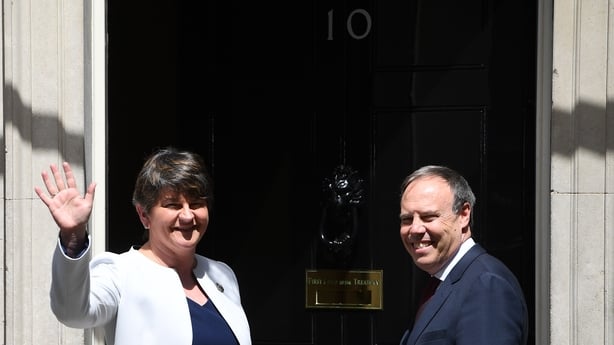 Sources say a number of DUP politicians attending anti-Protocol events were confronted by critics who accused the party of not doing enough to combat it. As well as graffiti in loyalist areas calling for the removal of the so-called Irish Sea Border in recent weeks, there was also some proclaiming "Foster Must Go".
If the party's initial stance and approach to the Protocol was a slow burn, other issues appear to have hastened the crisis.
Last Wednesday, Stormont's Economy Minister, the DUP's Diane Dodds, took part in a north-south ministerial council meeting along with Tánaiste Leo Varadkar and Sinn Féin's Conor Murphy, Northern Ireland's Finance Minister.
The move infuriated hardliners within the party who wanted all north-south links to be severed as part of the campaign against the Protocol.
Also last week, the Stormont Assembly passed a motion calling for the introduction of a ban on gay conversion therapy.
While the majority of DUP Assembly members voted against the motion, Arlene Foster and a number of senior members abstained. That angered many on the conservative, traditionalist Christian wing of the party who believed she should have voted against it.
This was unprecedented territory for the party, which had never witnessed a hostile leadership contest; its style has been for coronation rather than confrontation.
To many critics outside the DUP, Arlene Foster is viewed as too hardline and not liberal enough on social issues. Internally, many view her as too liberal and not sufficiently hardline.
A more hardline leader may be what its elected representatives want, but that could further destabilise an already fragile power-sharing administration.
A name being widely touted as a possible replacement as First Minister is Edwin Poots, the Agriculture Minister at Stormont and a vocal critic of the Protocol.
It is not clear if he would also be party leader, with some sources suggested the leadership role could be split with one of the DUP's MPs leading from Westminster while a First Minister would lead its Stormont team.
His failure to attend today's north-south council meeting could be the first sign that his hat is in the leadership ring.
Additional reporting PA