The Catholic Bishop of Ardagh and Clonmacnoise has been assured by Fr PJ Hughes that public mass will not be held in his Co Cavan parish today.
It comes after it emerged that gardaí were called to Our Lady of Lourdes Church in Mullahoran last Sunday, where around 50 people had gathered for a mass by Fr Hughes.
Under Level 5 restrictions, the celebration of mass and other religious services are conducted online. Places of worship remain open for individuals to pray.
Speaking on Today with Claire Byrne on RTÉ Radio 1 on Friday, Fr Hughes said he believed it was a breach of people's constitutional right to be prohibited from attending mass.
He said could not accept the view of the official church to close the doors and obey the law, adding that he would continue to celebrate mass.
However, it has emerged that Fr Hughes has assured Bishop Francis Duffy that he will not celebrate mass today.
Bishop Duffy said the clergy has reflected deeply, and responsibly, on the wish to celebrate mass publicly in the context of the overall public health situation.
He said that the Catholic Church is prioritising public health measures for the sake of the common good.
The bishop quoted Pope Francis who recently said: "Please, let us proceed respecting the norms, the prescriptions we are given to safeguard the health of each individual and the people."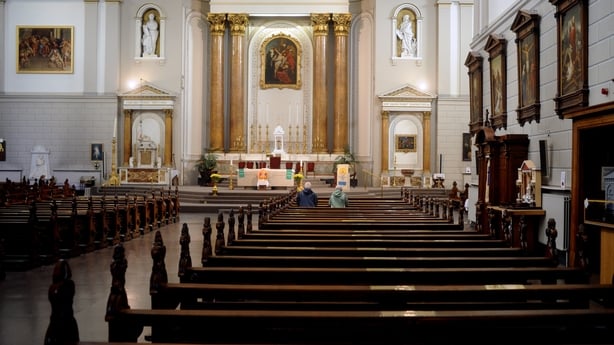 Bishop Duffy said it was important to be patient and to cautiously prepare towards reopening for public worship and in the meantime, no parish should have a public mass.
Dialogue is under way between the Government and leaders of all faiths to allow for a return to public worship.
The Catholic Archbishops and the Irish Church Together Group have held a number of meetings with the Taoiseach, advocating for communal worship once the current restrictions lift.
Last week, Micheál Martin acknowledged that people are spiritual beings and said masses would be considered under Level 3.
The Government will also take advice from NPHET.
With the approach of advent, which begins at the end of November, Christian churches are eager for clarification so that parishes can prepare for the celebration of Christmas.