Sinn Féin's Michelle O'Neill has signaled the potential opportunities, as well as the "rabbit-holes" that are coming down the tracks next year; the centenary of partition and the foundation of Northern Ireland.
The Deputy First Minister, who is Sinn Féin's leader in Northern Ireland, was speaking after a meeting with Britain's Prince Charles at Hillsborough this afternoon.
She was accompanied by the party's chairperson, Declan Kearney, who is a Junior Minister in the powersharing Executive.
Speaking to RTÉ News afterwards, she said: "We need to make sure that next year we have a very positive discourse, that we have a conversation about the future and that we don't allow things to go down a rabbit hole in terms of the negative consequences of partition.
"We want to engage in the politics of it, and we believe he himself has a role in that as well."
Welcome back, Your Royal Highnesses!

Today we've been thrilled to welcome TRH The Prince of Wales and The Duchess of Cornwall (@ClarenceHouse) on a return visit to Hillsborough Castle. How time has flown since they joined us for our official opening last April! pic.twitter.com/KLUBT9zCRW

— Hillsborough Castle and Gardens (@HillsCastle) September 30, 2020
Unionists and nationalists may have polar opposite views of the significance of what happened in 1921, and the centenary has the potential to cause friction in Stormont's powersharing administration.
But Ms O'Neill made clear this afternoon that she is willing to explore how she can make a positive contribution to the inevitable political debate that will occur.
"Partition has failed every single person who lives on this island", she said.
"We raised the fact today (with Prince Charles) that there is an opportunity to have a discussion next year about what does the future look like.
"We don't want next year to be characterised by division and rancour.
"What we want to do is have a political conversation around is there something better for us all on this island and that's what we relayed to Prince Charles today."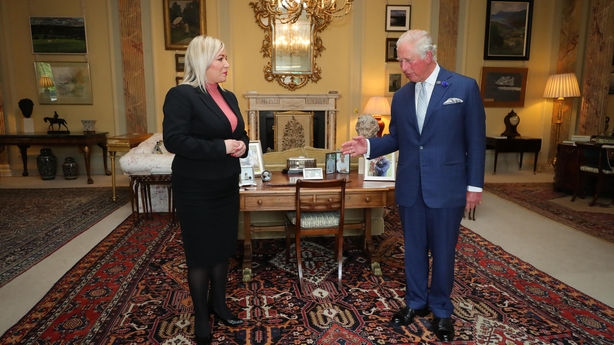 Mr Kearney confirmed that Sinn Féin sees a possible role for Britain's royal family in some of the formal events next year.
He said today's meeting was "very important" in efforts to develop the peace process.
"Up to now, Prince Charles and his mother have played a significant and positive role in helping us build on the progress.
"He made it clear that he is open to developing that work and we were happy to hear that," Mr Kearney said.
It was the late Martin McGuinness who began Sinn Féin's political engagement with Britain's royal family when he met and shook hands with Queen Elizabeth at an event in Belfast in June 2014.
The party's then President, Gerry Adams, met Prince Charles for the first time at an event in NUI Galway in 2015.
His successor, the current Sinn Féin leader Mary Lou McDonald, met Prince Charles when he visited Cork in 2018.
After two days sidelined by illness, Ms O'Neill travelled to Hillsborough Castle for today's engagement.
The meeting confirms the pattern of contact between Sinn Féin and Britain's royal family and is a tacit acknowledgement that increased royal visits to Northern Ireland are likely to be a feature next year.
The Irish Government has already indicated its awareness of the likely increased level of debate in the season of centenaries.
The Taoiseach has established a Shared Island Unit in his department, and a senior foreign affairs diplomat, Aingeal O'Donoghue, has been tasked with overseeing its activities.