Extra restrictions on social gatherings are to be imposed across Northern Ireland from 6pm tomorrow, First Minister Arlene Foster has said.
There will be no mixing of two households indoors except for single-person household bubbles and certain other exemptions.
No more than six people from two households can meet in private gardens.
The DUP leader said: "It is in an environment where we feel safe and relaxed that we drop our guard.
"The mixing of households indoors provides one of the best opportunities for the spread of the virus."
Previously the limitations were applied to greater Belfast and Ballymena in Co Antrim.
Mrs Foster said: "This is not returning to lockdown.
"Doing nothing was not an option but neither is returning to full lockdown.
"These are limited restrictions which I hope by taking action at this early stage means we can prevent the need for more draconian measures."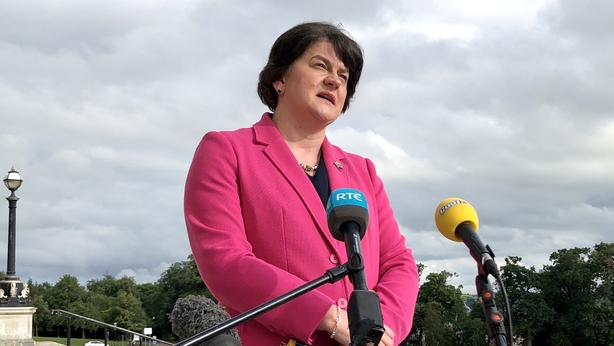 Sinn Féin's leader in Northern Ireland Michelle O'Neill said while the announcement may cause anxiety, the measures are necessary.
"These are not decisions that we have taken lightly, the measures are a necessary step to slow the spread of the virus and to save lives," she said.
"Covid-19 has been allowed to get a foothold in our communities, and we need to take action now to make sure it's grip doesn't tighten."
Between 2-4% of tests are now positive and show increased community transmission, Stormont's chief scientific adviser Professor Ian Young said.
The reproductive rate of the virus has risen to 1.4 and in some local districts would be about two.
"Substantial" increases in cases have happened across Northern Ireland, the First Minister said.
It comes as the chief medical officers of England, Wales, Scotland and Northern Ireland have said in a joint statement that all four nations of the UK should move to Level 4 on the Covid-19 alertness scale.
Meanwhile, 125 new cases of coronavirus have been confirmed in Northern Ireland, taking the cumulative total to 9,466.
More than 10% of that total, 1,014 cases, have been recorded during the past seven days.
No further deaths have been recorded, so the official Department of Health toll remains 577.
There are 33 Coronavirus patients in hospital, a rise of 12 over the weekend, with 5 in ICU.
Earlier today, Northern Ireland's Health Minister Robin Swann had said the rising rate of infection is "deeply concerning".
In a tweet, he said "important decisions have to be taken in the days and weeks ahead".
The sharp rise comes in spite of the fact that ten days ago enhanced restrictions aimed at reducing social contacts between households were imposed on all of Belfast and a number of other areas, including Lisburn and Ballymena.
Meanwhile, Ulster GAA has appealed to spectators not to enter the field of play following games after a large number of fans invaded the pitch to celebrate after the Co Tyrone Club Final in Omagh yesterday.
Dungannon Clarkes won their first club championship title for 64 years in dramatic fashion, beating Trillick 8-7 in a penalty shoot out.
It is understood attendance at the game was limited to 200 from each club.
Afterwards, large numbers of Dungannon fans went on to the pitch to celebrate.
Mrs Foster has expressed alarm about the scenes of fans, which were broadcast on BBC Northern Ireland and circulated on social media.
In a tweet this morning she said she was "deeply concerned".