The Northern Ireland Executive is calling for an urgent summit of the Irish and British governments with the other devolved administrations to discuss Covid-19 travel arrangements.
All the parties involved in the Executive backed a proposal brought by Deputy First Minster Michelle O'Neill.
Sinn Féin's leader in Northern Ireland and the First Minister Arlene Foster will now write to British Prime Minister Boris Johnson and Taoiseach Micheál Martin to make the request.
Their joint action comes after weeks of disharmony and division following a row over Ms O'Neill's attendance at the funeral of veteran republican Bobby Storey in west Belfast.
The Stormont parties want a discussion involving the leaders of the administrations in Scotland and Wales, as well as Dublin and London.
The move is aimed at establishing clarity around travel within the Common Travel Area.
A number of health experts and the Taoiseach have said there should be an all-island approach to tackling Covid-19.
"The situation is very confusing for people, I think it's a mess actually across the island," Ms O'Neill said in a media briefing at Stormont this evening.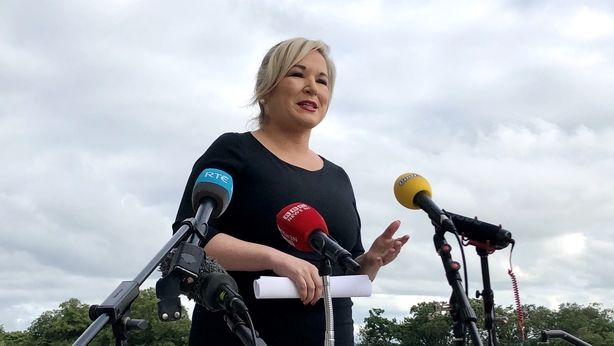 "There's a lot of anomalies north-south and also east-west, and it's time I suppose to import some common sense into the middle of this conversation.
"So the fact that myself and Arlene Foster have now requested the British Council, for that to meet, to have a very simple conversation around the common travel area, travel in general, and how we actually can find a solution to make it easier for people to understand.
"But also let's find a political solution to what we have which is clearly a problem across the island and between the two islands."
Sinn Féin shares the Irish Government view and its policy that visitors from Great Britain should have to self-isolate for 14 days.
Ms O'Neill made the call last week, saying "the issue of travel from Britain is a very real and live threat".
The DUP strongly disagrees and says anyone travelling between Great Britain and Northern Ireland should not have to quarantine as they are within the Common Travel Area.
It believes the Irish Government is wrong to insist on travellers from Great Britain having to quarantine.
"It has become bit of an issue in terms of this," DUP leader Ms Foster said this evening.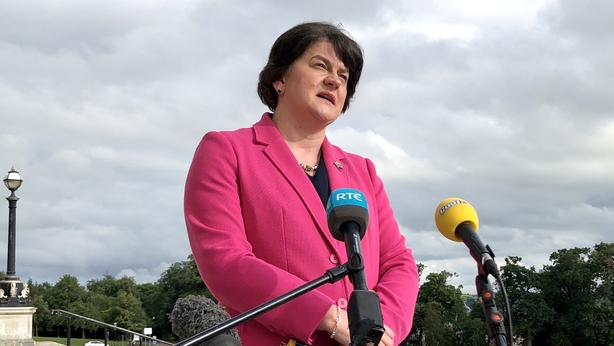 "I always thought that this would become an issue, because if you decide not to stick by an arrangement which has worked for many decades actually between the two islands, then it has caused a bit of an issue because we do know that many people travel between the island of Ireland and Great Britain on a regular basis and there's a need to recognise that."
The issue will be on the agenda when the North-South Ministerial Council meets for the first time in more than three years in Dublin next Friday.
The Executive also agreed to recommend the wearing of face coverings in enclosed public settings such as shops where social distancing cannot be maintained, but will not yet make it mandatory.
It will have the power from 1 August to make the policy mandatory, but will engage with the public until 20 August to raise awareness.
If compliance levels are low at that stage it could then make the move mandatory.
Also today it was announced that Northern Ireland's Covid-19 contact-tracing mobile phone app will be launched next week, with the earliest date being Wednesday July 27.
It will be called Stop Covid NI and should someone receive a positive test for the disease, they will have a unique code texted to the phone.
Once the user gives permissions, the app will release data from the handset to a server so close contacts also using the app can be traced following a "digital handshake" between their devices, Stormont's health department said.
The app has interoperability with the Republic of Ireland's version, where a total of 1.4 million people have already installed the app.
Coronavirus outbreak at poultry plant in Antrim
A small number of workers at poultry firm Moy Park's factory in Co Antrim have tested positive for Covid-19.
It is understood that fewer than five employees from a workforce of around 1,400 at the Ballymena site have been affected.
The company said they are self-isolating on full pay in line with its coronavirus sick scheme.
Earlier, Northern Ireland's Health Minister confirmed that a small cluster has been identified.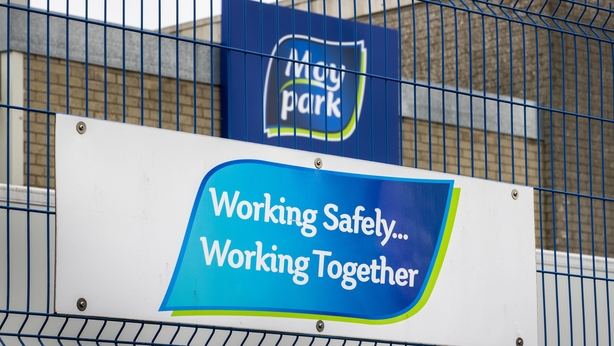 Speaking to the BBC, Robin Swann said the Public Health Agency (PHA) is working with the company.
"We have always said we will expect outbreaks and clusters as we start to ease restrictions.
"What we really need is for people to interact with test and track tracing so we can manage them."
In a statement, Moy Park said it is working closely with the PHA and other government agencies.
"As coronavirus has spread across the communities in which we live, we are doing all that we can to help keep the virus out of our facilities and help prevent its spread," it added.
"We continue to strictly follow all safeguarding procedures across our sites, such as enhanced cleaning and hygiene regimes, thermal temperature scanning, perspex screens, additional PPE (personal protective equipment) and social distancing measures."
The Bakers' Food and Allied Workers Union said it is "extremely concerned" about the incident.
Regional officer Laura Graham said: "We have been in contact with the employer to ensure they are doing all they can to help and support employees, both the positive tested cases and those employees that may have been in contact with them".
Meanwhile, 14 staff at a Northern Ireland health trust contracted coronavirus after having been incorrectly fitted for a protective mask.
The chief executive of the South Eastern Health and Social Care Trust said it was working on the assumption that the staff could have contracted Covid-19 as a result of their failed FFP3 masks.
Seamus McGoran told the Stormont Assembly's health committee that all affected staff had recovered from the virus and were back at work.
Northern Ireland's chief nursing officer Charlotte McArdle later told members that none of the other four trusts in the region had recorded Covid-19 infections among staff who required refitting for FFP3 masks.
Last month, the Public Health Agency (PHA) revealed that an audit review of fit testing had been ordered after it emerged that an independent contractor had not applied UK requirements when fitting some masks.
Additional reporting PA