Door-to-door deliveries of pints of Guinness will resume in Belfast this weekend after a legal dispute between a bar and the police was resolved.
Hatfield House, a popular bar with students, responded to the Covid-19 lockdown by taking orders for takeaway pints.
Staff then arrived outside the customers' homes in a specially adapted van and poured the draft beer into plastic glasses while wearing protective gloves.
The pints were then left on the doorstep to avoid the need for any direct contact.
However the south Belfast pub was forced to call time on the service when police intervened last month.
The PSNI claimed the van to door service breached licensing legislation.
The bar owners launched a High Court challenge, with a hearing listed today.
However, a judge was told a potential resolution has been reached following discussions between the publican and senior police.
The court was told that if agreed steps are taken, including terms and conditions, the draught beer delivery service will resume on Sunday afternoon.
A final conclusion to the case is expected to be confirmed next week.
Other bars could soon follow the example.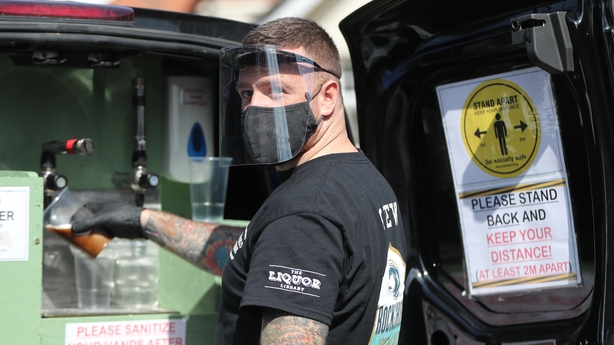 ---
---
Mr Justice McAlinden urged lawyers to formalise a position "to ensure there's an element of legal certainty which can be relied upon by others who may wish to engage in a similar provision of service in the community while the present restrictions on pub opening remain in place".  
In a statement, the PSNI said it was "a very complex matter" and there had been "ongoing discussions with the Licensee and their legal representatives in relation to this facility."
It added: "PSNI are now satisfied that with the development and implementation of changes in the service and appropriate undertakings in respect of insurance and health and safety legislation and bespoke terms and conditions of sale, this service could comply with the applicable legislation.
"While PSNI and our licencing officers across Northern Ireland are happy to work with any licensees considering introducing a similar service, we would advise them to ensure that any such proposed service meets all current legislative requirements and they have the correct licence in place."
Hatfield House did not waste time reacting to the development.
A video posted on its Facebook site this afternoon shows a member of staff reacting to to the news, taking a protective dust sheet off the specially fitted van and delivering a pint.