British Prime Minister Boris Johnson has described talks with the Taoiseach at Stormont today as productive, and said it was a "day of real hope" for Northern Ireland and its people.
Speaking after meeting Leo Varadkar, as well as the First and Deputy First Ministers, Mr Johnson said it was great to see the leaders preparing to take Northern Ireland forward.
He also said the UK government was committed to ensuring any help towards taking Northern Ireland forward.
Mr Varadkar said it was a "really good day for Ireland and the UK", as the Good Friday Agreement was back up and running with power-sharing in place.
Asked if it was his view that the new arrangement in Northern Ireland could be a driver of change in UK-Ireland relations, Mr Johnson said a friendship had already existed between the two, but this was now an opportunity for further east-west cooperation.
He said all sorts of mechanisms and vehicles existed for such cooperation to take place, but had not been used as much as they could, and there was a determination to make a success of them.
We need your consent to load this rte-player contentWe use rte-player to manage extra content that can set cookies on your device and collect data about your activity. Please review their details and accept them to load the content.Manage Preferences
The Taoiseach said he looked forward to the North-South ministerial council meeting again once a new Government is in place south of the border.
Mr Varadkar said he and Mr Johnson spoke about how to "beef up and deepen" east-west cooperation in the coming years, as well cooperating on the new relationship to be built between the UK and the EU post-Brexit.
Mr Johnson said it was "fantastic" to see all five parties in Northern Ireland working together with a shared agenda, and offering leadership, which he said Northern Ireland needed.
He described such leadership as "priceless".
Boris Johnson hails 'wonderful' compromise at Stormont | https://t.co/wdYD4TjVLA pic.twitter.com/5Miqnr2yfJ

— RTÉ News (@rtenews) January 13, 2020
---
Read More:
Deal brokered at Stormont
Ministers appointed as Northern Ireland Assembly resumes
Adams: Restoration of power-sharing 'a very, very good day'
---
New Executive meets Prime Minister @BorisJohnson and Secretary of State @JulianSmithUK pic.twitter.com/b9c4WrEcgu

— NI Executive (@niexecutive) January 13, 2020
Mr Johnson had earlier met DUP First Minister Arlene Foster and Sinn Féin Deputy First Minister Michelle O'Neill.
It was expected that the talks would focus on how much money the UK government will provide to support the return of devolution.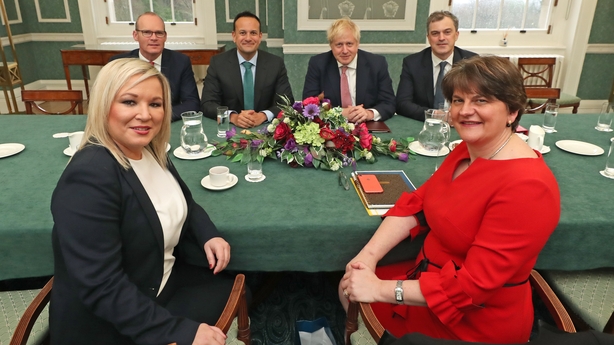 Mr Johnson said: "I just want to say how grateful I am to all the parties, to everybody here in Northern Ireland, for the way they have compromised the way they have worked together to get Stormont up and running once again.
"It's shown a willingness to trust each other and to set aside differences and I think it's absolutely commendable and wonderful to see."
Ahead of Mr Johnson's arrival, a Stormont minister said he expected the government to deliver at least £2bn to support the power-sharing deal.
DUP Agriculture Minister Edwin Poots warned that the money could come with "strings attached", potentially by way of a commitment from the executive to raise extra revenue through the introduction of water charges or a hike in rates bills.
The UK government made a series of financial promises as part of efforts to get the "New Decade, New Approach" agreement over the line.
We need your consent to load this rte-player contentWe use rte-player to manage extra content that can set cookies on your device and collect data about your activity. Please review their details and accept them to load the content.Manage Preferences

Mr Smith, who helped broker the deal, pledged major investment to alleviate problems in the North's struggling public services, but declined to confirm the sums involved until a devolution was restored.
Mrs Foster said she would "not put a figure" on how much money she would demand when she meets Mr Johnson.
Speaking on BBC Radio 4's Today programme, she said Northern Ireland required funding to properly resource public services and invest in infrastructure.
"It's a package that will have to be capital and resource, and I think the prime minister is very much aware of what we need," Mrs Foster said.
Asked whether the figure being asked for was up to £2bn, the DUP leader said she was "not going to put a figure on it because I think it is important that we get the right figure".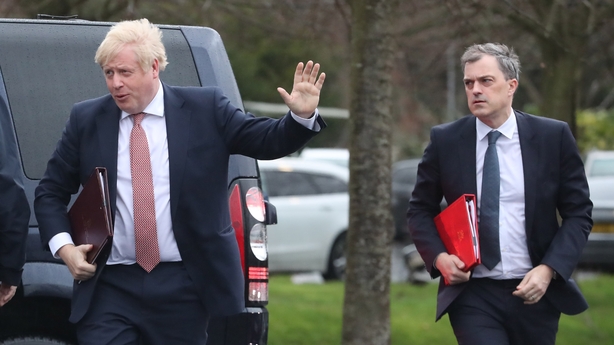 The last DUP/Sinn Féin-led coalition government collapsed in January 2017 over a row about a botched green energy scheme.
That row subsequently widened to take in more traditional wrangles on matters such as the Irish language and the legacy of the Troubles.
Mr Johnson did not answer when asked whether the financial package for Northern Ireland amounted to £2bn.
He said the new power-sharing deal at Stormont struck the right balance between supporting military veterans of the conflict in Northern Ireland, and giving victims of violence the truth.
On this, Mr Varadkar said one of the strengths of the new agreement was there an agreed approach on legacy issues, and said that while it would be difficult given there was divided opinion on it, it was made easier given that the five parties in the north were working together.