The Northern Ireland Assembly will return after Sinn Féin, the DUP, the SDLP and the Alliance Party backed proposals for the restoration of power-sharing in Northern Ireland three years after the collapse of the executive at Stormont.
Sinn Féin announced that it would back the proposals of the Irish and British governments following a meeting of its Ard Chomhairle.
Speaking at a news conference at Stormont, Sinn Féin President Mary Lou McDonald said it had taken the decision to re-enter the Assembly and nominate ministers.
Tánaiste Simon Coveney and Northern Secretary Julian Smith published their proposals last night on restoring power-sharing and urged all parties to support the plan.
The leader of the DUP, Arlene Foster, has said she believes a very fair and balanced deal has been agreed and that tomorrow the Assembly and Executive would sit again for the first time in three years.
Speaking on RTÉ's Six One News programme, Mrs Foster said the deal contains a cultural framework which recognises all of the identities in Northern Ireland, with an office for cultural identity, Irish language legislation and the creation of an Ulster British Commissioner.
She said a solution had been found to provide a balanced way forward which does not place one language or identity over the other.
Ms McDonald said she is really pleased that her party has arrived at a sufficient basis for power-sharing to be restored and to deliver it in its truest form.
Also speaking on the same programme, she said there is now an Irish Language Act which is historic and which should be celebrated not just by Gaeilgeoirí but by everybody who is living in that part of Ireland.
SDLP leader Colum Eastwood confirmed this evening that his party would also back the proposals and take the ministerial positions it was entitled to be given.
The Alliance Party's ruling council met this evening, and afterwards issued a statement which said that although they believe the draft deal is "imperfect", they believe it "offers an opportunity to restore devolution".
We need your consent to load this rte-player contentWe use rte-player to manage extra content that can set cookies on your device and collect data about your activity. Please review their details and accept them to load the content.Manage Preferences
This evening, Mr Coveney said that history was being made following the decision by the two main parties to re-enter Stormont.
The Minister for Foreign Affairs said the last three years had been a difficult process, but it now looked like that it was coming to a successful conclusion.
He said what was most important was that the people of Northern Ireland would have a government again.
The last DUP/Sinn Féin-led coalition government collapsed in January 2017 over a row about a botched green energy scheme.
That row subsequently widened to take in more traditional wrangles on matters such as the Irish language and the thorny legacy of the Troubles.
Peace process structures mean a ministerial executive can only function with the inclusion of the largest unionist party and largest nationalist party.
The wide-ranging deal contains compromise solutions to the vexed disputes at the heart of the 36-month power-sharing impasse, such as legislative provisions for Irish language speakers.
It also includes what the UK government has insisted will be a major Treasury-funded financial package to tackle a host of acute problems facing a public sector that has been floundering amid the governance vacuum.
That includes a high-profile industrial dispute in the health service, which today saw nurses again walk out on strike.
Under the terms of the deal, the new executive will also take action to reduce spiralling hospital waiting lists; extend mitigation payments for benefit claimants hit by welfare reforms; increase the number of police officers on the beat; and resolve an industrial dispute involving teachers.
Speaking earlier today, Ms McDonald said: "The Sinn Féin Ard Chomhairle has met today and has taken the decision to re-enter the power-sharing institutions and to nominate ministers to the power-sharing executive.
"We believe that the changes which have been achieved in the negotiations over the last year build on what was agreed in February 2018."
Ms McDonald said they now have "official legal recognition of the Irish language for the first time". She said they have reform of the petition of concern to try to "end its misuse as a veto by one political party".
Ms McDonald added: "There is absolutely no doubt there are serious challenges ahead, the impact of Brexit, austerity and other pressing issues.
"But the biggest and most significant challenge will be ensuring that we have genuine power-sharing based on equality, respect and integrity."
---
Read More:
Call for health pay parity regardless of Stormont deal
'Red letter' day as Irish language set to be recognised
NI proposals: 'New Document, New Approach'
---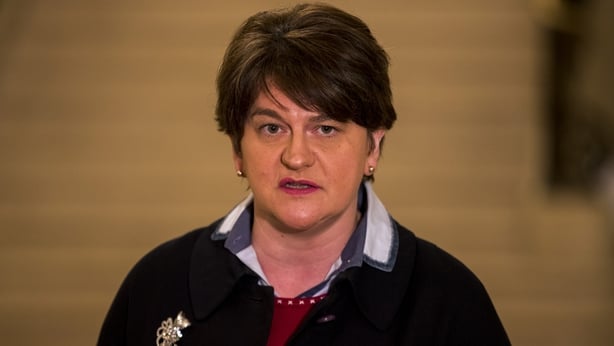 Speaking this morning on RTÉ's Morning Ireland, Mrs Foster said she was aware that some unionists will be concerned and challenged by what the deal entails, but appealed for it to be looked at "in a holistic way".
"I know there will be some within the unionist and loyalist community who will be concerned and challenged by what is in this deal. But I ask them to look at the deal in a holistic way as it allows us to bring back devolution, allow us to bring back government which we have been without for three years," she said.
Mrs Foster said she thinks fundamentally there is enough space in Northern Ireland for those who identify as Irish and those who identify as British.
SDLP leader @columeastwood says party backs devolution deal and will go back into the Assembly + will take ministerial position its entitled to @SDLPlive @rtenews @rtenews @simoncoveney @JulianSmithUK pic.twitter.com/0mxQUPl1JH

— Vincent Kearney (@vincekearney) January 10, 2020
Mr Eastwood said his party had taken the decision to back the proposals to deliver for people in Northern Ireland.
He said: "Many, many people will be wondering why we have had to wait so long.
"There are nurses on strike right now and there are schools that are defunded.
"Right now, there are people on hospital waiting lists for far too long."
With the UK government promising major financial support if devolution returns, Mr Smith said he had received assurances from trade union leaders that if the parties re-enter government they will call off the strike action.
But he warned that the finance package will not be forthcoming unless the parties restore Stormont.
"The money is there," he said.
"Let's get back today, get rid of this strike, let nurses get on with their job, and let's transform the economy and transform public services across Northern Ireland."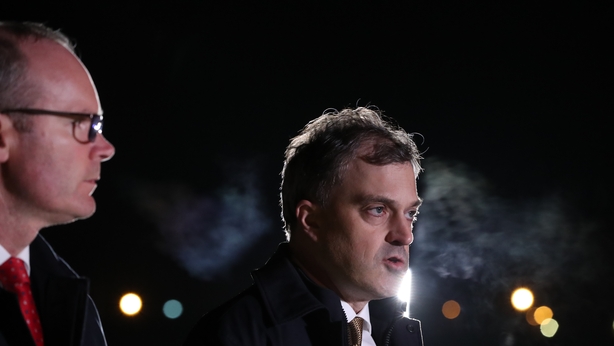 Speaking on BBC Radio Ulster, he said: "All of the money in the financial package is predicated on politicians in Northern Ireland getting back into the assembly and forming an executive.
"There is no money coming unless the executive gets back up and running."
"I am not going to talk about money until politicians get back to Stormont," he said of the total.
"They have been paid salaries for three years whilst others have been having to go to work. Now is the time to get back to work and we'll then talk about money."
Irish language activists have said the proposals for the language represent an "historic advancement" on what came before.
However, advocacy organisation Conradh na Gaeilge said provisions for bilingual signage and wider visibility fell far short of what was envisaged in the 2006 St Andrew's Agreement.