This is a historic "red letter" day for the Irish language, according to Sinn Féin President Mary Lou McDonald.
She said the decision to bestow official recognition to the language is only the start and the language would evolve and deepen.
The proposals put forward by the Irish and British governments to restore power-sharing at Stormont, which have been accepted by Sinn Féin and the other main parties, include provision for an Irish Language Act.
Ms McDonald said the move is designed to mark a standard for inclusivity across society.
"This is not about winners or losers, this is about a society that makes room for everyone."
She said it was an important day for recognition of Irish identity.
Ms McDonald added: "I would say to Irish language activists take heart from the fact that this is now an historic moment because for the first time we have official recognition."
She said everyone who embraced diversity and respect across the island of Ireland should regard that as a positive thing.
Activists who have campaigned to strengthen the place of Irish have given a guarded welcome to the deal.
They said the plan drafted by the British and Irish governments fell far short of their key demand of a stand-alone Irish language act.
A commissioner would help protect the language while a translation hub would provide services across the devolved government at Stormont.
There would also be additional support for Ulster Scots, including in education.
Conradh na Gaeilge said that provisions for bilingual signage and wider visibility fell far short of what was envisaged in the 2006 St Andrews Agreement.
Ms McDonald said: "There is a lot more work to do and I fully expect that Irish language activists will continue to press for progress, I encourage them to do that."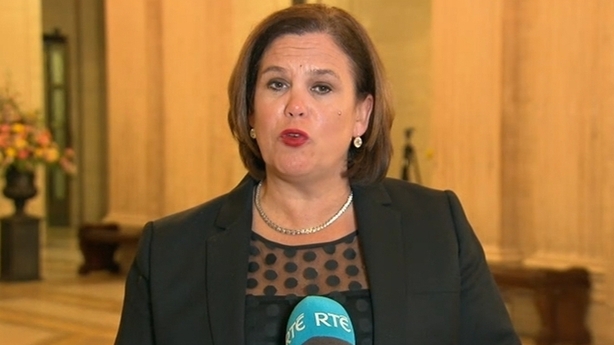 She told RTÉ's Six One that the introduction of an Irish Language Act was "historic" and "should be celebrated not just by gaeilgeoirí but by everybody who is living in that part of Ireland."
The Orange Order has voiced concerns over the inclusion of the act in the agreement.
In a statement, it said the deal "is clearly far-reaching in its provision for the Irish language and its subsequent future role in the political and civic life of Northern Ireland".
"In contrast to the detailed list of measures to promote the Irish language, references to Ulster Scots/Ulster-British culture are ambiguous - lacking meaningful detail or delivery mechanisms.
"As British citizens living in the United Kingdom, we have a complex and multi-layered identity which in many areas is wider than simply 'Ulster Scots'.
"We remain unconvinced that the cultural traditions and identity of the Orange family will be meaningfully promoted or safeguarded by these proposals."