The Taoiseach has attended the Royal British Legion's Remembrance Day ceremony in Enniskillen, Co Fermanagh.
Leo Varadkar laid a laurel wreath at the war memorial in the town.
It is the second time he has taken part in the event, and the eighth consecutive year that the Irish Government has been represented.
DUP leader Arlene Foster and Northern Ireland Secretary of State Julian Smith also took part.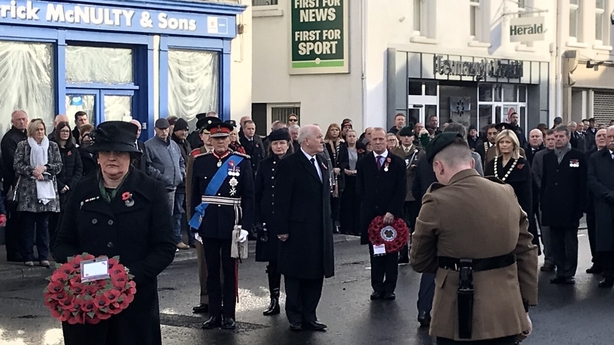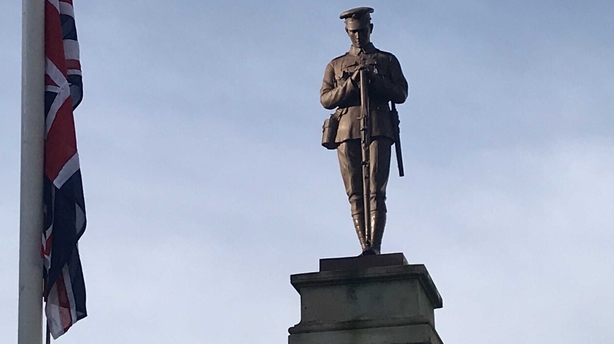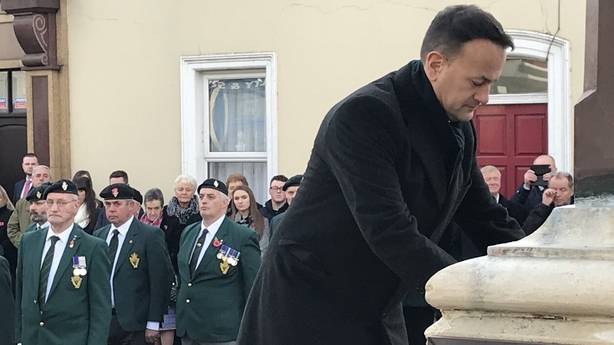 The Taoiseach later read a prayer at a service in St. Macartin's Cathedral.
The ceremonies also mark the 32nd anniversary of the IRA's Enniskillen bombing in which 12 people were killed.
The deputy US counsel general in Belfast left a wreath which quoted former US president Ronald Reagan.
It said: "Their lives remind us that freedom is not bought cheaply. It has a cost, it imposes a burden.
"And just as they whom we commemorate were willing to sacrifice, so too must we - in a less final, heroic way - be willing to give of ourselves."
Crowds packed the narrow street around the memorial.
Wreaths were left by RAF air cadets, the commanding officer of the Royal Dragoon Guards from Catterick Garrison in Yorkshire, a Regimental Association of the Royal Irish Regiment, the local council, Ulster Unionist Party, the Royal Inniskilling Fusiliers Regimental Association.
Mrs Foster's wreath carried the message: "In proud and grateful remembrance of all those who made the supreme sacrifice."
The National Service of Remembrance has taken place at St Patrick's Cathedral in Dublin.
It was attended by President Michael D Higgins and his wife Sabina.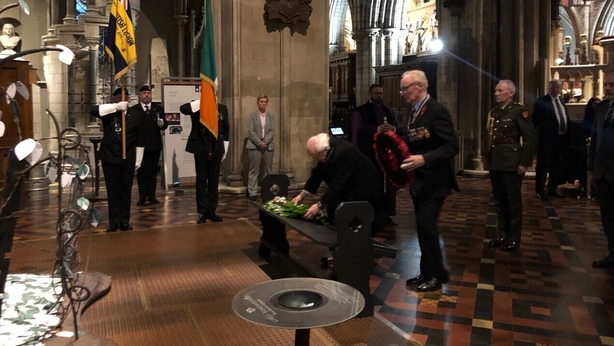 In London, thousands of people lined the streets of Whitehall for the Remembrance Sunday service at the Cenotaph.
Leaders from the main political parties took a break from the UK general election campaign to join members of the royal family in honouring the country's war dead.
Prime Minister Boris Johnson and Labour leader Jeremy Corbyn stood side by side during the commemorative proceedings.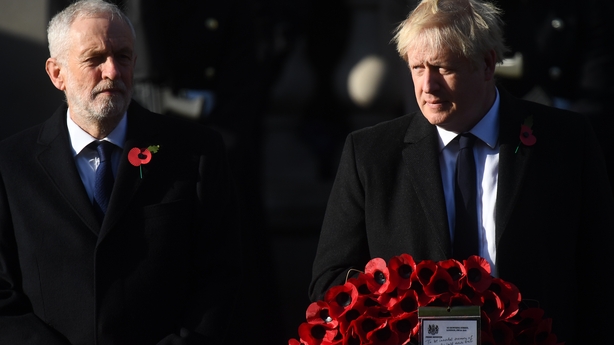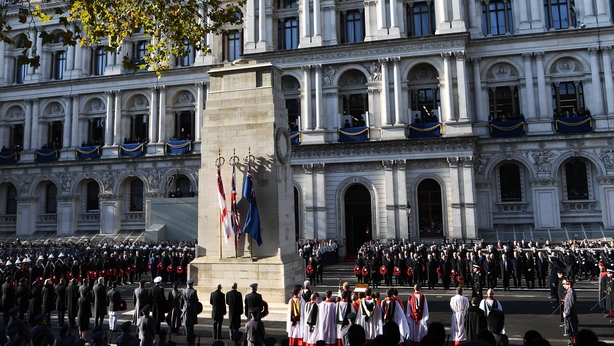 The pair were joined in laying wreaths by Liberal Democrat leader Jo Swinson, SNP Westminster leader Ian Blackford, the DUP's Westminster leader Nigel Dodds and newly elected Speaker of the House of Commons Lindsay Hoyle.
As Big Ben struck 11am, the traditional two-minute silence was observed by dignitaries and the crowd of thousands of poppy-wearers lined up along Whitehall.
This year marks 100 years since the first two-minute silence was observed on Armistice Day on 11 November 1919.
Following the ceremony, up to 10,000 veterans and servicemen and women marched past the Cenotaph to honour the fallen.
Additional Reporting PA