Several hundred people took part in a protest in Co Antrim against the majority shareholder of bus builder Wrightbus, which went into administration last week.
The Ballymena-based company has been facing serious financial problems, and the move has seen 1,200 staff members given redundancy notices.
In addition to the staff directly employed by Wrightbus, unions say a further 1,700 jobs in the supply chain will be affected.
The protesters, including former employees and family members, gathered outside the Green Pastures church in Ballymena, adjacent to one of the company's factories.
Founder William Wright received applause from the workers as he arrived at the church.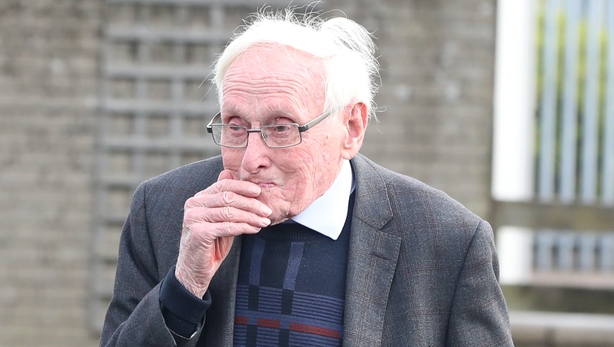 Jeff Wright, son of the company's founder and also founder and pastor of Green Pastures Church, was emotional as he addressed a service.
He told the several hundred people in attendance how his family had sweated "blood and tears" to build Wrightbus.
Mr Wright received a standing ovation and loud applause when he thanked the congregation for their support during what he described as a difficult week.
Addressing criticism that he had not spoken publicly about the company's collapse last week, he said he did not want to jeopardise "delicate negotiations" with potential buyers.
He was tearful as he told them "I never thought this would happen". At one point, he asked Wrightbus employees in the congregation and their families to stand.
He then asked the rest of the congregation to stand beside them and pray for them and those protesting outside.
He asked them to pray that God would "rescue these people and provide for them".
The church received £15 million in funding from Jeff Wright. Some protesters carried placards with biblical quotations.
Workers say they are angry that £15m of company profits was donated to the church at a time when Wrightbus was facing cash flow problems.
"We have nothing against the people who go to this church," said one worker. "Our issue is with the man who funded it."
Several hundred people made redundant by Ballymena company #Wrightbus last week have staged protest at church in the Co Antrim town funded by its majority shareholder @rtenews @RTENewsNow pic.twitter.com/uqUONmHBgv

— Vincent Kearney (@vincekearney) September 29, 2019