The new Chief Constable of the Police Service of Northern Ireland has appealed to the British government to remove its responsibility for dealing with the past.
How to deal with the legacy of the Troubles remains one of the most contentious issues on the political agenda.
In his first day in the job, Simon Byrne said the PSNI is not resourced or best equipped to deal that legacy.
A specialist team of 60 detectives is investigating around 1,200 killings.
Senior PSNI officers, including former chief constable Sir George Hamilton, have said many times that policing the past is hindering its ability to police the present.
They favour legacy investigations being transferred to an independent Historical Investigations Unit.
Mr Byrne shares that view. "I think, unequivocally, that we shouldn't be dealing with it," he told RTÉ News.
"We're not resourced to deal with it, there's probably other issues that probably mean were not best place to deal with it, and I'd urge the government should take it off our hands."
The looming prospect of having to police a post-Brexit border is another highly controversial issue in the new Chief Constable's inbox.
He plans to visit border areas during the next few weeks to see it for himself, but shares the views of those who have warned that physical security infrastructure could be attacked by dissident republicans.
"I understand the concerns of infrastructure, I do recognise for some people the manifestation of checks, cameras etc will be an emotive and antagonistic issue an they are liable to attack," he said.
"I think it's about working with other organisations to see what we actually need to do to deliver Brexit in the border areas if that's ultimately what we have to do."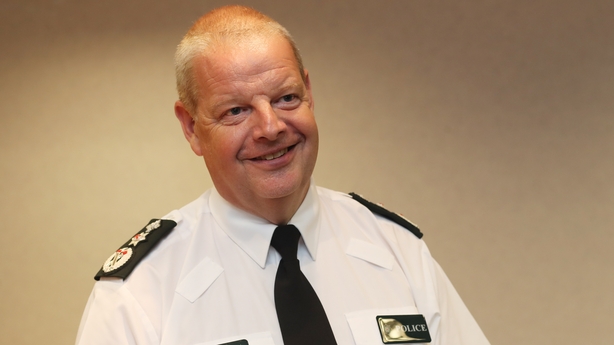 Another pressing issue is how to address a fall in the number of Catholics within the PSNI's ranks.
While 32% of PSNI officers are currently Catholic, the proportion has been falling since the end of a legal policy of 50-50 recruitment.
Mr Byrne addressed the issue in a video message posted on Twitter this morning.
"Looking ahead there's more work to do to improve how representative the organisation is of the communities we serve and I want to revisit our plans and ideas to make sure that the organisation reflects our communities as best as it can," he said.
Hello Northern Ireland and thank you @SirGHamilton Later today I will be sworn in as @PoliceServiceNI Chief Constable. I am privileged to be leading this great service that is working hard to serve our community. https://t.co/fnZAcOKF7Z

— Simon Byrne (@ChiefConPSNI) July 1, 2019
But he does not favour the reintroduction of 50-50 recruitment, a legal requirement for half of all new PSNI officers to come from the Catholic community.
He believes other approaches could address the problem. He also wants to attract more recruits from working class areas and minority communities.
"You never rule anything out because over five years that might not be wise, but I don't think at the moment there's a need to look at something as dramatic as that in terms of legislative change, and nor do I sense that there's political support or it" he told RTÉ News.
"I've got a lot of experience of working in large organisations in England, particularly the Met in London where we doubled our efforts to recruit more people from black communities for example into the police.
"Can we borrow with pride ideas from elsewhere that we can use to boast the efforts of the PSNI?
"Also in the medium term I think about investing more into community policing so that our staff are advocates for recruitment and joining this organisation, but also that the public and communities see first hand that this is a good place to work and its an organisation that's fair, it's impartial and it delivers and protects their communities."
Mr Byrne this morning signed an oath pledging to discharge his duties with integrity and impartiality during the five-year term of his contract.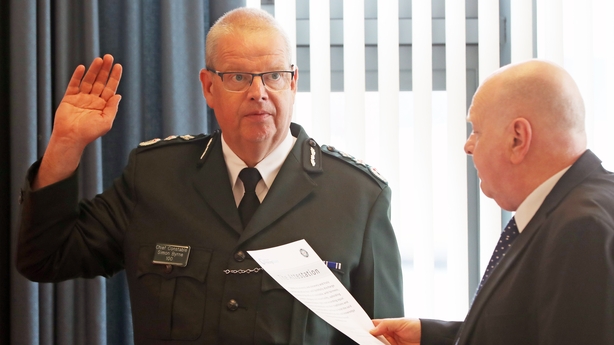 He was viewed as the rank outsider when he applied for the job, but the 56-year-old has a formidable CV.
He held senior positions in the Metropolitan Police in London and Greater Manchester, before being appointed chief constable in Cheshire in 2014.
His last job ended in controversy in 2017 when he was accused of bullying some of his staff.
Mr Byrne was suspended while 74 allegations were investigated.
But he was exonerated on all counts, with a tribunal stating that much of what had been claimed had either been exaggerated or probably did not happen.
It described him as "a driver of high standards" with an "energetic and challenging style."
Asked about that issue today, and whether he was concerned that it had placed a cloud over his reputation, Mr Byrne made it clear he does not believe that is the case.
"I was accused of some wrong doing, about bullying but I submitted to every part of the police regularity regime that looked at that and I was completely exonerate by a panel that was chaired by a legally qualified chair so I've got every confidence that i can make the right impression both with the officers and staff that work for me and also with the communities we police across Northern Ireland."
He said his priority during his first few weeks will be to get out from behind his desk to see what makes the PSNI tick, and to meet the community it serves.