The £49,500 salaries of Northern Ireland Assembly members are to be cut by almost £14,000, starting with a £7,425 reduction in November and a further £6,187 cut three months later.
The action was set out in a statement by Secretary of State Karen Bradley in the House of Commons.
The cuts are in line with recommendations made by former Assembly chief executive Trevor Reaney last year.
Mr Reaney delivered his report to then northern secretary James Brokenshire in December 2017.
We need your consent to load this rte-player contentWe use rte-player to manage extra content that can set cookies on your device and collect data about your activity. Please review their details and accept them to load the content.Manage Preferences
It is one of a series of planned interventions by the British government because Stormont has been closed for more than 20 months.
Aware that a court ruling over the political impasse was due to be delivered next week, the Secretary of State has opted to intervene.
She committed the British government to introducing measures that would allow Northern Ireland's civil servants to make policy decisions in the absence of a functioning government.
Victims of institutional abuse have challenged the state's failure to provide them with the promised redress due to the stalemate at Stormont.
Ms Bradley's actions may provide the British government with "breathing space" in the event of the legal challenge being upheld on Monday.
It is understood that the government is now seeking to bring its intervention to the attention of the Belfast courts tomorrow morning.
The measures announced in the House of Commons include the ending of the Secretary of State's responsibility to set a date for an election.
She said: "I intend to introduce primary legislation in October to set aside for a limited and prescribed period the legal requirement to propose a date for a further election".
Interviewed following her House of Commons speech, she said there would be no point in calling an election at present.
She also promised to hold discussions with the Government and Northern Ireland's political parties to explore how power-sharing might be restored.
Ms Bradley indicated that she will take soundings on whether "outside facilitation" might help in the efforts to break the current political stalemate.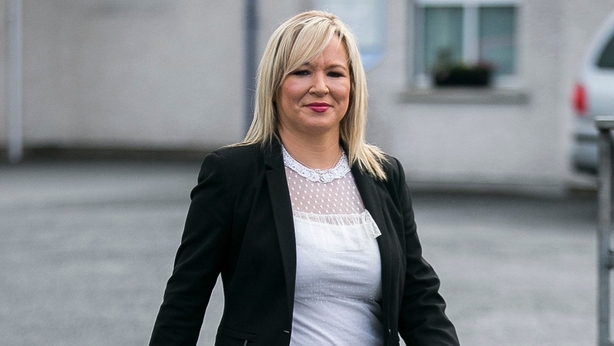 Sinn Féin deputy leader Michelle O'Neill said Ms Bradley only suspended her powers to call an election because she faced the prospect of a court ordering her to do so.
She added: "That is a retrograde step. Any attempt to move away from the Good Friday Agreement or towards direct rule will fail.
"Clearly, the British government's reliance on the DUP remains a central problem and if any process around restoring the institutions is to be credible, Karen Bradley must begin prioritising the rights of citizens over Tory party self-interest".
She said clarity was needed for officials and issues such as compensation for victims of historical institutional abuse should not be caught up in legal or political quagmire.
Ms O'Neill added: "It should have been addressed long before now. Equally, the reduction in MLA pay should have been introduced months ago.
"Sinn Féin told Karen Bradley that on several occasions but it is clear she was reluctant to move because of resistance from the DUP.
"That position has now become untenable and it is right that wages are finally being reduced".
DUP leader and former Stormont first minister Arlene Foster said Sinn Féin had forced the Ms Bradley's hand.
"It is deeply frustrating and utterly careless that Sinn Féin has decided to block government for almost 600 days," she said.
"Whilst only a small step towards decisions being made, we welcome the statement from the Secretary of State.
"Ultimately, Northern Ireland needs a ministerial decision-making mechanism which respects democracy".
We need your consent to load this rte-player contentWe use rte-player to manage extra content that can set cookies on your device and collect data about your activity. Please review their details and accept them to load the content.Manage Preferences
Tánaiste says move underlines seriousness of situation
Tánaiste Simon Coveney has said the announcement further "underlines the seriousness of the absence of the devolved institutions in Northern Ireland".
In a statement, Mr Coveney said the calls for the devolved institutions to operate must be heeded.
UUP leader Robin Swann has described Ms Bradley's statement as a "sticking plaster" on a huge political mess.
"This is the inevitable consequence of the ongoing political impasse which has prevented the formation of a fully functioning Assembly and Executive," he said.
Alliance Party leader Naomi Long said Mrs Bradley's intervention was long overdue.
She said: "The public anger at the political drift here is growing, so if the Secretary of State is confident that what she has outlined today will be the catalyst to get things moving again, particularly with respect to key decisions that are required, then that is to be welcomed.
"There is up to £2 billion of investment being held up due to the inability to take strategic decisions, and it is imperative that the Secretary of State's proposals unblock that as a matter of urgency".
Bradley did not understand NI voting patterns
Elsewhere, Ms Bradley has said she initially did not understand that the country's nationalists did not vote for unionist parties during elections.
She was appointed earlier this year and admitted at the time she did not comprehend that campaigns are generally fought within each part of the community rather than across it, as in her own parliamentary constituency.
Ms Bradley told the weekly magazine for the Houses of Parliament that she did not fathom some of the deep-rooted issues that define Northern Irish politics.
"I didn't understand things like when elections are fought for example in Northern Ireland - people who are nationalists don't vote for unionist parties and vice-versa.
"So, the parties fight for election within their own community.
"Actually, the unionist parties fight the elections against each other in unionist communities and nationalists in nationalist communities," she said.
Ms Bradley was appointed in January after her predecessor James Brokenshire stepped aside for medical reasons.
She continued: "That's a very different world from the world I came from, where in Staffordshire Moorlands I was fighting a Labour-held seat as a Conservative politician and I was trying to put forward why you would want to switch from voting Labour to voting Conservative.
"That is so incredibly different and it's when you realise that, and you see that, that you can then start to understand some of the things that the politicians say and some of the rhetoric."
Additional reporting: PA