Former Sinn Féin leader Gerry Adams has said he is thankful that no one was hurt in a "serious attack" at his house in Belfast last night.
The homes of two prominent Sinn Féin members, Mr Adams and Bobby Storey, were attacked with explosive devices.
In a press conference, Mr Adams appealed to those involved in the attacks, as well as recent violence in Derry, to meet with him to explain the rationale behind their actions.
Gerry Adams has said he is thankful no one was hurt in an attack on his home in Belfast last night | https://t.co/qaOJGJhMV0 pic.twitter.com/x2r8UNQJrp

— RTÉ News (@rtenews) July 14, 2018
The PSNI have said they discovered the remnants of large industrial firework-type devices, capable of causing serious injury, at both scenes.
Sinn Féin's policing and justice spokesman Gerry Kelly said two devices were thrown during the attacks.
Significant damage was visible to a car on Mr Adams' driveway in the aftermath of the attack and a blast mark could be seen on the windscreen.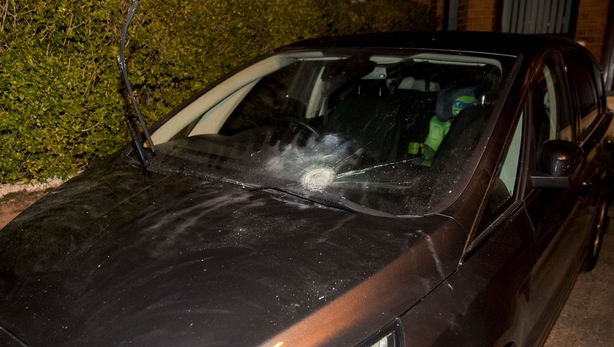 A heavy security presence was outside the home of Mr Storey, with a number of police Land Rovers and armed officers standing guard.
Mr Kelly said Mr Adams' grandchildren were in the driveway of the house minutes before the attack. 
He added that Sinn Féin condemns what it called the "reprehensible and cowardly" attacks. 
Mr Kelly appealed for calm, saying "these attacks are the desperate acts of increasingly desperate and irrelevant groups."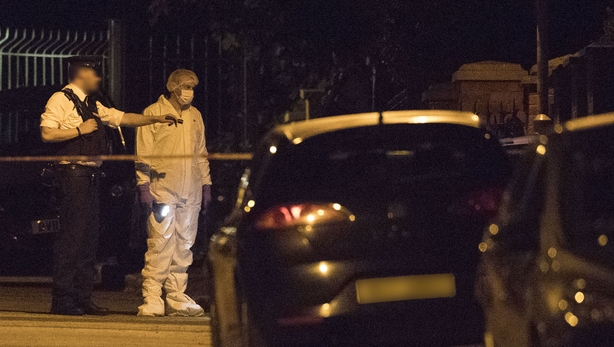 On Twitter, Mr Adams said that no one was hurt in the attack.
He thanked neighbours and Sinn Féin representatives for their help in the aftermath.
Mr Storey was watching television in his home when the attack occurred at around 10.20pm.
He was alerted by the sound of a vehicle being driven at high speed and when he looked outside he saw what is believed to be an explosive device cross his property and land in a neighbours' driveway with a loud bang.
The remnants of the device have been taken away by police for examination.
Mr Adams led the party from 1983 until February 2018, while Mr Storey has served as northern chairman.
Taoiseach Leo Varadkar has condemned the attacks in Belfast, as well as the violence that has affected parts of Derry city for the past week.
On Twitter he said "we will not allow a small minority intent on violence to drag Northern Ireland back to the past."
I unequivocally condemn the violence in Derry and Belfast last night. We will not allow a small minority intent on violence to drag Northern Ireland back to the past. We stand with the decent law-abiding people from all communities in the North.

— Leo Varadkar (@campaignforleo) July 14, 2018
The comments were echoed by Tánaiste Simon Coveney, who said "a small number of cowardly people are trying to drag Northern Ireland backwards."
He added that he looked forward to being in Derry "later today to show solidarity with those working against violence."
Following the attacks, the leader of the Alliance party Naomi Long tweeted: "It seems this week some people are determined to drag us back into violence at whatever cost.
"We need to stand together against all violence. No exceptions. No excuses."
All well here. No one hurt. Thanks 4 all the texts & phone calls. Thanks 2 all the great neighbours, the Neighbourhood Watch & Sinn Féin reps who were here very quickly.

— Gerry Adams (@GerryAdamsSF) July 14, 2018
SDLP leader Colum Eastwood has described the attacks as disgraceful.
Calling for solidarity against those behind the attacks, he said there was no place in society for such mindless actions.