The head of the PSNI has singled out the so-called 'New IRA' as the main dissident group behind ongoing violence in Derry.
Police and community leaders in the city are to meet in an effort to resolve the clashes, which have seen shots fired at police officers.
Two explosive devices were thrown at officers during a sixth consecutive night of unrest in the city's Bogside, with 74 petrol bombs also thrown.
Three men have been arrested, including one on suspicion of attempted murder.
Riot police fired four baton rounds at rioters during the disturbances in the nationalist neighbourhood.
Many of those engaging in violence were youths. The latest night of disorder flared after the city hosted Twelfth of July Orange Order parades.
Members of the public were also targeted in the violence.
At one point, a hooded rioter hurled a petrol bomb from point blank range at the windscreen of a van passing through the Bogside.
The majority of the missiles were aimed at police stationed on the historic city walls overlooking the Bogside and on Fahan Street leading to the city centre.
PSNI Chief Constable George Hamilton said if the disorder continued it was only a matter of time before there was a fatality.
"We believe violent dissident republican groups are behind this, they will use whatever excuse they can to bring about unrest and to have young people involve themselves in violence against the police," Mr Hamilton said on a visit to Strand Road PSNI station in the city.
"We believe there are members of a variety of dissident groups in this disorder - the so-called New IRA is the main group behind these murderous attacks on police.
"We want to police with the community and protect people, we're working hard to maintain protecting people, locking up those responsible and bringing them before courts.
"My fear is someone will be killed or seriously injured, we've already had police officers injured this week. It's only a matter of time before a police officer or a child is injured or worse."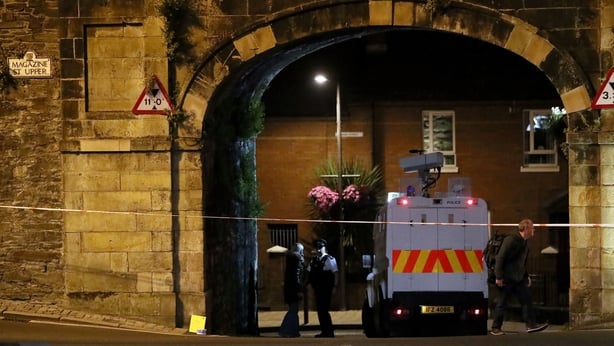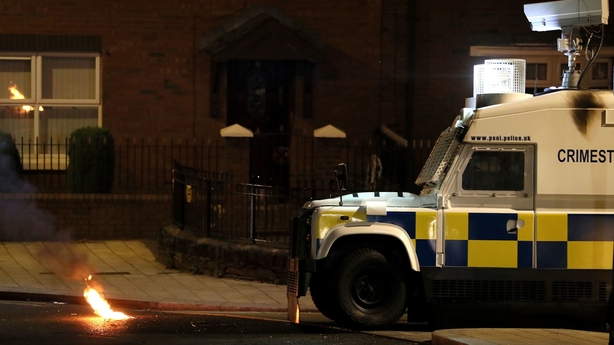 We need your consent to load this rte-player contentWe use rte-player to manage extra content that can set cookies on your device and collect data about your activity. Please review their details and accept them to load the content.Manage Preferences

During a press conference, Mr Hamilton was challenged on why police were seemingly reluctant to deploy officers into the Bogside during the rioting.
He said those behind the violence were trying to draw police in.
Hundreds of people from across the city have turned out at a rally to protest against the violence in the Bogside area.
Residents, clergy members including Bishop of Derry Donal McKeown, and politicians from across the divide turned out at Butcher Gate, the spot where police Land Rovers were attacked with petrol bombs on Thursday night.
The Mayor of Derry John Boyle, SDLP leader Colm Eastwood, civil rights activist Eamon McCann and Sinn Féin's Mary Lou McDonald were all in attendance to stand in defiance of what they say is dissident republican influence exploiting vulnerable teenagers in the area.
Fiachra McGuinness, son of the late former deputy first minister Martin, was also in attendance in support of his father's former neighbourhood.
PSNI Superintendent Gordon McCalmont said his officers were subjected to a "prolonged and sustained attack".
"I am saddened, disheartened and frustrated that yet again police officers committed to keeping this local community safe have been attacked by a small number of people within it," he said.
"It is nothing short of a miracle that officers were not injured.
"During this reckless disorder four AEP rounds were fired by my colleagues and we have arrested three males, aged 18 and 22 years old and aged approximately 50 years old.
"The 22-year-old had been arrested for attempted murder.
"While we have seen many young people involved in these attacks over the last number of nights, it is clear that this is being orchestrated by a more sinister, adult, violent dissident republican element. This cannot continue. This must end now."
He appealed to community leaders to help stop the disorder.
DUP leader Arlene Foster said in a tweet that political leaders have urged an end to the rioting.
Really disturbing scenes last night in Londonderry. Someone will be killed if this continues. The main Party Leaders have jointly called for rioting to end. The police are risking life & limb trying to tackle this.  All violence must be condemned.

— Arlene Foster (@DUPleader) July 13, 2018
Sinn Féin MP for Foyle Elisha McCallion said: "This has got to end before someone gets killed." Northern Ireland Secretary Karen Bradley said the disorder was "completely unacceptable".
She added: "My full support goes to the PSNI and others who are working so hard to end this intolerable violence by a small minority." 
On Tuesday night, a volley of machine gun fire was directed at officers and on Wednesday night two pipe bombs were thrown at police. No one was injured.
As well as police, rioters have also targeted homes in the nearby unionist Fountain estate.
Wednesday night also brought violent scenes in Belfast, with loyalists blamed for the disorder.
Masked men hijacked and torched vehicles amid anger about moves to reduce the size of two loyalist Eleventh Night bonfires.
Thousands of Orange Order members took part in Twelfth of July parades across Northern Ireland yesterday to mark the 1690 victory of Protestant King William of Orange over Catholic King James II at the Battle of the Boyne.
It was the biggest date in the Protestant loyal order parading calendar.