A former Stormont justice minister said Theresa May has come close to political interference after she claimed the system for investigating the conflict in Northern Ireland was unfair.
Mrs May alleged yesterday that some terrorists were not being pursued, as senior Conservatives hit out at suggested proposals which gave British soldiers no protection from prosecution for offences during the conflict.
Thousands were killed or injured during 30 years of violence, most by paramilitaries, but a significant number suffered at the hands of security forces members.
Former Stormont minister David Ford said: "What's up with Theresa May?
"Surely an ex-home secretary should know police and prosecutors follow the evidence regardless," he said on his Twitter account.
Mr Ford was justice minister in the devolved executive from 2010 to 2016. He was also leader of the Alliance Party at the time.
"Complaints about 'unfair justice system' are utterly wrong and come very close to political interference," he added.
"I hope the Police Service of Northern Ireland and the Public Prosecutions Service Northern Ireland tell the Prime Minister to get off their turf."
What's up with T May? Surely an exHomeSec should know police & prosecutors follow the evidence regardless.
Complaints about "unfair justice system" are utterly wrong and come very close to political interference.
I hope @PoliceServiceNI and PPSNI tell PM to get off their turf.

— David Ford MLA (@DavidFordMLA) May 9, 2018
PSNI figures previously obtained by the BBC suggested investigations into killings by the Army account for about 30% of the PSNI's legacy workload, with the remainder concerning republican or loyalist paramilitaries.
It is investigating more than 1,000 deaths not previously fully reviewed.
British MPs had urged a statute of limitations which would prevent anyone from facing trial for offences that happened during the conflict, including former servicemen and paramilitaries.
Such a law is not expected to feature in Government proposals for addressing Northern Ireland's toxic past and the DUP has said that a new law covering a number of wars and conflicts should be kept separate from the legacy suggestions in case IRA offenders pressed for an amnesty.
Senior members of Mrs May's cabinet, including Defence Secretary Gavin Williamson, are among those understood to have expressed concern at any proposals on addressing the past which did not seek to prevent soldiers from being prosecuted.
Over the last year, the concept of an amnesty has gained traction among a number of Westminster backbenchers, who claim recent prosecutions of former British soldiers are tantamount to a "witch-hunt".
Prosecutors and police in Northern Ireland insist such allegations simply do not stand up to scrutiny, with a breakdown of figures showing no disproportionate focus on ex-security force members.
Mechanisms to deal with the conflict legacy were agreed by Northern Ireland politicians in the 2014 Stormont House Agreement; an amnesty was not among them.
The agreed proposals, including a new independent investigatory unit, a truth recovery body and an oral archive, are on ice due to a small number of outstanding disputes.
DUP Lagan Valley MP Jeffrey Donaldson said a statute of limitations for the armed forces should also cover conflicts such as Iraq and Afghanistan.
Sinn Féin's Northern Ireland leader Michelle O'Neill has said victims should not be held to ransom by Tory party in-fighting.
Bid to halt prosecution of soldier rejected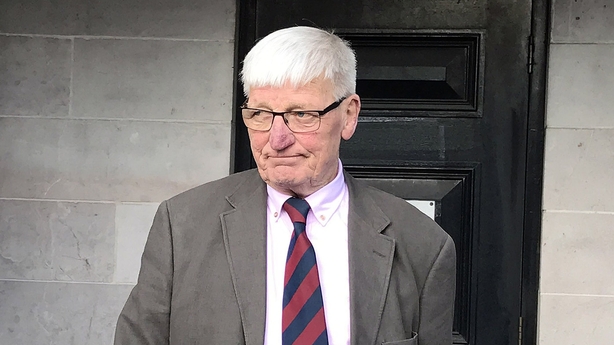 A bid to halt the prosecution of a former British solider charged in connection with the fatal shooting of an unarmed man with learning difficulties in Northern Ireland has been rejected.
Dismissing a defence application to stay the prosecution of Army veteran Dennis Hutchings, a judge told Belfast Crown Court he was satisfied the defendant, from Cawsand Torpoint in Cornwall, could receive a fair trial.
Mr Hutchings, 77, is charged in relation to the fatal shooting of John Pat Cunningham in disputed circumstances in Co Armagh in 1974.
The 27-year-old was shot in the back as he ran away from an Army patrol. His family contend he ran because he feared men in uniform.
Mr Hutchings is charged with attempted murder and attempted grievous bodily harm with intent.
His lawyers had argued the case should be halted due to the unavailability of evidence; a delay in mounting the prosecution; and an alleged breach of promise related to an original decision by prosecutors in 1974 not to pursue charges.