Russian President Vladimir Putin has arrived in Crimea on a visit to mark the ninth anniversary of Russia's annexation of the peninsula from Ukraine.
Russia seized Crimea in 2014, eight year before launching its full-scale invasion of Ukraine.
Ukraine says it will fight to expel Russia from Crimea and all other territory that Russia has occupied in the year-long war.
On the surprise visit to the Black Sea port city of Sevastopol, Mr Putin visited an arts school accompanied by local governor Mikhail Razvozhayev, according to images broadcast on the channel Rossiya-1.
"Our President Vladimir Vladimirovich Putin knows how to surprise. In a good way," Mr Razvozhayev said on messaging app Telegram.
He said Mr Putin had been expected to take part in the opening of a children's art school by video link.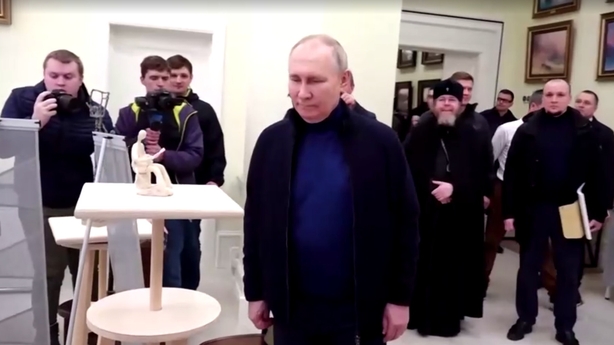 "But Vladimir Vladimirovich came in person. Himself. Behind the wheel. Because on such a historic day, the president is always with Sevastopol and the people of Sevastopol," the Moscow-appointed official said.
Earlier, US President Joe Biden has said that Mr Putin has clearly committed war crimes and the International Criminal Court's (ICC) decision to issue an arrest warrant for him was justified.
The ICC earlier called for Mr Putin's arrest on suspicion of unlawful deportation of children and unlawful transfer of people from Ukraine to Russia since Moscow's invasion began of its neighbour last year.
Mr Putin has yet to comment publicly on the move. His spokesman has called it "null and void", and said that Russia finds the very questions raised by the ICC to be "outrageous and unacceptable".
"He's clearly committed war crimes," Mr Biden told reporters, referring to Mr Putin.
"Well, I think it's justified," he added, referring to the warrant.
"But the question is - it's not recognised internationally by us either. But I think it makes a very strong point."
The United States is not a member of the ICC.
The United States separately has concluded that Russian forces have committed war crimes in Ukraine and supports accountability for perpetrators of war crimes, a State Department spokesperson said in an emailed statement.
"There is no doubt that Russia is committing war crimes and atrocities (in) Ukraine, and we have been clear that those responsible must be held accountable," the spokesperson added.
"This was a decision the ICC prosecutor reached independently based on the facts before him."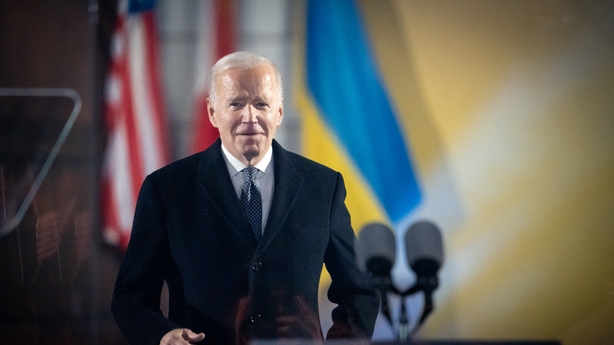 The ICC move obligates the court's 123 member states to arrest Mr Putin and transfer him to The Hague for trial if he sets foot on their territory.
The ICC also issued a warrant for Maria Lvova-Belova, Russia's commissioner for children's rights, on the same charges.
A US-backed report by Yale University researchers last month said Russia has held at least 6,000 Ukrainian children in at least 43 camps and other facilities as part of a "large-scale systematic network".
Russia has denied accusations that its forces have committed atrocities during its invasion. The Kremlin said yesterday that the ICC arrest warrant against Mr Putin was outrageous, but meaningless with respect to Russia.
---
---
Ukrainian forces outside the battered eastern city of Bakhmut managed to keep Russian units at bay so ammunition, food, equipment and medicines could be delivered to defenders, the army said.
And in the latest claim to have inflicted heavy casualties, Kyiv said its troops had killed 193 Russians and injured 199 others during the course of fighting yesterday.
Russia has made the capture of Bakhmut a priority in its strategy to take control of Ukraine's eastern Donbas industrial region.
The city had been largely destroyed in months of fighting, with Russia launching repeated assaults.
"We are managing to deliver the necessary munitions, food, gear and medicines to Bakhmut. We are also managing to take our wounded out of the city," military spokesperson Serhiy Cherevaty told the ICTV television channel.
He said Ukrainian scouts and counter-artillery fire were helping keep open some roads into the city.
As well as inflicting heavy casualties, pro-Kyiv forces shot down two Russian drones and destroyed five enemy ammunition depots, he added.
Reuters was unable to independently verify the claims.
Last Sunday President Volodymyr Zelensky said Russian forces suffered more than 1,100 dead in less than a week of battles in and around Bakhmut.
Separately, a deal allowing the export of Ukrainian grain from Black Sea ports that was due to expire just before midnight has been renewed for at least 60 days, following days of talks brokered by Turkey.