A deal allowing the export of Ukrainian grain from Black Sea ports that was due to expire just before midnight has been renewed for at least 60 days, following days of talks brokered by Turkey to extend the agreement.
The pact was brokered with Russia and Ukraine by the United Nations and Turkey in July - and renewed for a further 120 days in November - to combat a global food crisis that was fuelled in part by Russia's February 2022 invasion of Ukraine and Black Sea blockade.
"The Black Sea Grain Initiative, signed in Istanbul on 22 July 2022, has been extended," the United Nations said in a statement, thanking the Turkish government for its diplomatic and operational support of the deal.
"The deal for the grain corridor was due to expire today. As a result of our talks with the two sides, we have secured an extension to this deal," Turkey's President Recep Tayyip Erdogan said in a speech in the western city of Canakkale.
Neither Mr Erdogan nor the UN statement specified the length of the agreed extension.
Russia wanted to renew the deal for only 60 days, half the term of the previous renewal period, while Ukraine was insisting on a 120 day rollover.
Ukraine's infrastructure minister Oleksandr Kubrakov said the deal had been extended for 120 days.
#BlackSeaGrainInitiative agreement is extended for 120 days. Grateful to @antonioguterres @UN, President Erdoğan, Minister Hulusi Akar & all our partners for sticking to the agreements. Due our joint efforts, 25M tons of🇺🇦 grain delivered to world markets pic.twitter.com/4bye93iQ7d

— Oleksandr Kubrakov (@OlKubrakov) March 18, 2023
However, Russian foreign ministry spokeswoman Maria Zakharova said Moscow agreed to a 60-day extension.
"We are seeing reports from parties to the 'grain deal' that the deal has been extended for 120 days," Ms Zakharova said in remarks carried by the Interfax news agency. "We have repeatedly stated ... that the Russian side has notified all parties to the deal that it is extending the deal for 60 days."
Russia also warned any further extension beyond mid-May would depend on the removal of some Western sanctions.
The UN statement said the deal had allowed the supply of 25 million tonnes of grain and foodstuffs during its first two terms, helping to bring down global food prices and stabilise markets.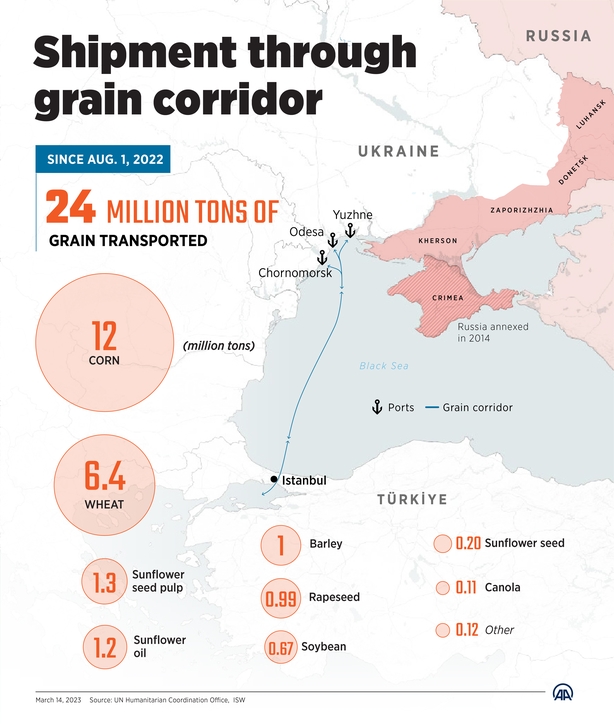 ---
---
Moscow's demands
Moscow decided to shorten the deal's extension due to its concerns that a parallel agreement on Russian food and fertiliser exports was not being respected.
Under that deal, also signed in July 2022 with the UN, those products were supposed to be exempt from the sanctions applied against Russia by Kyiv's allies.
But this was not happening, Moscow complained.
"Our further stance will be determined upon the tangible progress on normalisation of our agricultural exports, not (in) words, but in deeds," said Deputy Foreign Minister Sergey Vershinin, who led the Russian delegation during Monday's talks with UN officials
This includes "bank payments, transport logistics, insurance, and unfreezing of financial activities and ammonia supplies via the Tolyatti-Odessa pipeline," he said.