Ten-year-old Maksym Ryzhankov started Irish dancing classes in Kyiv when he was six.
Then, on 22 February last year, two days before Russia invaded Ukraine, he and his parents left their home city for Warsaw.
Upon arriving in the Polish capital, Maksym's mother Larysa enrolled her son in the Warsaw branch of the McGahan Lees Academy of Irish Dance, one of three Irish dance schools in the Polish capital.
"He's dancing all the time. At home, in the streets, dancing all the time. I don't know what's going on," says Larysa.
Success has followed. Maksym won the under-nine category at last November's Continental Europe and Asia Championships in France.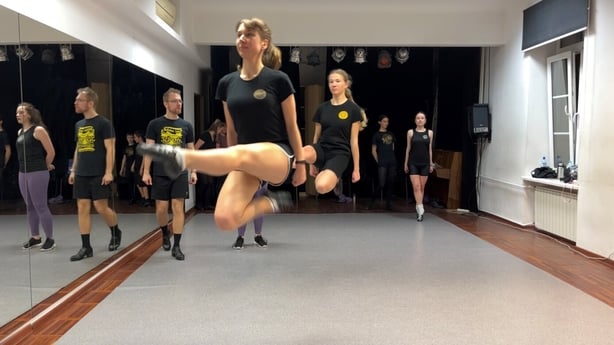 Jigs and reels
On a Wednesday evening, about 20 dancers, from a couple of 10-year-olds to those in their early 20s, turn up at the dance school in a cultural centre on the city's west side.
The troupe dances gracefully across the wooden floorboards to the sound of jigs and reels playing from a loudspeaker.
Fifteen-year-old Dominika Plaska, another Continental Europe champion, springs through the air.
Maksym and his friend, Tadeusz, a local Warsaw boy, chat in Polish and try to keep up with the pace set by the older girls.
"Maksym found new friends here, new family. For us it's more than a school because Maksym should study, find new friends, study Polish and live without his grandma, grandpa," says a tearful Larysa.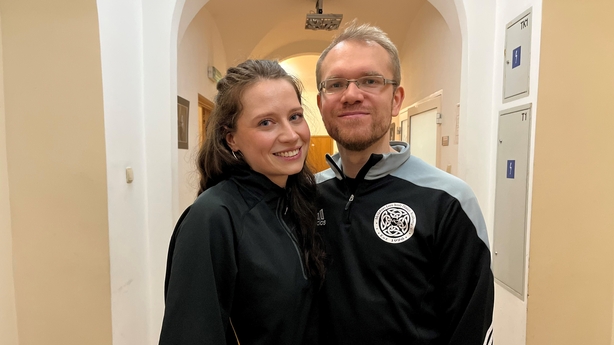 Maksym's instructor Maciek Skwarek and his fiancé Aleksandra Salbut run the class, observing their students' steps and posture.
"I could see Max [Maksym] had huge potential. He could not speak Polish and the communication at first was difficult. His mother was translating from Ukrainian to English as well. But he worked hard and he's aware of his abilities," says Maciek.
Maciek has form when it comes to international competitions.
He finished 11th in the Senior Men category at last year's World Championships in Belfast. In 2018, he placed 8th and recently performed with The Lord of the Dance troupe in Vienna.
The 32-year-old Warsaw native started Irish dancing when he was 14 years old.
"I love the music that comes with Irish dancing, the steps, the hard shoes, the rhythm, the technique. You really have to put effort into it to get the difficult rhythms," says Maciek.
A grá for the dance
Few of the students or parents gathered at the evening class have a family connection to Ireland, just a passion for our country's national dance.
But there is one.
Another 10-year-old dancer, Janek, was born in Dublin. His mother Zofia Kozlowska tells me that she lived and worked in Dublin, moreover, "Blanch" for 13 years before returning to Warsaw in 2017.
"I miss Ireland. When I travel there I feel as if I'm coming home," says Zofia.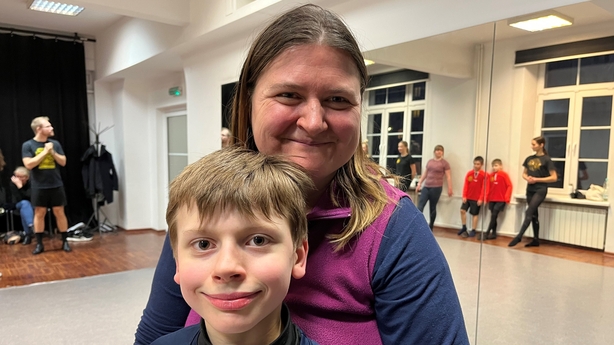 Despite many Poles being familiar with Riverdance, or The Lord of the Dance, the number of people who participate in feis competitions in Poland remains low, almost niche.
There are an estimated 200 to 300 dancers of all ages throughout the country.
After almost three hours, the evening class winds down.
Maksym and Tadeusz play and laugh as giddy 10-year-old boys normally do.
"We will stay in Poland. I can't allow my children to stress. We've found an apartment here. For the moment, it's the only possibility to live, to study, to dance," says Larysa.