The head of Russia's Wagner mercenary group has said that his forces had taken "all the eastern part" of Bakhmut, the east Ukrainian town where fighting has raged for weeks.
"Wagner units have taken all the eastern part of Bakhmut, all that's east of the Bakhmutka river" that bisects the town, Wagner chief and Kremlin ally Yevgeny Prigozhin said in an audio message released by his press service.
Pressure has been mounting on Ukrainian troops trying to hold the town against Russian soldiers hoping to capture it no matter the cost.
Ukrainian President Volodymyr Zelensky has said the army was intent on defending Bakhmut.
However, he warned the Russian army would have an "open road" into eastern Ukraine if it captured the town.
The battle for Bakhmut has been the longest and bloodiest in Russia's invasion, which has devastated swathes of Ukraine and displaced millions over the past year.
The salt-mining town, with a population of 80,000 before the fighting began, has little strategic value but would be a symbolic victory for Russian President Vladimir Putin.
We need your consent to load this rte-player contentWe use rte-player to manage extra content that can set cookies on your device and collect data about your activity. Please review their details and accept them to load the content.Manage Preferences
UN believes video of Ukrainian soldier's killing 'may be authentic'
Meanwhile, the United Nations said it believes that a viral video showing the apparent execution of a captured Ukrainian soldier by Russian troops may be authentic.
The footage appears to show a detained Ukrainian combatant standing in a shallow trench being shot to death with multiple automatic weapons after saying "Glory to Ukraine".
"We are aware of this video posted on social media that shows a Ukrainian soldier hors de combat (not in combat) apparently being executed by Russian armed forces. Based on a preliminary examination, we believe that the video may be authentic," a spokeswoman for the UN Human Rights Office said.
"Since Russia's armed attack on Ukraine over a year ago, the UN Human Rights Office has documented numerous violations of international humanitarian law against prisoners of war, including cases of summary execution of both Russian and Ukrainian POWs," she said.
"Impartial and effective investigations must be carried out into all these allegations and those responsible held to account."
Ukraine has vowed to take revenge for the apparent killing. Officials in Kyiv blamed Russian forces and called for the International Criminal Court to investigate.
UN human rights chief Volker Turk said yesterday that the scale of destruction inflicted by Russia's war in Ukraine will harm the rights of generations to come.
---
Read more
The battle for Bakhmut: A fierce struggle and devastating losses
How significant is the battle for Bakhmut?
---
Elsewhere, intelligence reviewed by US officials indicates that a pro-Ukrainian group was behind last year's attacks on the Nord Stream natural gas pipelines, but there was no evidence of the Kyiv government's involvement, the New York Times reported.
The undersea explosions, seven months into the Russia-Ukraine conflict, on the pipelines between Russia and Germany occurred in the exclusive economic zones of Sweden and Denmark in the Baltic Sea.
Both countries have concluded the blasts were deliberate, but have not said who might be responsible.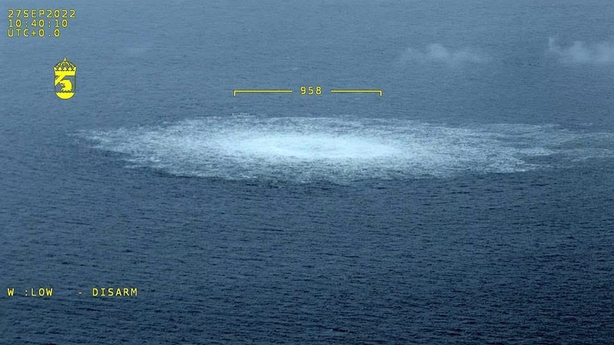 Yesterday's New York Times report cited US officials assaying there was no evidence that President Zelensky or his top aides were involved or that the perpetrators were acting at the behest of any Ukrainian government officials.
"Without a doubt, Ukraine is absolutely not involved in the excesses on the pipelines," Mykhailo Podolyak, a political adviser to Mr Zelensky, said in a statement.
"It does not make the slightest bit of sense."
The United States and NATO have called the 26 September attacks "an act of sabotage", while Russia has blamed the West and called for an independent probe. Neither has provided evidence.
Kremlin spokesman Dmitry Peskov said the reports on the attacks were an effort to divert attention.
"Obviously, the authors of the attack want to divert attention. Obviously, this is a coordinated stuffing in the media," Mr Peskov told the state RIA news agency.
Reuters could not independently verify the New York Times report.
Diplomacy
US President Joe Biden yesterday spoke with French President Emmanuel Macron and discussed Russia's invasion and challenges posed by China, the White House said.
Moscow accuses the United States and its allies of using Ukraine to wage war against it. Rejecting that claim, Kyiv and the West say that Ukraine is fighting against an attempted landgrab by Russia.
China has proposed a peace plan that Russia is paying close attention to, Kremlin spokesman Mr Peskov said.
Responding to Chinese Foreign Minister Qin Gang's remark that the Ukraine crisis seemed to be driven by an "invisible hand", Mr Peskov said "this is not an invisible hand, this is the hand of the United States of America."
Separately, Russian President Vladimir Putin issued special thanks to female military personnel, saying their courage amazes even the "most hardened fighters", in a message to mark International Women's Day, a public holiday in the country.